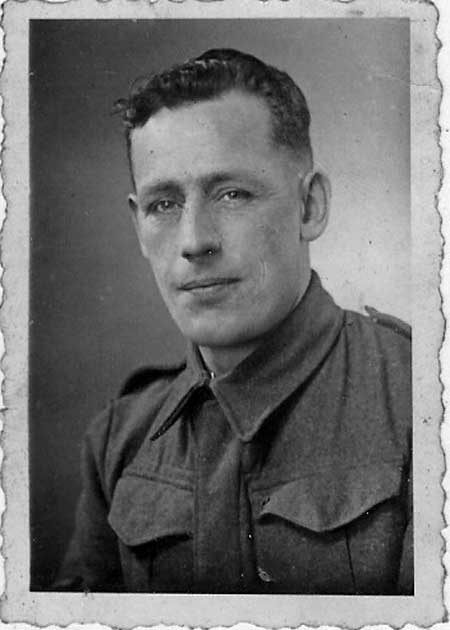 Harold Wybrow (1908-1967) was a Master Builder by profession and was a member of the Home Guard from 8th October 1942 to 19th May 1943, when he joined the Royal Army Service Corps for service in Europe.
Harold was a member of a large family and was born at 2 Denbigh Road, Kensington in April 1908. He attended Buckingham Terrace School (long since disappeared and located off the Portobello Road) where a close friend was Tommy Little, later to become a well-known boxing referee. Harold was in the Boys' Brigade and later taught boxing as well as participating in the famous "swim in the lake" in the wintry Serpentine. One of his pre-war activities was as a bandleader and drummer. His venues included Kensington Town Hall, river boats and Boulter's Lock at Maidenhead. A self-made man, by the outbreak of war he was married and living in 11A Maxilla Gardens, North Kensington, W10 which backed on to the Metropolitan Railway to Hammersmith. He was active in the North Kensington area with his building work and his wife Edith soon found herself doing essential war work at a factory at the top of Scrubs Lane on the other side of the bridge over the GWR line from Paddington; there she was engaged on cutting perspex panels for use in the manufacture of aircraft cockpits.
The area where the family home was located had its fair share of Luftwaffe attention. Incendiary bombs were dropped onto the railway to act as markers and a landmine fell on St. Helen's Church about 800 yards away, the impact of which was felt in the Wybrow family home. Part of the local defence against such onslaughts was an anti-aircraft gun which was regularly moved up and down the railway line with the help of a steam locomotive. It was against this background that one of Harold's children, Brian (the provider of this information about his family) was born in a corridor of Hammersmith Hospital during an air raid in 1942. It was also in 1942 that Harold joined the Home Guard. Activities included fire-watching at Staples Corner where the Edgware Road crosses the North Circular. He also recalled Bren gun training at Madame Tussaud's in Baker Street: it may well be that the dome was used for the projection of images as targets.
But Harold's main activity was to man the anti-aircraft rocket guns in Hyde Park. His initial training was on Hounslow Heath before moving to the Hyde Park Battery in Central London. He recounted to his family that the guns fired a salvo of six rockets, each of which was intended to explode at a specific height according to the setting of a clockwork actuator. On one occasion an adjacent gun blew up; and on another, he found himself unloading a live projectile from the launching structure after it had failed to leave the ground. Despite the dangers, in times of inactivity, Harold's daughter Shirley would be taken to Hyde Park to see her Dad and his guns.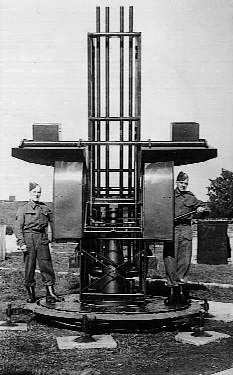 Groups of these fearsome weapons operated by men like Harold Wybrow were known as "Z" Batteries and a detailed account of their operation in a similar battery located on Hampstead Heath can be read on another page of this webite. A typical example of one version, designed to launch a pair of rockets, is shown on the left. And the British Pathe website here shows cine film of one of these batteries being fired. The units in that battery are either grouped as multiples of the basic twin-firing unit or consist of a variation of that unit, comprising an assembly to fire a larger number of missiles simultaneously.
There is a discrepancy between Harold's description of a salvo consisting of six rockets and another contemporary description of the same battery on the BBC People's War website here which describes the Hyde Park battery as comprising 64 dual launchers which provided a salvo of 128 when all fired at the same time. The reason for this discrepancy could either be the existence of different versions of the launcher at different times; or a technique of linking, physically or electrically, more than one dual launcher to provide a multiple salvo.


Harold's service in the Home Guard did not last as long as that of others. At the age of 35 in May 1943 he volunteered for Army service - not a necessary act because he was in a reserved occupation, as his brother Percy made clear to him - and joined the Royal Army Service Corps. He trained in Hastings and Llandarcy in South Wales. The latter location gives a clue to Harold's army trade; it was the site of a large oil refinery. Harold was being prepared for the operation of the Mulberry floating harbours and PLUTO - the pipeline under the ocean, essential to meet the vast fuel needs of Allied military activities after D-Day in June 1944. And so, after a spell under canvas in the New Forest near Lymington, he embarked for Europe in August 1944 to pursue his trade of Petroleum Fitter as the Allied armies continued their advance through France, into the Low Countries and eventually into Germany itself.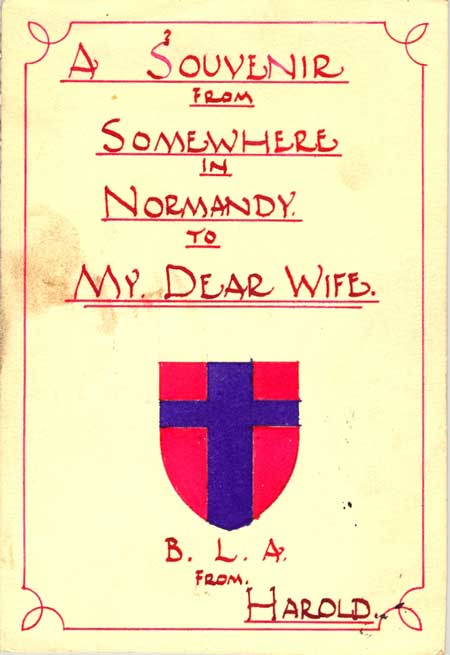 Meanwhile his family in London continued to survive in the face of aerial attack from conventional manned aircraft - the onslaught by the V-weapons was to come after they had left the city. Thus Harold's wife, Edith, told the story of taking her three children down the deep Underground station at Notting Hill Gate, only to emerge the following morning covered in the soot and dirt which had been dislodged during the aerial bombardment far above. On seeing their state, a family friend insisted on providing tickets for the four of them to travel to the safety of Bishops Cannings, near Devizes. Their youngest child, Brian, was six months old at the time. But even that journey was interrupted by bombing, and Devizes itself, like everywhere else, was not wholly safe - as Edith discovered one day when a German bomber swooped low over herself and her youngest child, Brian.
But at least they had left London before the onslaught of Hitler's "V" weapons (for Vergeltungswaffe, or "retaliation weapon) from June 1944 (V-1s) and September 1944 (V-2s). And they will have been heartened to receive the home-made greeting from Harold who was at that moment "somewhere in Normandy".
Harold ended up in Antwerp. In a happy moment he was photographed there with three of his comrades and the image survives. He is second from the left.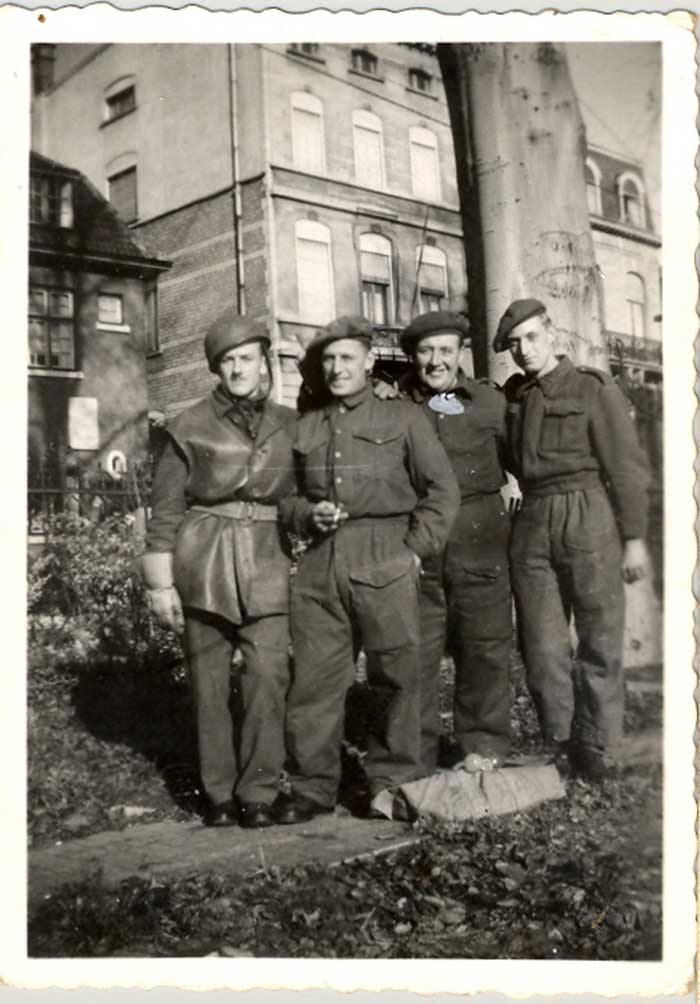 But the city was still subject to aerial attack, now by V-2s. (See a description of this weapon here). He suffered from the terrible fires that these weapons caused and became shell-shocked. An idea of the conditions he endured can be gained here. He returned home where he had a spell in hospital and he finally left the Army on 30th September 1945. Harold's Home Guard service was recognised and his King George VIth certificate is still treasured by his family.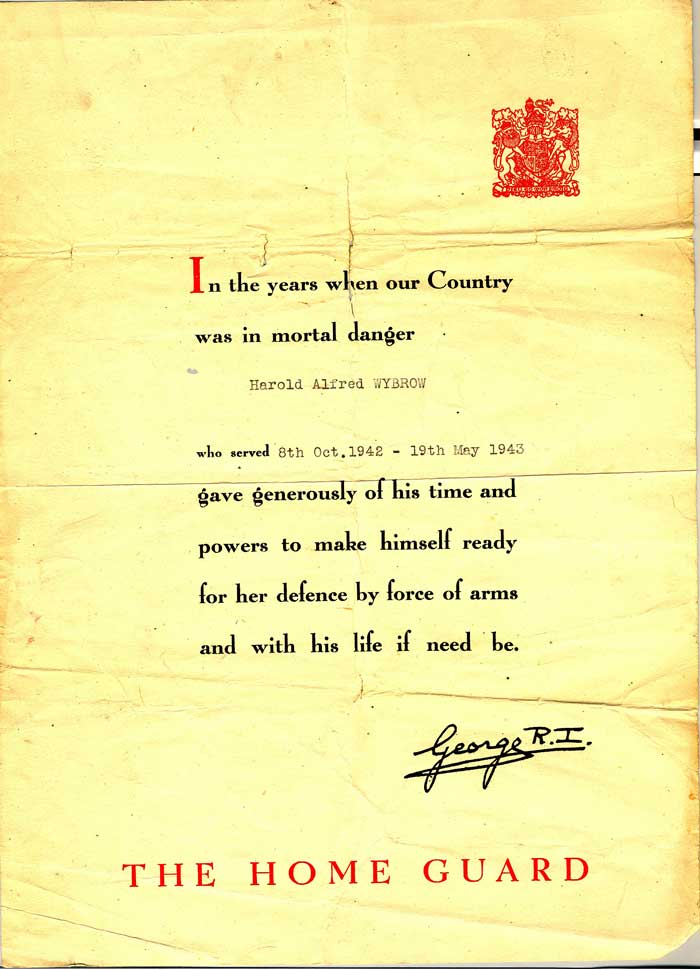 *******************
FOOTNOTE
Harold Wybrow's youngest son is involved in supporting a disability project relevant to the casualties of war and to others: Sue Austin's Underwater Wheelchair Project. There are many other references to this project online - please search Google and YouTube using the definition "Underwater Wheelchair"
*******************