This is a page within the www.staffshomeguard.co.uk website. To see full contents, go to SITE MAP.
MEMORIES AND INFORMATION - WARWICKSHIRE
43rd WARKS. (BIRMINGHAM) BATTN.
and
THE AUSTIN WORKS, LONGBRIDGE

The

Longbridge

and

Rubery

area, on the south-western outskirts of Birmingham, was defended by the

43rd Warwickshire (Birmingham) Battalion

under the command of

Lt.-Col. A.F. Lovell

. Within that Battalion served the unit, almost certainly of full Company strength, which was responsible for the huge Austin works at Longbridge. Its membership would have been made up entirely from Austin employees, devoting much of their spare time, in evenings and at weekends, to Home Guard duties after long days at work.

N.B. This page of the website includes information on members of the 43rd Warwickshire in general. Many of those mentioned were definitely members of the Austin Works Company but others may or may not have been.

Below is an excellent group image showing what must be the entire Austin Company, one of the several which constituted the 43th Warwickshire Battalion. The precise location of the photograph is so far unidentified but it was clearly at a location within the factory. The date and occcasion are similarly unknown but are likely to be one of the fairly rare times when the whole Battalon came together - possibly a ceremonial parade, perhaps to celebrate one of the anniversaries of the founding of the service in May 1940 or to support one of the fund-raising weeks such as Salute the Soldier or Wings for Victory. It may even mark the stand-down of the Home Guard which occurred in early December 1944 and was celebrated by parades and march-pasts by every battalion in the country. It is unlikely to date before mid-1943.



Please click on the image to see a magnified version

n.b. There is further comment on the above image, including identifications, in an associated website page,
here
.

The following image probably shows one of the constituent platoons of the Works Company and may well show men who appear above.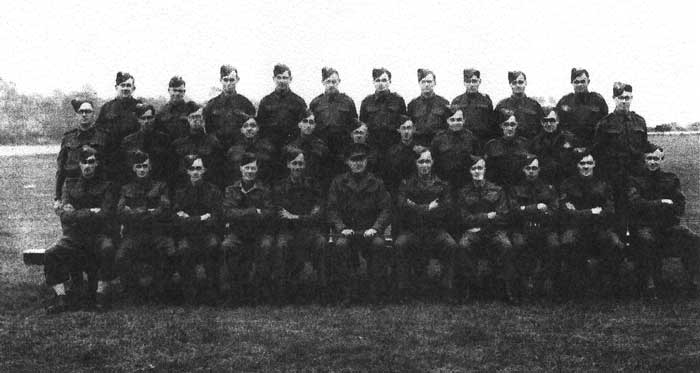 Three views of a parade, very probably the same one. It took place in 1941 and almost certainly marked the first anniversary of the founding of the service, in May 1940. It is headed by the Battalion band, the men are fully uniformed, smart and in step. Some weaponry is evident; what cannot be seen is the previous twelve months of intensive infantry training which means that the Battalion has already developed into a force to be reckoned with.

The first view is in

Longbridge Lane

with the

Bristol Road South

and the

West Works

in the background.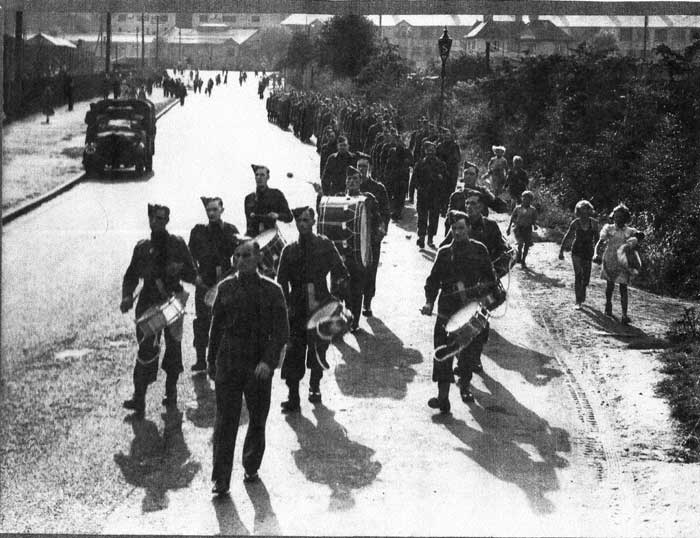 Then in

New Street, Rubery

.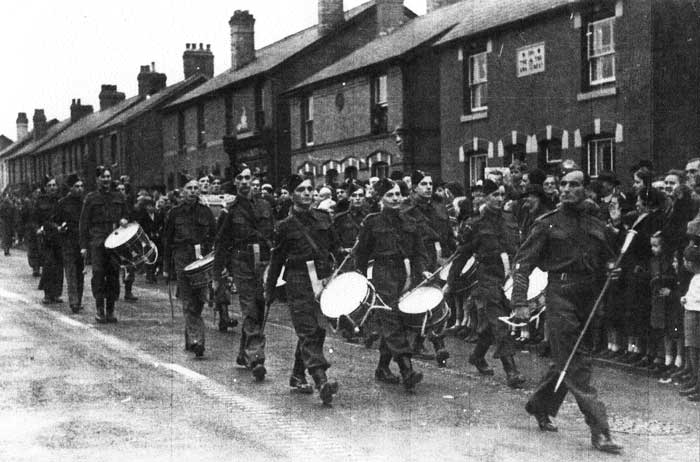 And at a further unidentified location.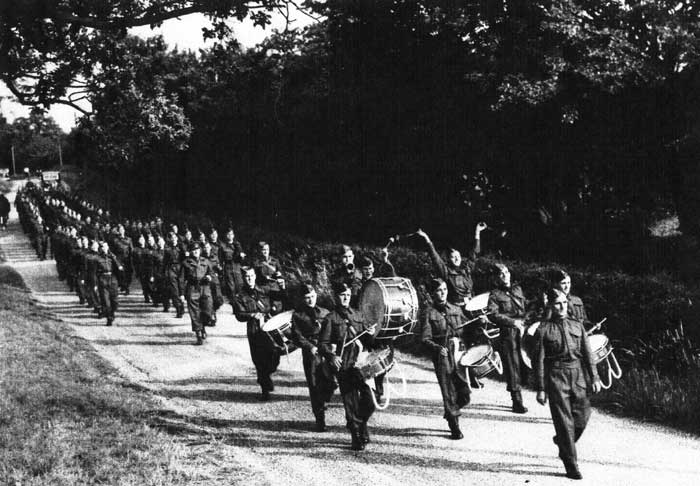 Sgt. William David Lovell

(1906-1951), known as Bill or Billy, was a regular soldier between 1922, when he joined up at the age of 16 years, and 1929; he served with the

South Staffordshire Regiment

in India, Egypt, and the Sudan. He joined the Home Guard at the very beginning, on 4th June 1940, and served throughout the life of the service, up to stand-down in December 1944.

He was only able to enjoy a few years of the peace which he had helped to bring about and died at the early age of 45.



Bill Lovell certainly served in the 43rd Warwickshire and is believed to have been a member of the Longbridge unit. There is a small element of doubt about this because he is known to have lived in Sheldon and worked, at least for a period, at Metropolitan Cammell at Elmdon rather than at Longbridge. But the Longbridge connection remains firmly in the family memory.

Two excellent images survive of his Home Guard service. Other than he himself, no identifications have been made although there is the suggestion that an officer in one of the images is

Lt.-Col. A.F. Lovell,

C.O. of the 43rd Battalion (but no relation).

The first image below is likely to be the earlier of the two. Both were taken in the same location and at the same time of the year. Some of the men shown are common to each group including Bill Lovell and the second-in-command; but not all and the officer i/c is different. On this first image, Bill is cheerfully seated in the front row, third from the right, whilst two of his comrades seem not yet to have been issued with their uniforms.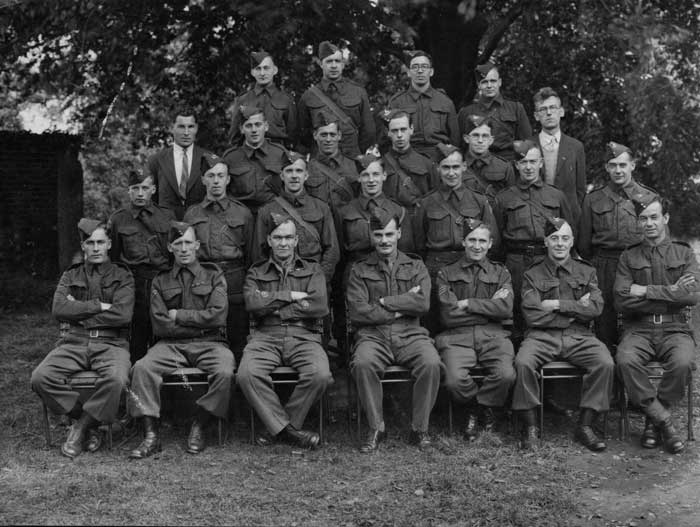 In the second, and probably later, image Bill Lovell is seated in the front row on the extreme right.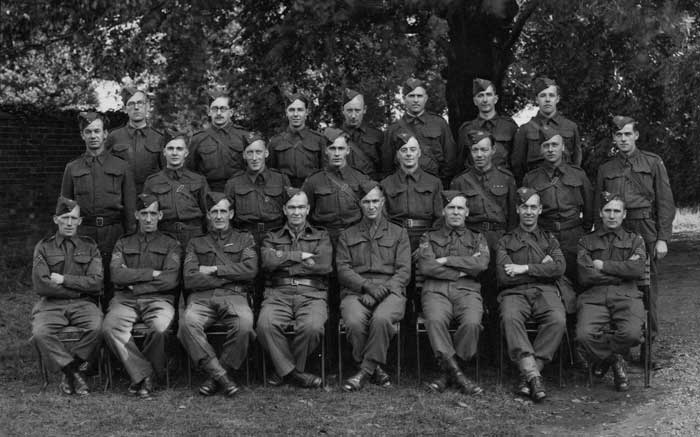 Service in the Home Guard was recognised after stand-down in December 1944 by the King's certificate.

This one (right) was issued to

Sgt. William Edward Cooke

of the Works unit.

And it was supplemented by one issued by the Company and signed by the Chairman and Vice-Chairman, E.L. Payton and Leonard Lord (below).


The form of this works certificate suggests that it was used for all the various specialised wartime protective activities undertaken on the site, not only the Home Guard but also ARP, AFS and Casualty Service. The Home Guard functions and specialisations shown are significant in their diversity: infantry, signals, medical, anti-aircraft, despatch riders, bomb disposal, armoured car section, women's section and intelligence.



OTHER MEMBERS OF THE WORKS UNIT



In addition to Sgt. Cooke and Sgt. Lovell, other Austin employees known to have been members of the Works Home Guard unit include: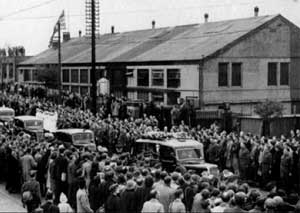 Sydney Byng
- Corporal

Platoon Commander R.E. Cooke, G.M.
- please see below
Harry Vincent Dawson
(1908-2007) - an upholsterer by trade and of

Cliff Rock Road, Rednal

. He paraded at Lord Austin's funeral in 1941; the image to the right shows the cortege leaving the factory. Just discernible are Home Guards lining the route.
Ronald William Earp
- possibly on anti-aircraft duties.
William J. (Mac) Hardy
(b. 1895)
of

76 Cliff Rock Road, Rednal
, a wood pattern maker at Longbridge.
Charles William Jay
- "B" Company, worked in Aero Works.
Possibly on anti-aircraft duties before being called up into the RAF and serving at Stow-in-the-Wold and Moreton-in-the-Marsh. He later worked at Rover, Solihull.
Les Mann
Douglas Roy Rubery
- later joined the Royal Navy.


Platoon Commander R.E. Cooke
was awarded the

George Medal

for an act of outstanding bravery on 28th October 1940 when he was a member of

F7 (Austin Aero Engine Co. Ltd.) Company

, Birmingham Zone, which became shortly afterwards one of the constituent units of the 43rd Warwickshire (Birmingham) Battalion. Platoon Commander Cooke was presumably part of the Bomb Disposal Section (mentioned above) within the Works Unit, although the incident which led to this recognition took place off-site and he might have been more closely associated with Burman's works unit. The investiture took place on 29th July 1941 and a description of the circumstances surrounding the award reads as follows:



On 28th October 1940 a 550lb bomb with delayed action fuse was located at the factory of

Messrs. Burman Ltd., Highland Road, Birmingham

and the clock was found to be still ticking. The bomb had been down for approximately 45 hours and from experience an explosion was considered so imminent as to justify withdrawal of the working party. An attempt to remove the fuse failed and the officers concerned, together with Cooke, who was present the whole time, withdrew to consider the matter.



In view of the importance of the factory it was decided to attack the fuse a second time using a heavy crowbar. Three people were necessary and Cooke volunteered to make up the party. This time the fuse was partially removed but the ticking clock and the detonators still remained intact. It was then decided to flood the pit in an endeavour to stop the clock and Cooke's assistance again proved invaluable in what turned out to be a successful operation. The bomb was safely removed.


OTHER HOME GUARD MEMBERS



George Luckman

lived at

5 Jervoise Road, Weoley Castle

and worked at Longbridge, being described in 1939 as a "Motor Vehicle Inspector". He probably continued to work there throughout the war on the night shift. It is not so far known whether George belonged to a Home Guard unit adjacent to his home or was a member of the Austin factory unit.

One further man is known to have served in the 43rd Battalion. He lived adjacent to the main works and probably worked there:


Francis John Hudson
(1903-1995)
of

77 Kendal Rise Road

, wife of Winifred Sarah (Gold)









A huge parade, on an unknown date.

(

Grateful acknowledgement to Matt Felkin)

43rd BATTALION CASUALTIES
At least three members of the 43rd Battalion lost their lives in the course of their Home Guard service:


L/Cpl. William Alan Russell Fenn
(1922 - 1943) - died 16th April 1943, aged 21. His family home was in

Much Marcle, Herefordshire

. He now lies in St. Michael's Churchyard. Cofton.
Vol. Albert Henry Holt
- died 24th November 1941, aged 37. Married and living in

Moseley

. His grave is in Brandswood End Cemetery.
Pte. Bernard George Adams
-
died 26th April 1942, aged 31. Married and living at

82 Mavis Road, Northfield

. He now lies in St. Laurence Churchyard, Northfield.


The circumstances surrounding the death of L/Cpl. Fenn and Vol. Holt are not known, nor whether they were members of the factory unit; but a record of the unfortunate accident involving Pte. Adams survives, in the form of two newspaper cuttings.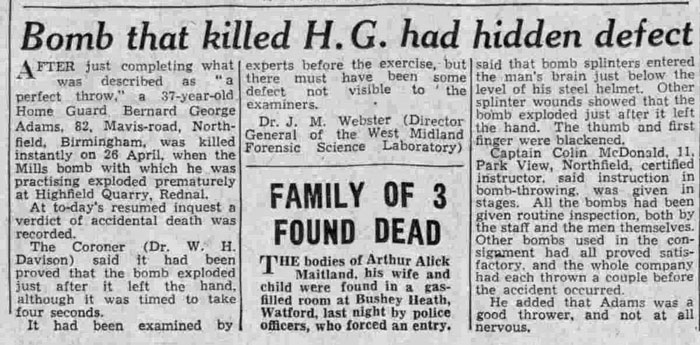 | | |
| --- | --- |
| | Above is Pte. Adams's headstone in St. Laurence churchyard in Northfield. It is very likely that he was a member of the factory unit. |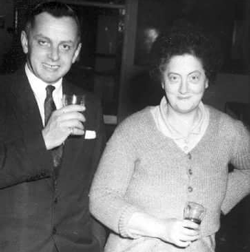 This dreadful accident was almost certainly witnessed by

Bill Sowton

, another member of the factory unit. William John Hele Sowton, MBE, was originally from Cornwall but worked at Austin from 1939 and was living at the time in Tinkers Farm Road in Northfield, not far from Pte. Adams in Mavis Road.

His family remembers that he remained greatly distressed by what had occurred to his comrade (and possibly personal friend and work colleague) for the rest of his life and never wished to talk about it. Bill
(shown right with his wife in later life)
served as a councillor in Northfield for many years and, in 1983/4, became Lord Mayor of Birmingham. He died in 2003 at the age of 89.


AIR RAID OF 13th NOVEMBER 1940

The Longbridge works was subjected to remarkably few Luftwaffe attacks. But the afternoon of Wednesday, 13th November 1940 saw one with devastating consequences.



At 4.21 p.m. on Wednesday, 13th November 1940 a string of seven high explosive bombs fell on or adjacent to the site. One of these caused extensive damage to the Electrical Repair and Millwrights shop. In that incident, the following employees lost their lives:


Harry Cox

(aged 38)


Alfred John Draper

(17) - He now lies in Cofton Hackett churchyard


Daniel Fox

(37)


Samuel Richard Lane

(46)
He lived at 42 Ryde Park Road, Rednal His grandson writes to staffshomeguard (June 2015) as follows:
"

Samuel Richard Lane

was my grandfather. He was born in Birmingham but moved to Yorkshire prior to the 1911 census. He joined the army in 1913 and was demobbed, having been wounded, in early 1918. In 1940 he is listed on the electoral roll in Yorkshire so he must have moved to be part of the war effort. Not long before her death, Grandmother said that on the day he died he asked her to see him off, so she and my aunt waved him off down the street. He turned the corner and came back for a last wave. My grandmother said it was strange - he had never done that before".
Samuel Richard Lane's legacy continues to survive, far into the future: on 6th January 2016

Samuel David Lane

was born in Leeds to Raymond & Vikki Lane taking his great-great-grandfather's name.


Hubert Overend

(43)


Adrian John Vicary

(20)

Five more men were seriously injured including

James Green

(who lost a leg

)

,

William Maddox

,

Fred Charles Stead

and

Sidney Thomas Worthing

. A further fifteen were slightly wounded.

There was probably a further victim of the same attack,

Arthur Grant

:
Arthur Grant aged 26, of 111 Nuthurst Road, Cofton Hackett (and originally from Birkenhead), died on the same day. He was described as an "aero assembler fitter" and therefore almost certainly worked either on the Longbridge site or that of the nearby Austin shadow factory at Cofton Hackett. His death certificate states that his death was due to enemy action and the place "a field in Cofton Hackett". He was clearly caught out in the open, either by a further bomb from the stick which fell across the Longbridge site or from a machine gun attack which is rumoured to have occurred at the same time. Another rumour states that a man lost his life in Cofton Park "as he was walking home from work at the Austin". No further details have so far emerged of the circumstances surrounding this tragedy, including where Arthur is buried. We commemorate the name of Arthur Grant on this page as a further victim of the Luftwaffe attack of 13th November 1940.

It is not know whether any of these men were members of the factory Home Guard. But their colleagues in the latter, together with the other emergency services of ARP, CS and AFS, mentioned above, would by the autumn of 1940 have been well trained and ready; and would have been heavily involved in the aftermath of the attack.

ACKNOWLEDGEMENT


is gratefully made to Keith Woodfield for providing much of the information on this page.

Grateful acknowledgement is also made to other sources of information not specifically mentioned above:
to the Birmingham Air Raids Remembrance Association through whose good offices Birmingham air raid casualties can be researched
; to John Baker's Austinmemories website; to the www.home-guard.org.uk website which, amongst much else, lists all Home Guard bravery awards; to David Lovell for the information concerning his father, Bill, and for the two group images; to Matt Felkin and members of his "Wartime Birmingham and the Blitz" Facebook page and especially Maggie Laity; to Linda Ryland for information about her father, Charles William Jay; to Derek Sowton for the information about his father; to Peter Dorgan for information about Arthur Grant; to John Dawson, Mrs. Evelyn Jones and Mrs Janet Sly for information on Messrs. Dawson and Hudson; and to Margaret Sheridan for information about her father, George Luckman.

(Lovell group images © David Lovell 2015; Headstone images © Maggie Laity 2015-2017; Sowton image © Derek Sowton 2015: Main group image © John Dawson 2018).
FURTHER INFORMATION

Further information about the Warwickshire battalions is contained elsewhere in various parts of this website. To view the Warwickshire summary page, please use the Memories-Warks link below.
And if you can add to the history of the Austin Home Guard, please contact staffshomeguard via the Feedback link.
x117 April 2015, updated November 2015, May 2017, September 2017, April 2018, November 2018