This is a page within the www.staffshomeguard.co.uk website. To see full contents, go to SITE MAP.
HOME GUARD MEMORIES AND INFORMATION - WARWICKSHIRE, BIRMINGHA
23rd WARWICKSHIRE (BIRMINGHAM) BATTN.
ERDINGTON
and
Lt. LESLIE BEARD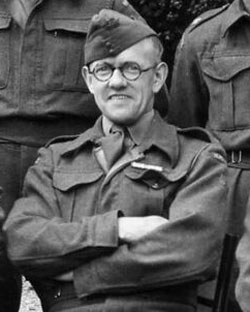 The 23rd Warwickshire (Birmingham) Battalion

bore the responsibility of defending the

Erdington

area of Birmingham. It was commanded, first, by

Lt.-Col. S.A. Goodall M.C.

and later by

Lt.-Col. E.W. Walker


Like these senior officers and many other H.G. men in positions of authority, another officer in the Battalion,
Lt. Leslie Beard
(right)
, had served in the Great War.

Within Lt. Beard's family there has survived a great deal of information about his experience in that conflict and then, a little over twenty years later, his further contribution to the defence of the country as a member of the Birmingham Home Guard. This section of the website contains most of that information and is arranged as follows:
- Lt. Beard and the 23rd Warwickshire Battalion
(this page)

- Artillery training at Umberslade Park, Hockley Heath
LESLIE BEARD:
EARLIEST DAYS, GREAT WAR EXPERIENCE AND CIVILIAN LIFE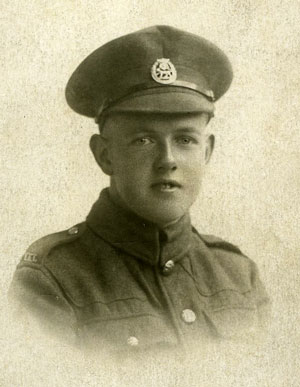 Leslie Beard (1898-1972) was born in
Bradford
, Yorkshire and started work there in the textile industry whilst still at school in 1912.

In 1915 he joined
The Kings Own Yorkshire Light Infantry
as 37482 Pte. L Beard. He went overseas on Dec 31st 1917 and on 15th January 1918 was drafted to
"A" Coy, 9th (Service) Bn. K.O.Y.L.I.
There followed a fairly normal pattern of front line and reserve duties until the German Spring Offensive which commenced on 21st Marxh 1918. Just two days later, on the 23rd., Leslie was captured at
Gurla Wood
, near
Peronne
.

Like many of the prisoners captured at this time Leslie was never shipped back to Germany. He spent the remainder of the war under difficult conditions working as directed by the Germans in different locations on ammunition dumps, general labouring and looking after horses etc. The prisoners were often short of food as were the Germans themselves. Treatment was generally poor.

The Armistice was signed on Leslie's 20th Birthday, 11th November 1918 and the prisoners started to walk towards the British lines. One of Leslie's friends, Richard Lamb, was ill and had to be left in hospital in
St Denis
, Belgium. He died on 11th December. By 19th November they had met up with British troops in the region of Namur. They were fairly speedily given a bath, issued with new clothing and shipped back to the UK arriving in Dover on 30th November. Leslie arrived home in Bradford on 3rd December.

Leslie returned to civilan life in the textile industry in Yorkshire, working for
Law Russell
(until its liquidation in 1930),
Craven Mills
,
Federated Mills
and
Gresham & Co.
Shortly before the war he moved to Birmingham to work for
Frederick Marsden Textile
s and continued to work for them until his retirement, initially in their office in
Cannon Street
and later as manager of their
Densmar Mill
on
Foleshill Road
in
Coventry
.

Throughout his time in Birmingham Leslie lived in with his wife Minnie and their daughter Betty in
Woodacre Road, Erdington
. But as for so many other families in those times, life was far from normal for the Beards in the years 1940 to 1944 when the impact of World War 2 on civilian life in Birmingham was at its height. In order to avoid the Blitz, Betty was sent off to live with family at a safer location in the North. And in the summer of 1940 Leslie volunteered to serve in the local Home Guard, thus willingly committing himself to thousands of hours of unpaid work, disruption and discomfort which would last for 4˝ years until stand-down in December 1944.
Whilst no evidence of the exact date of Leslie's volunteering for the Home Guard survives, it is very likley to have been in the days or weeks following
Anthony Eden's broadcast appeal
for volunteers on Tuesday May 14th 1940. Very rapidly units were formed in every part of Birmingham and they evolved in the second part of 1940 into the Battalion structure which was to remain largely unchanged for the rest of the Home Guard's life.
In the first desperate days, rudimentary command structures quickly appeared: previous military experience was regarded as essential for appointments of authority and that is how Great War privates suddenly found themselves with officer or N.C.O. status in the new service.
(See
this description
of how this process occurred in the formation of a platoon in nearby Streetly/Litte Aston).
This was the case with Leslie Beard: previous experience and evident personal qualities led to such an appointment and we see his name appear in the February 1941 Officers List:

2/Lt. L. Beard, 23rd Warwickshire (Birmingham) Battalion

.



The surviving images in the Beard family archive seem to date mainly from later in the war. By that time Leslie has his second pip and he is now Lt. Beard, a rank he would retain until the end of 1944. He is a

Platoon Commander, i/c No. 1 Platoon, "A" Coy.



These are the images of various Battalion groups and activities. They show Leslie's comrades, some no doubt members of his own Platoon and others clearly fellow officers, possibly within his own Company. (Identification of individuals and locations would of course be warmly welcomed).
(A second series of images - all taken at
Umberslade Park, Hockley Heath
, to the east of the city, and showing Battalion members, including Leslie, training on artillery pieces - can be seen on
an associated page
).


In the first image, below, we see all or most of a Company, most probably "A" Coy:

(The Company are grouped outside a large sports pavilion. This is a pavilion overlooking a sports field situated off Woodacre Road in Erdington. To the extreme left, very indistinctly, are the rear of houses in Westmead Crescent. If these men glance to their half-right they will be looking across a large expanse of playing fields which stretches right up to Grange Road.. At the far end of that expanse a few of the men are to be seen, on another occasion, practising with a spigot mortar - see image below. This area, and the splendid building itself, are thought to have been the City Gas Department's recreational grounds at that time. The pavilion still existed in 2017, in a much modified and extended form, and was the home of Hollyfields Sports and Conference Centre.)

Leslie Beard, front row, third from right.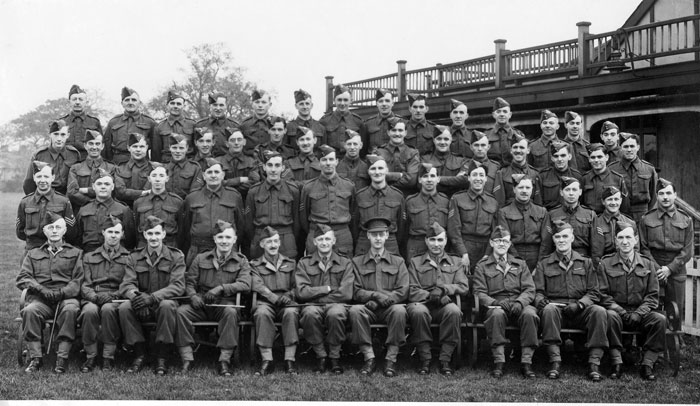 "A" Coy. officers:
Leslie Beard second from left. Unknown location but possibly similar to the Company image above.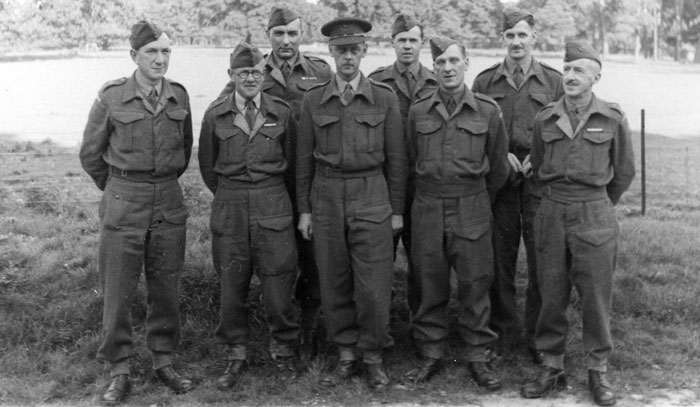 Another officer group in a summer garden setting:
Leslie Beard, front row, second from right.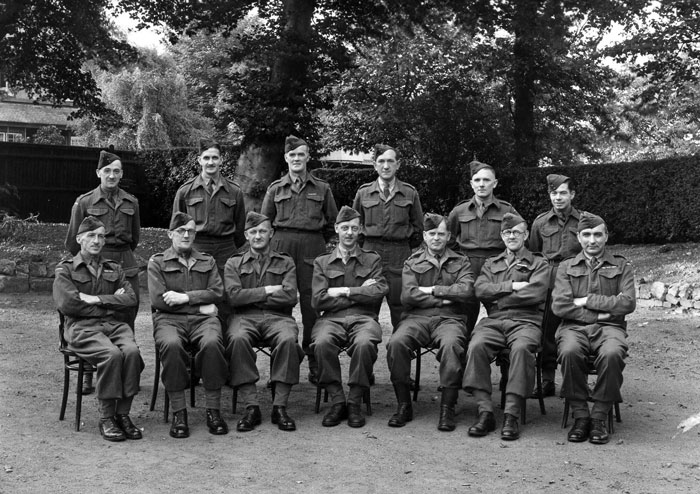 A further group of officers in a similar location
Leslie Beard, back row, extreme left.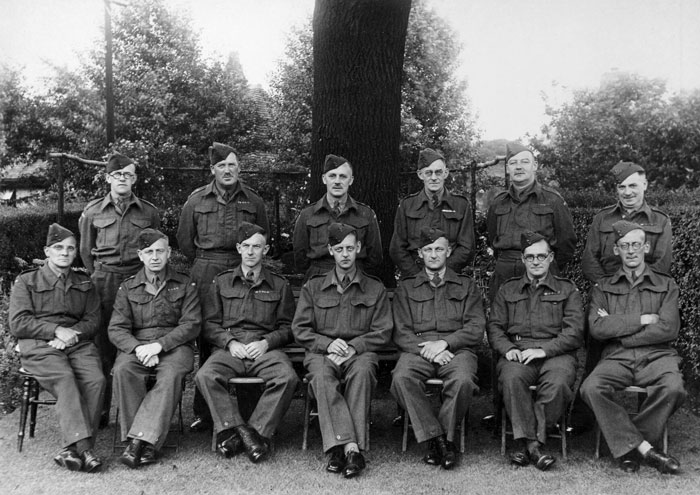 Leslie Beard and his Platoon, No. 1, "A" Coy., on parade on a sunny, winter's day:
Leslie at attention, standing at the front of his men.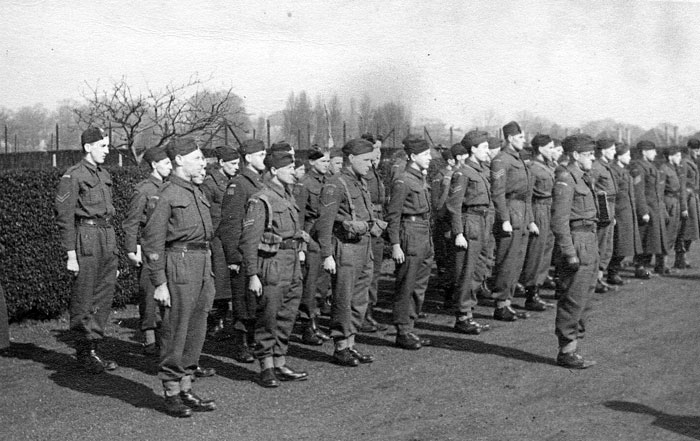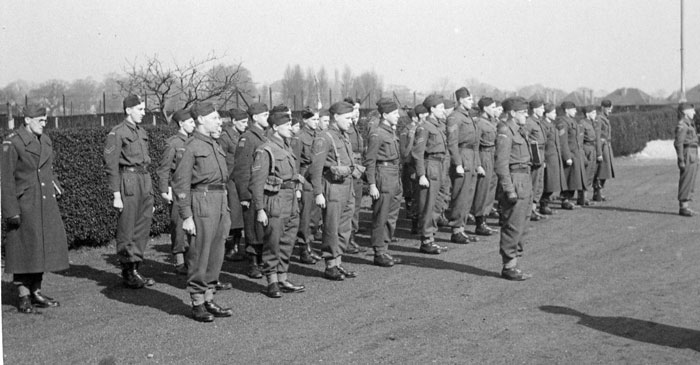 Summer camp at an unknown location but probably Umberslade Park: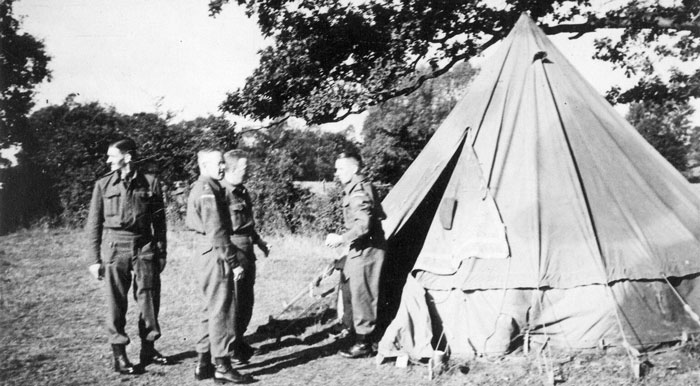 Training on the Blacker Bombard Spigot Mortar, on the playing field in

Grange Road, Erdington: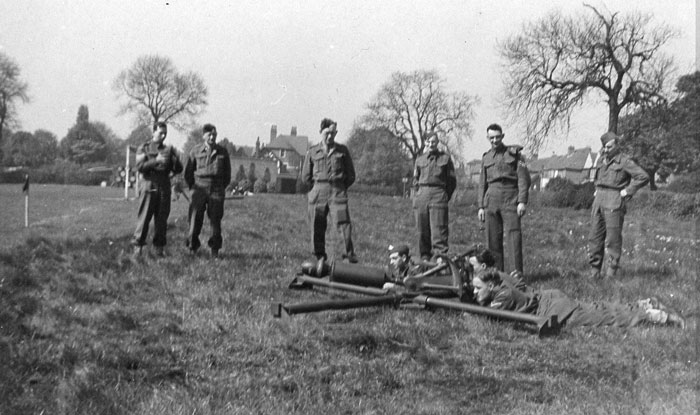 Here i
s the playing field in 1937, and again in the 21st century, with the mortar position marked:
| | |
| --- | --- |
| | |
| It seems as though nothing has changed over 80 years. But a 1945 view shows that it did, for a while. Temporary pre-fabricated houses ("pre-fabs", rapidly developed and manufactured to ease the acute post-war housing shortage) came in the intervening period and then went ..... | |
Finally, perhaps one of the more evocative images in this series. A group of officers and men, including Leslie (third right). Where are they? Where are they off to, or coming back from? Umberslade Park, perhaps, and its weaponry training courses? But if so, where is their kit? It's a cigarette (and pipe) moment as they await their train. And what has caught the eye of two or three of these men? Something up above. Is it just mild curiosity or is there a look of caution in their expressions?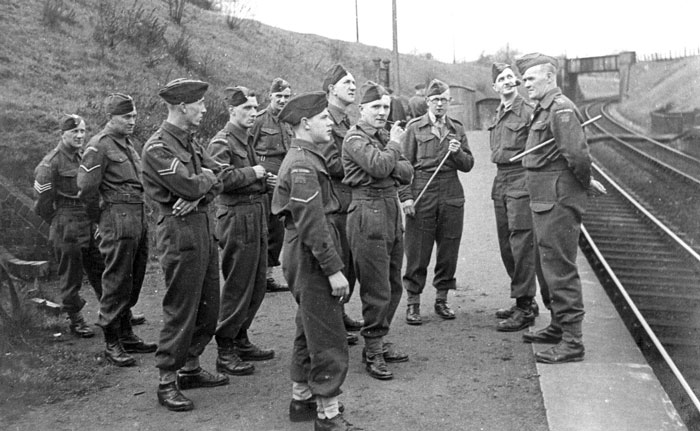 But perhaps we DO know where these men are!
The station is almost certainly
Wood End
, on the Birmingham to Stratford-upon-Avon line of the
Great Western Railway
. This station is the nearest to
Umberslade Park
and our group is waiting for a train to take them back to Snow Hill, whence they will travel on to their homes in and around Erdington
. They have completed their day or weekend of training. It's possibly late on a Sunday afternoon.

Over the next twenty-five years the 1908 station buildings, behind us as we look at the H.G. group, deteriorate significantly according to a sad, mid-1960s view, below.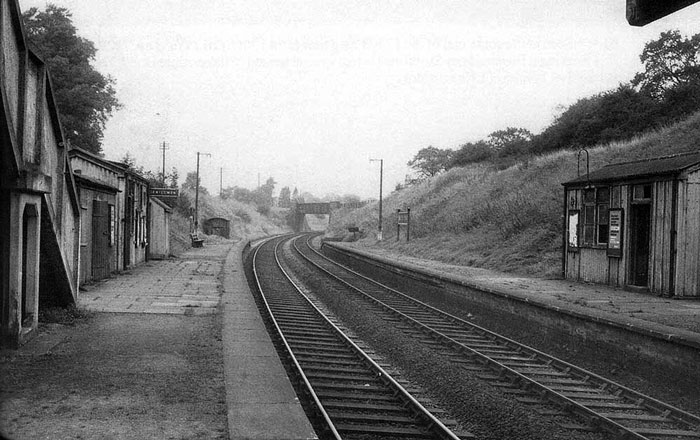 And today (18th March 2017), after a further half-century, the newly re-surfaced platform still invites us to journey onwards, through the same cutting now rich in foliage, to the centre of Birmingham: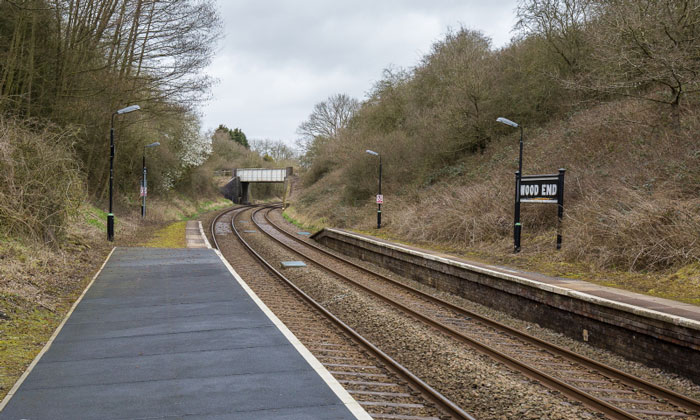 At some stage, as the 1940s group image above indicates, members of the Battalion were present at
Umberslade Park
to undergo training on artillery pieces. Here is just one of the photographs from those days.
An associated page
of the website is devoted to this period of training and contains many more images.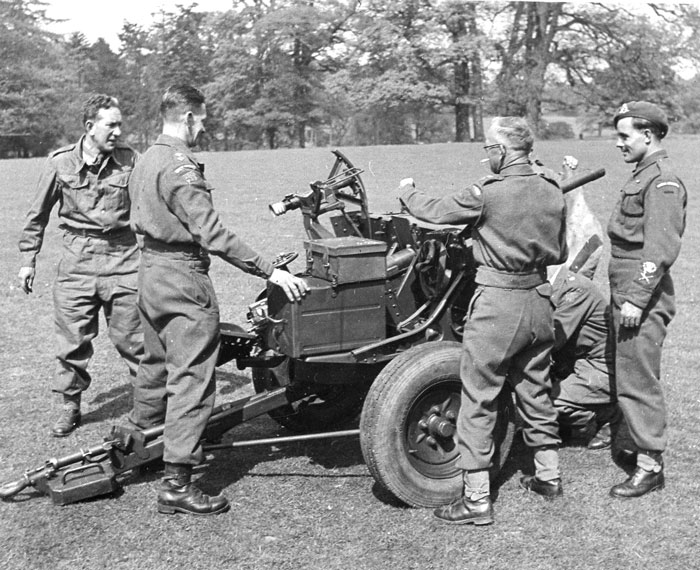 In common with all other Home Guard units, Leslie Beard's platoon encouraged competition amongst its members in order to enhance the skills being acquired. An example survives within Leslie's effects - a cup for shooting, won in January 1941 by

Vol. D. Gough

. Was this trophy perhaps provided by Leslie? It seems as though the competition was discontinued or, more likely, similar cups were competed for and won by others in the following years.





In the last few months of 1944, when all risk of invasion or major incursion was deemed to have disappeared, the Home Guard started to wind down. On Sunday 3rd December 1944, every Battalion had a final stand-down parade, in parallel with the national event which took place in Central London and was attended by representatives from all Battalions throughout the country. Erdington would also have had its final parade: images of it must have been published but have so far not come to light.

Like many other Battalions, the 23rd Warwickshire organised at least one Farewell Dinner, held at the Yenton Masonic Hall on Friday, 5th January 1945. This was attended by Leslie and other officers. His programme survives, bearing the signatures of a number of his comrades. Amongst those who signed and others who were mentioned are:

G. Blennerhassett - C.B. Bridge
R. Gavison/R.G. Avison(?) - Col. S.A. Godsall, M.C. - Lt.-Col. V.W. Grosvenor
Alec Hawkins/Hadkins/Madkins(?)
W.E. Lees
J. McCulloch - Maj. A.J. Marsterson
G.C.(?) Paul - C.G. Parr - Lt. R.F. Port
... Raby - Maj. O.F. Rosbrook - E. Rothwell(?)
Miss E. Slugg - Maj. A.K. Spencer
Maj. N. Valentine, M.M.
Lt.-Col. E.W. Walker.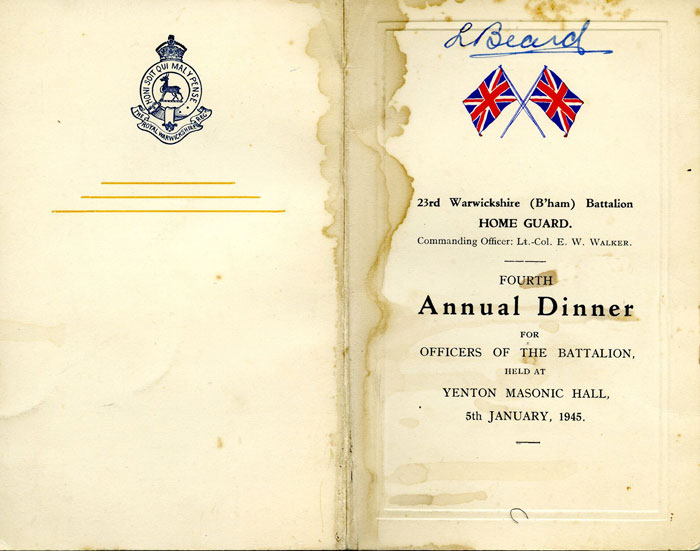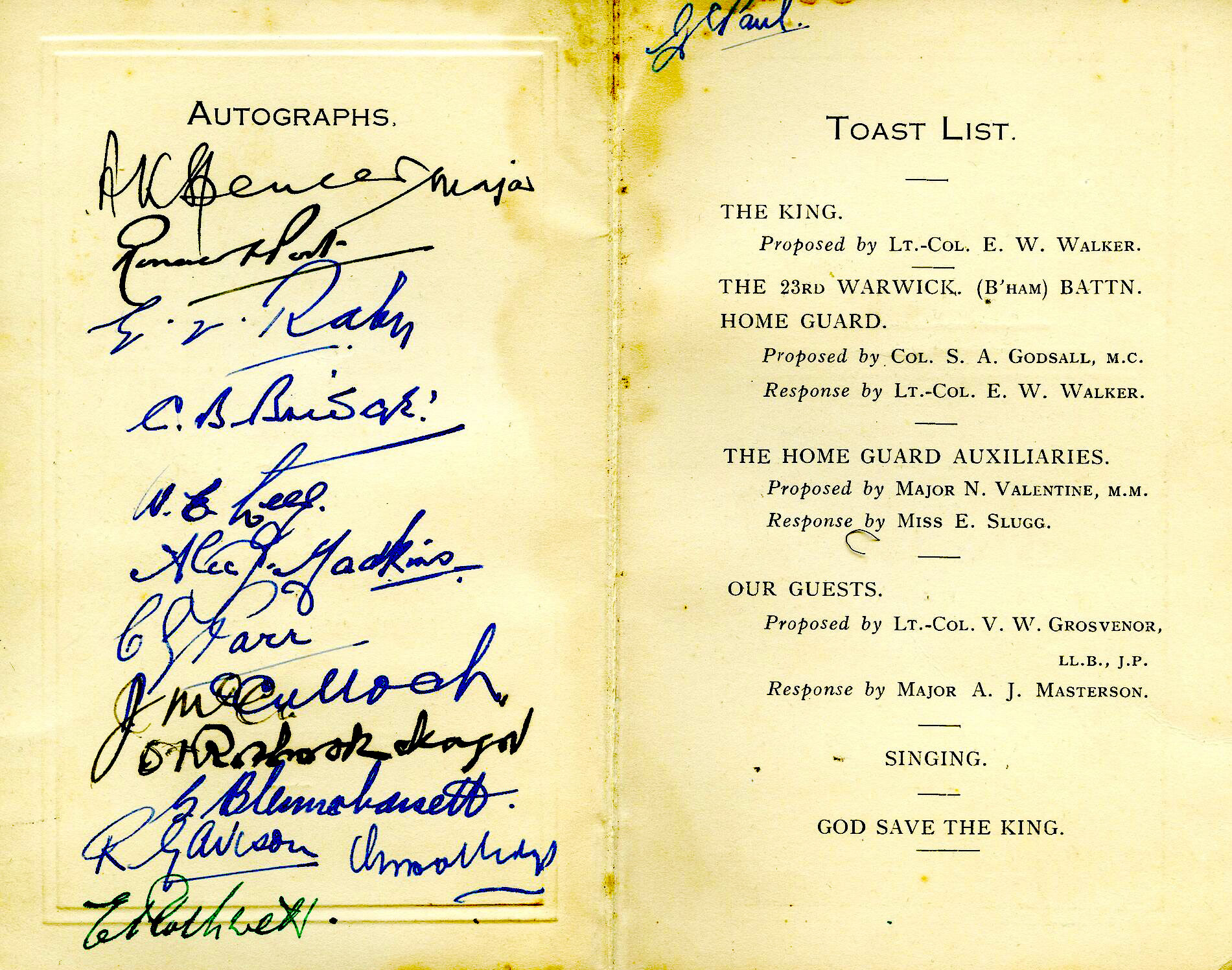 In memory of


Lt. Leslie Beard
and all his comrades in

23rd Warwickshire (Birmingham) Battalion,
Home Guard
Grateful acknowledgement


is made to John Wright, and other family members, for the information about his grandfather and their generous permission for its publication; to Dave Wasdell for the 2017 Wood End image; to the unknown source of the 1960s Wood End image; to members of the excellent Birmingham History Forum, especially "oldMohawk" and "Pedrocut", for information on Erdington locations; and to BritainFromAbove and Google Earth.
All images © John Wright 2017
except
2017 Wood End image © Dave Wasdell 2017
and various aerial images


x148A - May 2017 revised June 2017