The 10th Middlesex Battalion was responsible for the Southall area and was commanded (in 1941) by Lt.-Col. G. Moss, D.C.M.
This page contains an image showing No.3 Platoon of "A" Company of that Battalion, on an unknown date; and also information on some of the men in the photograph.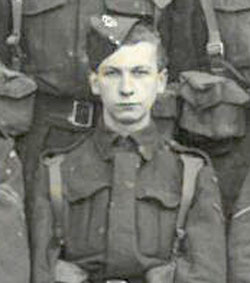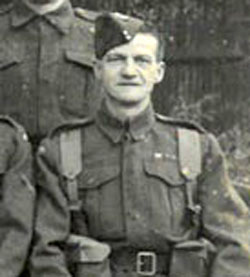 Cpl. Walter (Jack) Durham (1894-1980, right), a survivor of the Great War, is seated on the extreme right and his son, L/Cpl. Edward (Ted) Durham (b.1923, left), fourth from the right in the same row.
The Platoon Commander is remembered as Captain Toye but may well have been Lt. C. W. Tee. He is one of the two officers seated in the middle of the front row, 8th from the right and next to the officer with the RFC/RAF wings on his tunic. 7th from the right is the Platoon Sergeant, Sgt. Betts.


Family affiliations within individual Home Guard units were common – fathers and sons, brothers. (Captain Harry Myers commented on this in his record of the earliest days of his own Platoon, No. 5, "B" Company, 32nd Staffordshire (Aldridge) Battalion, as follows: ".......Fathers bring sons - a graceful compliment to the unit...."). The affiliation between Jack and Ted, shown above, is however not wholly straightforward. Jack Durham had served in the Great War in the Royal Field Artillery. By the outbreak of war in September 1939 he was an electrical inspector, employed at EMI in Hayes. At that time EMI assumed responsibility for other factories and Jack found himself working in another EMI factory somewhere in London. It was there that he must have volunteered for Home Guard service and he became a member of a Kent battalion. At a later date, perhaps because of some unknown change in circumstances, we see him above as now part of the 10th Middlesex where his son has been serving for some time.
Ted Durham's own circumstances within the Platoon were also unusual. Within his family there was a memory of his having been selected as part of a force to provide continuing resistance after invasion and occupation. This however does not imply membership of one of the once highly secret Auxiliary Units; these were usually formed much nearer to the coastal areas than this part of Middlesex. But Ted certainly received special training. In the words of his son after a recent (October 2018) conversation:
"He re-affirmed that he had been selected as one of a 'cadre class' for special training. This involved two members of each platoon in the Company, so possibly ten in all. They would gather for training under the direction of a Regular Army Staff Sergeant or WO2, normally on local golf courses or woods. He recalled one occasion 'Right L/Cpl Durham, imagine a machine gun post there, I want you to lead your men to take it out'. It appeared that the leader for each exercise was chosen on the day..."
Further memories of the Platoon's activities and Ted's part in them are also recorded:
"...Company training weekends took place at Bisley and Borden under Regular Army Sergeants. Accommodation was in bell tents. He recalled drill sergeants addressing the officers: 'Come sir, keep in step with your men, you're part of the Unit!'.

Initially, they didn't have a Company HQ as such, but then they moved into barracks that had been vacated by a searchlight battery on the Uxbridge Road, Southall. Only it hadn't been totally vacated – there were still some miscreants held in the guardhouse, meaning it couldn't be used. So it was a case of mattresses on the Drill Hall floor. This was the era of 'stick patrols', as they hadn't been issued with rifles.

Battalion HQ was at Norwood Green

. Dad remembers that close to one of the guard duty posts was one of the old green gents urinals. This would flush at unpredictable times during the night, causing alarm at least to those on duty.........."