This is a page within the www.staffshomeguard.co.uk website. To see full contents, go to SITE MAP.

HOME GUARD MEMORIES AND INFORMATION - WARWICKSHIRE

"EXERCISE TRINITY"

BIRMINGHAM FIRE GUARDS EXERCISE

SATURDAY 20TH MAY 1944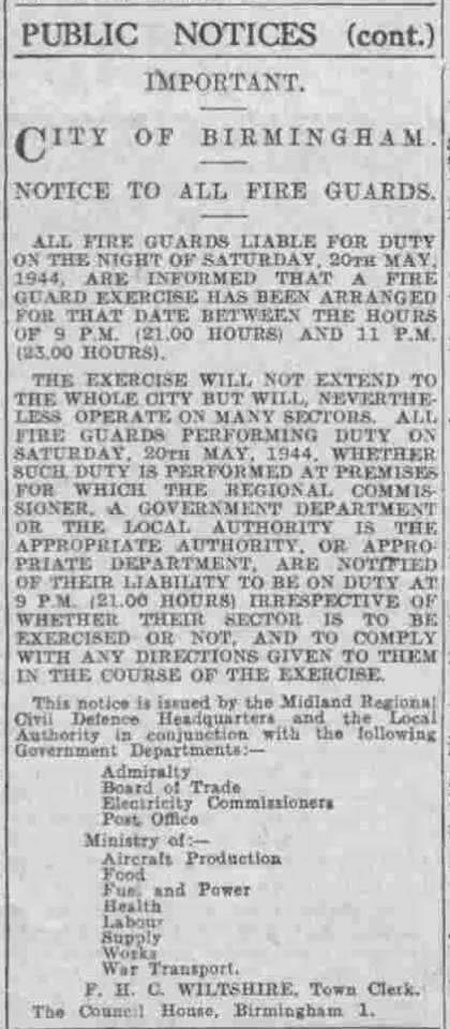 Birmingham was the scene of many defensive exercises in the course of the war. Sometimes these were major military exercises involving attack and defence by huge numbers of regular troops and Home Guards; others were to test the readiness of the city's various specialised services to meet other challenges, especially that of air raids.
"Exercise Trinity" was an example of the latter, perhaps one of the last to be conducted. It was an exercise aimed at the Fire Service, the Fire Guard Service, the Civil Defence General Services and the Home Guard - in other words, the entire range of services which would be brought to bear in the event of an aerial attack. Local units of the Birmingham Home Guard were thus involved and it seems that one very specific role was to provide wounded personnel for rescue and medical care. It is not known which of the various Birmingham Home Guard battalions participated.

The timing exercise is probably significant: just over a fortnight before D-Day (widely anticipated but involving wholly unknown reactions on the part of the Germans); and not long before the arrival in the south-east of the first V1 and V2 rockets (wholly unexpected by the general public but presumably anticipated by the Government; who could know what the targets were going to be?) The exercise may well have been a precaution against both of these possibilities. History tells us that Birmingham was spared the onslaught for which it had prepared itself so thoroughly.
This page shows one or two surviving documents specifying a little of the detail of the exercise. They are certainly just the tip of a huge iceberg: many, many hundreds, if not thousands of men and women must have been involved - all of those who would have had duties to perform in the event of an air-raid including fire service personnel, ambulance crews, first-aiders, rescue teams, hospital personnel, fire wardens, police, ARP wardens, Home Guard men, G.P.O. engineers, W.V.S. women, messengers, personnel from the City utility departments such as water, gas and electricity. They would all have required instructions as to their role in the exercise. And now that vast mound of paperwork has disappeared as has all first-hand memory of a Saturday night where everyone strove to hone their skills and keep their City safe against a still unknown future.