This is a page within the www.staffshomeguard.co.uk website.
To see full contents, go to SITE MAP
.
HOME GUARD MEMORIES AND INFORMATION : COUNTIES T-Z - YORKSHIRE
25th WEST RIDING (HUDDERSFIELD) BATTN.
and
CAPTAIN ERIC SELBY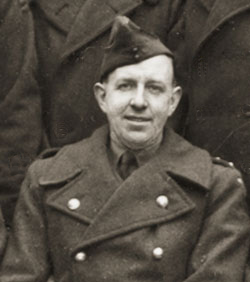 The 25th West Riding (Huddersfield) Battalion was responsible, together with the 26th West Riding, for the town of Huddersfield and its immediately adjoining area. It was commanded in 1944 and probably throughout its life by Lt.-Col. P. Moxon, T.D. One of its other officers was Captain Eric Lawrence Francis Selby (1896-1970, shown right).
This page contains images of all the Battalion officers and of one of its constituent Companies of which there will have been several, responsible either for a particular geographical area within the Battalion territory and broken down into platoons; or, as is the case here, for a number of specialised Battalion-wide functions including administration, intelligence, stores, equipment and weaponry, signalling, training etc. - the HQ Company.
The date and location of the images is unknown. But they are clearly taken at the same place and very probably on the same occasion. It is a wintery day. The officers have foresaken their greatcoats - but not their gloves; whereas in the other photograph everyone has been chosen prudence over photogeneity and retained their warm outer clothing! One can speculate on the date. Many photographs of this type were taken on the occasion on an anniversary of the creation of the Home Guard - in May each year. Sometimes the Battalion assembled for a particularly significant parade - in support of Wings for Victory Week for example. And of course the occasion of the stand-down of the Home Guard in December 1944. It is almost certain that the latter is the reason for these and no doubt similar, still to surface, images of the 25th West Riding and this is reinforced by the caption for these prints, once the property of Eric Selby, which states "December 1944". And so we can fairly safely assume that the men were photographed on the morning of Sunday 3rd December 1944, just before embarking on a large ceremonial parade through the middle of Huddersfield before applauding crowds. The weather on that morning was relatively mild but very windy with rain. The boots would have soon lost their wonderful shine but that would have been a minor consideration when later that day, possibly fortified by a pint or two, they said their farewells to their comrades, returned home to their families and hung up their uniform for the very last time.
Again we can only speculate on the location. We are in the shadow of a large industrial building - a mill or factory perhaps. It may have hosted the Battalion and contained the latter's Battalion H.Q. It has been suggested that the buildings stand in the Oakes or Lindley area of Huddersfield.
This first image below shows all or most of the Battalion officers. Captain Eric Selby is located 7th from the left in the second row.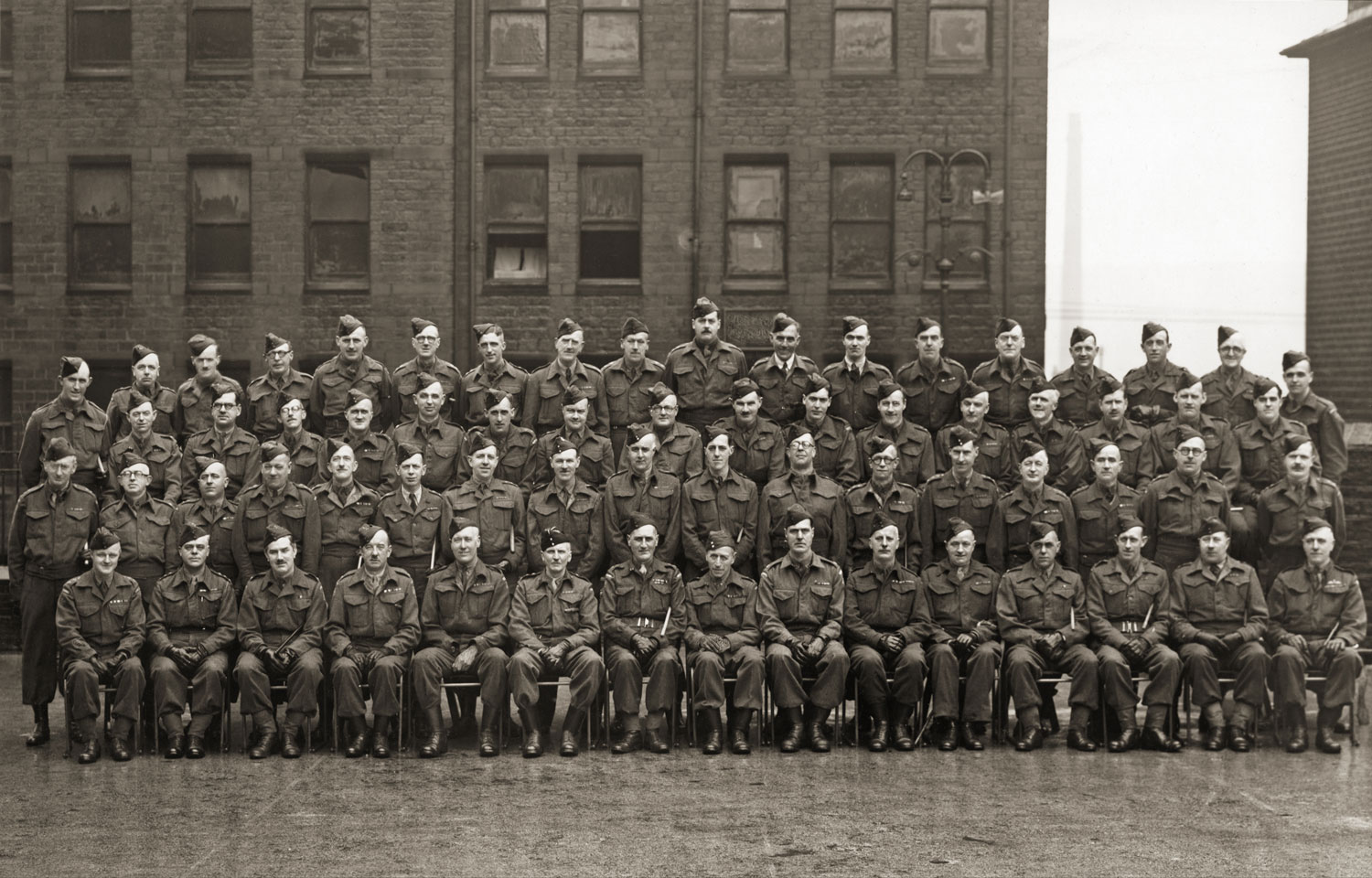 The image below shows the HQ Company within the Battalion. Eric Selby is in the front row, 8th from the left and next to the Company Commander. He is a senior member of this Company, perhaps even the 2 i/c.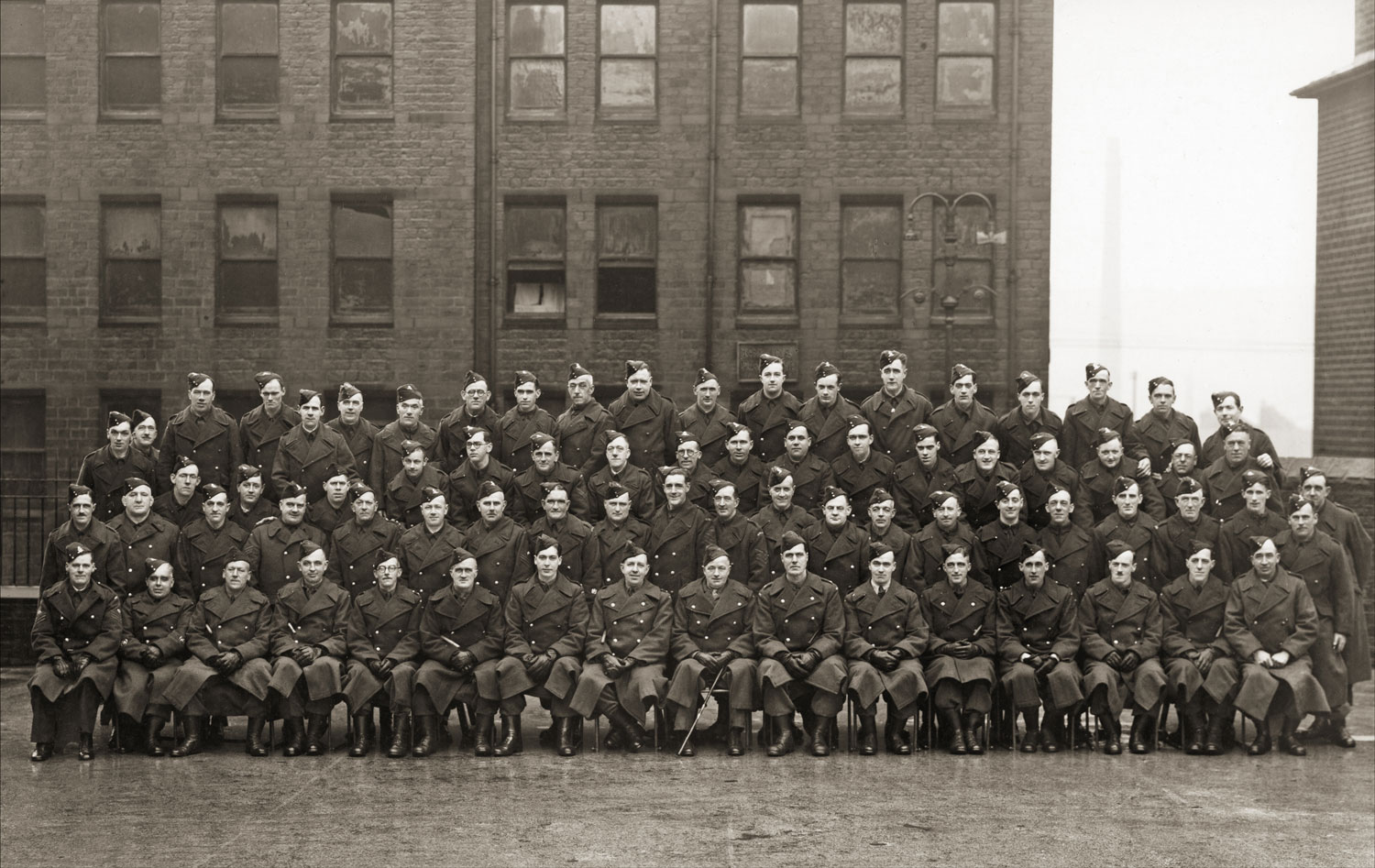 Eric Selby's previous military history would have been very relevant to his rank and important position in the Company and Battalion. He was in the Army from 1915 to 1919, mainly in Palestine where he served as quartermaster sergeant under General Allenby. We do not know his exact period of Home Guard service but it is safe to assume that he was an early volunteer some time after May 1940, that he was immediately appointed to a position of authority and that he served throughout.
Almost no information seems to have survived about Eric's Home Guard service. Just the odd anecdotal fragment, such as his occasionally benefiting from the perks of the job: a precious pound of butter or a few sugar lumps or even a whole bag of sugar. As he is likely to have had some sort of quartermaster responsibility, with a duty to justify everything to the last halfpenny, these surpluses are certain to have been 100% genuine! (Did he have to resort to the desperate measure adopted by one of his comrades in another unit, trying to explain the shortfall of one bar of chocolate in his stores? A spark of true inspiration: "Eaten by mice"). Otherwise no traces remain of his devoted service over four-and-a-half long years and several thousand hours of entirely voluntary effort.
In his private life, Eric spent much of his childhood in Doncaster. After a move to Huddersfield he joined the local accountancy firm of Armitage and Norton in 1911 when he was fifteen, initially as an office boy. He stopped there all his working life, travelling in Germany each year of the 1930s on behalf of the firm and taking with him on occasion the young Mr. Norton; it was then, perhaps in 1937, that they saw Hitler at the opera, together with his associates.
He married Mary Oldham (d. 1958) in 1927. They lived at 18 Macauley Road, Birkby, Huddersfield, the home of her parents. Eric never moved away from there. Mary's parents built, that same year, 'Glion', Marling Road, Fixby, Huddersfield (which was near to Ainley Top). Eric and Mary had two sons, Roger (1929-2013) who was a G.P. in the area; and Edward (1933-2011) who worked in the wool trade.
Eric continued to live and work in Huddersfield for the rest of his life, still at 18 Macauley Road and continuing to enjoy his pipe and a dram of whisky as well as regular visits to the Crosland Heath Golf Club where he was a committee member in the 1960s. He carried on working until 1968 when he retired at the age of 72. Sadly his days of leisure were short: he had a heart attack in 1969 and passed away suddenly on 6th February 1970.
1920s
with his mother

1930
with Mary and Roger

late 1930s
with Edward and Roger


again, late 1930s
with Roger and Edward


1944
in the Home Guard


1950s
with Mary and Roger




1952






1960s






1962



A NOTE ON THE HUDDERSFIELD HOME GUARD BATTALIONS
The Huddersfield Home Guard comprised two Battalions, the 25th and the 26th West Riding (Huddersfield) Battalions. They were just two of the 72 West Riding Home Guard battalions responsible for every square-inch of the area and each comprising perhaps 1000/1500 men.

Lt. J. W. Lockwood was Press Liaison Officer of the 26th West Riding Battalion (whose C.O. was Lt.-Col. R. Rippon, T.D.) Lt. Lockwood provides a glimpse of the Huddersfield Home Guard activities in the first half of the war and is quoted in "The Home Guard of Britain" by Charles Graves (Hutchinson & Co., 1943):
The story of the Home Guard in Huddersfield and the Colne Valley is similar to that in hundreds of other areas. Guards, drills, lectures and demonstrations with only a few incidents and excitements of a minor character to break the usual routine. The maintenance of a steady "dogged as does it" enthusiasm over the entire period since Dunkirk would seem to be the keynote. Shop, office, engineering and textile workers, working long hours in Huddersfield and the Colne Valley, have kept a vigil on the wild Yorkshire Moors at night. To many of them living in the valleys this meant an ascent to well over 1000 feet where in winter the climate often resembles the Arctic. Yet in spite of these difficulties, guards were maintained throughout the storms of two very severe winters.

Writing specifically about the earliest days in the 26th but no doubt relevant to the 25th too:
With regard to the L.D.V. days our Battalion on the whole was quickly and generally well housed. All kinds of old equipment and uniforms appeared as if by magic. Revolvers and shotguns were sufficient, together with a few rifles, to supply the mighty patrols over the moors. When denim appeared, I think my company had 10 sets. This involved a rather hurried change each time a patrol returned. The results were often funny – a six-footer exchanging garments with a former member of a Great War bantam battalion.
It was not long before there was a rebellion against this procedure and a reversion to the armband as sole uniform was ordered. Another feature of those days was the comforts fund, subscribed mainly by the members themselves. This fund acted as a supplement and a gap filler between the hundred-and-one requirements and the prevailing tardiness of the official orders authorising the spending of money. Beds, blackout curtains, wireless receivers, cooking utensils and food are a few of the items.

And he also quotes a story from the 25th Battalion:


A report was received to stop a certain War Office car, the number of which was given. This car was stopped near the Borough boundary. The civilian driving it became so angry at being taken to the police station four miles away that his guards used very forcible methods and so thoroughly frightened him that, when all was explained and his papers proving that he was an Air Ministry official had been produced to the police, he would not drive out of the Borough along the same road without a safe conduct from the Group Commander.

In memory of

Captain Eric Selby
of
The Huddersfield Home Guard

and all his comrades
in the
25th and 26th West Riding (Huddersfield) Battalions,
Home Guard

ACKNOWLEDGEMENT
Grateful acknowledgement is made to Richard Selby (and also to other family members including Sally and Nicholas Selby) for providing these group photographs and the information about his grandfather; and for permitting their publication by staffshomeguard.
Acknowledgement is also made to the source of additional information: "The Home Guard of Britain" by Charles Graves (Hutchinson & Co.)

FURTHER INFORMATION
For other Memories and Information relating to Yorkshire units:
use these "MEMORIES - YORKSHIRE" or SEARCH links.