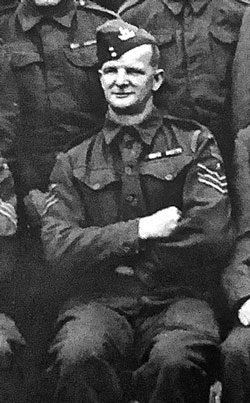 Sgt. William Thomas Benjamin (Bill) Hammond
(1896-1982)
was a member of the
Dorridge Home Guard
which was part of the
5th Warwickshire (Solihull) Battalion
commanded by
Lt.-Col. F. Blennerhassett
.

Bill Hammond lived in
Earlswood Road, Dorridge
and ran his own business supplying motorcycle components from a shop in Birmingham. His customers were world-wide. Like so many of his comrades he had had Great War experience including serving as a private in the
Royal Warwickshire Regiment
, as well as in other units. He was a sniper and served at Ypres.

Unfortunately little survives of his Home Guard experience. It is safe to assume that, with his previous military record, he would have been an early volunteer following the creation of the service in late May 1940. He will very quickly have been promoted to a position of authority at an early stage because of that experience which was regarded as invaluable.

The one surviving document of Bill Hammond's Home Guard service is the photograph below showing a group of Dorridge men. Bill is second from the left in the front row, next to the officer i/c. We are probably looking at either a section of the platoon (or one of the platoons) responsible for Dorridge; or, more likely, the officer and NCOs responsible for the entire Platoon. The men are mainly of mature years and many have Great War ribbons indicating their earlier service.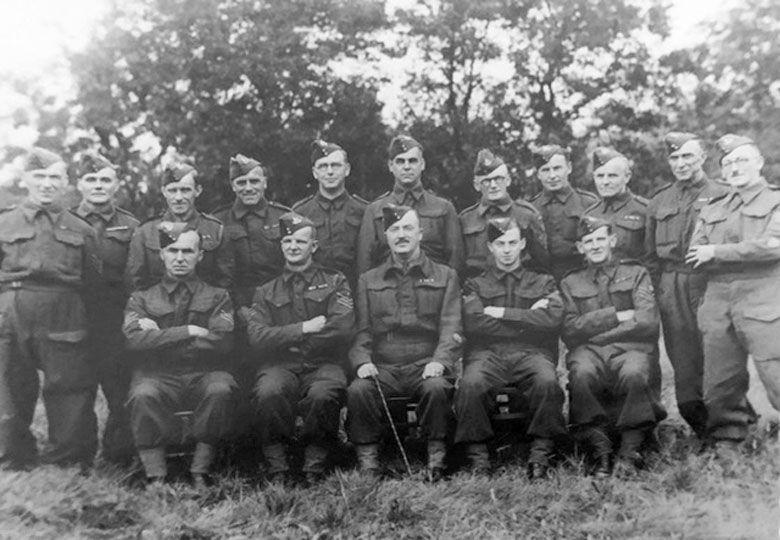 Both the family of Bill Hammond and staffshomeguard would welcome any further information which anyone may have about the Dorridge Home Guard. Please use the
FEEDBACK
link below.

Elsewhere on this website we have a glimpse of an earlier group of men, roughly the

equivalent of the WW2 Home Guard, the
Knowle and Dorridge Volunteers
photographed at
Stoneleigh
in September 1918. Click on this thumbnail to view.


In memory of

Sgt. William Thomas Benjamin Hammond
and
all his comrades
in the
Dorridge Home Guard

Grateful acknowledgement
to Barbara Hammond for this information about her father-in-law and her permission for its publication in this website
Image © Barbara Hammond 2019