HOME GUARD MEMORIES AND INFORMATION - WARWICKSHIRE, BIRMINGHAM
ASTON HOME GUARD and ITS HEROES:
ALFRED BRUNGES and CHARLES TOZER

This is a page within the www.staffshomeguard.co.uk website. To see full contents, go to SITE MAP.
The London Gazette of 30th September 1941 announced the award of the George Medal to two members of the Aston Home Guard: Section Leader Alfred Henry George BRUNGES and Patrol Leader Charles William Lovelace TOZER for their work during an air raid on 26th October 1940. These two men were members of the 2nd Birmingham Battalion, later known as the 22nd Warwickshire (Birmingham) Battalion. (The George Medal was awarded "in recognition of conspicuous gallantry in carying out hazardous work in a very brave manner". Just thirteen were awarded to Home Guard members and these were two of them).
On the day following the announcement The Times reported the citation for this award as follows:
During an air raid on Birmingham, Brunges and Tozer went to the aid of a large number of people trapped under the debris of a basement shelter which had been destroyed by a bomb. The basement was rapidly filling with water and a gas main had also been broken. The trapped persons were either buried or held down by parts of the structure. The raid was still in progress and heavy bombs were falling near. Brunges and Tozer gained access to the shelter with great difficulty and began to remove loose beams and debris with their hands. Rescue work was carried out for about three hours and a number of people were extricated.
Another description states that the work of rescue seemed hopeless as the basement with all its trapped people was rapidly filling with water. Loose beams had to be removed where possible but this was very dangerous because of the risk of dislodging large blocks of concrete from the floor above. Section Leader Brunges and Patrol Leader Tozer took the risk of moving these beams with no regard for their own safety, removing the debris with their hands and for most of the time kneeling or lying half-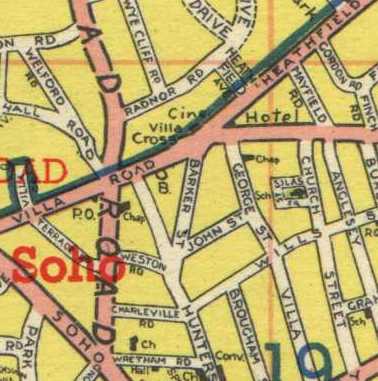 immersed in water. Heavy bombs were falling in the vicinity, but work was carried on until between fifteen and twenty people had been extricated, about half of them still alive. The two men only stopped when it was impossible to discover any further victims.
The incident is reported in the book "Heroes of the Birmingham Air Raids" by Michael Minton, (published by Brewin Books ISBN 1 85858 211 3). The location is variously described as a public shelter located below a fruit & veg. shop owned by a Mr. Willetts or one on the corner of Barker Street, Lozells opposite the Villa Cross picture house.
The same book describes the effect that this incident had on Patrol Leader Tozer, in the latter's own words from 1983:

I was a skilled man and had been turned down from the forces because of this, but in that shelter I made a vow that somehow I would get into the forces and kill every German I could get near to. I changed from a nice fellow to a bitter one, who needed revenge, as I was only young and I thought this way. Eventually I got into the Army and became a Sergeant Major, but that's another story.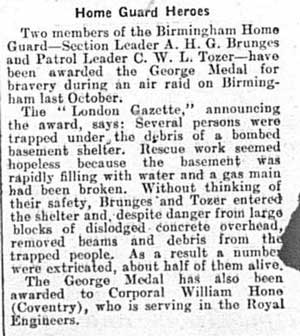 This is a newspaper report of the award of the George Medal which appeared many months later.

These two brave men saved the lives of many people that night but the casualty levels, in this location and nearby, were still appallingly high.

Notes
The rank of Section Leader and Patrol Leader were those of the original organisation, before the introduction of army ranks into the Home Guard was announced in November 1940 (see Home Guard Timeline). The two men then probably became N.C.O.s.
Alfred Brunges and Charles Tozer were not the only men to display conspicuous gallantry during the Birmingham Blitz and be awarded the highest honours. Other Birmingham awards included:
George Cross (posthumous)
Section Commander G. W. INWOOD, 15/16th October 1940
George Medal
Volunteer A.W. BAILEY, night of 19th November 1940
Platoon Commander T. SIMPSON, night of 11th December 1940
Platoon Commander R. HAIGH, night of 22nd November 1940
Platoon Commander R. E. COOKE, night of 28th October 1940
Other acts of bravery by Birmingham Home Guard members were rewarded with the British Empire Medal. Many others no doubt went unrecorded and unrecognised.