HOME GUARD MEMORIES AND INFORMATION - OTHER COUNTIES (A-E) - BUCKINGHAMSHIRE

BUCKINGHAMSHIRE HOME GUARD
by Stanley C. Jenkins M.A.
This a page within the www.staffshomeguard.co.uk website. To see full contents, go to SITE MAP.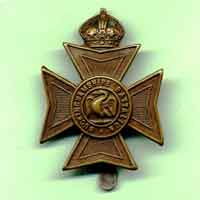 THE BUCKINGHAMSHIRE HOME GUARD

Following the "wireless" broadcast appeal made on 14th May, many hundreds of Buckinghamshire men registered at police stations for enrolment in the Local Defence Volunteers. The response was truly magnificent, and suitable commanders were soon appointed to set up the necessary organization. On Friday 17th May 1940, Colonel P.A.Hall was appointed commander for Buckinghamshire with the approval of Brigadier MacMullen, the commander of the South Midland Area in which Buckinghamshire was then included. A conference of county commanders and chief constables was called at Area Headquarters on the following day, and it was agreed that Buckinghamshire would be sub-divided into seven areas, which would correspond to the local police divisions. It was initially envisaged that the new force was would have no formal ranks, and apart from the Area Commanders, all leaders were expected to be selected by merit, election or common consent – the implication being that the Local Defence Volunteers would be a purely local force for the protection of individual towns, villages and hamlets.
The first few months involved an immense amount of work, while the lack of uniform, arms, equipment and financial backing engendered "the largest amount of honourable indignation, jealousy and deliberate misappropriation that has possibly ever existed in this county at one time". Nevertheless, by "gradual and rather grudging stages" the Buckinghamshire local defence force developed into a pattern very similar to that of the regular army, with commissioned officers, non-commissioned officers and a light framework of discipline, "all this to the intense delight of many old warriors who had borne with ill-concealed dissatisfaction a state of affairs that they regarded as deplorable". By June 1940, when this force of enthusiastic part-timers was re-named "The Home Guard", it had developed into a conventional military organisation, with "proper" ranks and uniforms. As in Oxfordshire, it was agreed that the local Home Guardsmen would be affiliated to the Oxfordshire & Buckinghamshire Light Infantry, the "swan" badge of the Bucks Battalion being adopted as the cap badge of the Buckinghamshire Home Guard.
As regards routine work and duties, all over the county vast numbers of men were kept up all night manning numerous and overlapping observation posts. Government departments, local Authorities and business leaders called for guards on what were deemed to be vulnerable installations such as aerodromes, factories and railway lines. Indeed, the Home Guard devoted much of their time to patrolling railway installations and, in some places the local railway stations became Home Guard headquarters or assembly points.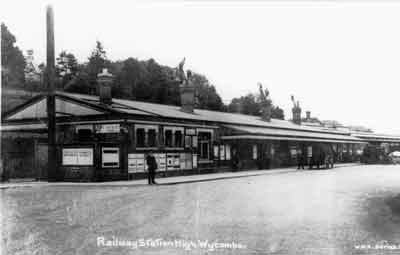 At High Wycombe station (left) the Great Western Railway fitted-up an ancient four-wheeled passenger vehicle as a mess room for the Home Guard, the vehicle involved being former composite No.6615. It was later decided that a dismounted coach body (possibly the same "Home Guard Coach") would be lifted onto the up platform as accommodation for the Home Guard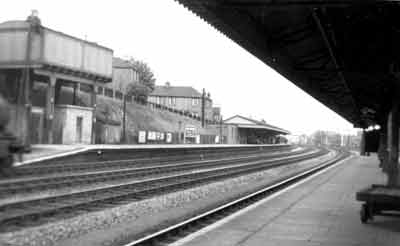 at an estimated cost of £59. Unfortunately, the final cost was £76 16s. 3d. because "Sunday labour had to be worked", and "the engine power and crane hire" was more expensive than been anticipated! In addition to providing accommodation for the Home Guard, the High Wycombe station also served as the headquarters for a detachment of Air Raid Wardens, who were comfortably installed in the Ladies' Waiting Room on Platform One – this being the source of some tension between the Home Guard and the ARP Wardens because the Ladies Waiting Room had been fully-equipped with cupboards and beds, with a gas ring in the nearby Foreman's Office! (See The Great Western & Great Central Joint Railway, by Stanley C.Jenkins, Oakwood Press 2006).
As in other counties, the Buckinghamshire Home Guard were called upon to man block-houses and pill-boxes which were, in many instances, erected at "nodal points" at which ambushes could be staged. Trenches dug "at every conceivable point, frequently sited most unsuitably; and road-blocks, usually in the form of a tree with a wheel at one end, to hold up wheeled traffic, were placed to obstruct vital roads all over the county". Despite their apparent eccentricities, the Home Guard rapidly became a force to be reckoned with and, as humorists pointed out, sudden challenges and occasional random shots "soon made the country a land unfit for anyone but heroes to live in, at any rate after dark".
As the numbers and strength of the Buckinghamshire Home Guard began to increase, it became necessary to add additional battalions, and in November 1940 the original 6th Battalion was sub-divided into four battalions which then became the 6th, 8th, 9th and 10th Battalions – all covering the southern part of the county. Following a later sub-division, the 5th Battalion was split to form the 5th and 11th Battalions, the 5th being concentrated in the Beaconsfield, Gerrards Cross and Denham area, whereas the 11th Battalion covered Chesham, Amersham and the surrounding districts. In the north of the county, a further subdivision took place when a new battalion, the 12th, took over parts of the 1st, 2nd and 3rd Battalion areas. Meanwhile, a 13th battalion was formed by employees of the Hawker Aircraft Company at Langley, in the south of the county while, later still, the Buckinghamshire Home Guard acquired a rocket battery, an Anti-Aircraft battery and a Mechanical Transport Company.
Buckinghamshire Home Guard Order of Battle
1st Battalion: Lieutenant-Colonel H.M.Edwards OBE (1940-45).

2nd Battalion: Lieutenant-Colonel Sir Everard Duncombe Bt, DSO, DL (1940-42); Lieutenant-Colonel R.E.Hagley OBE (1942-45).

3rd Battalion: Lieutenant-Colonel R.Haworth DSO, MVO (1940-42); Lieutenant-Colonel A.E.Impey (1942-45).

4th Battalion: Lieutenant-Colonel H.Beaumont OBE (1940-42); Lieutenant-Colonel L.W.Kentish, D.S.O (1942-45)

5th Battalion: Lieutenant-Colonel P.M.Beachcroft OBE (1940-41; Lieutenant-Colonel W.Gibson, DSO OBE, MC (1941-45).

6th Battalion: Colonel S.W.L.Ashwanden. DSO, TD, DL ADC 1940-43. (Disbanded 1943).

7th Battalion: Colonel L.L.C.Reynolds DSO, TD, DL (1940-42); Lieutenant-Colonel L.W.Strong (1942-45).

8th Battalion: Colonel L.M.Wilson CMG, DSO (1940-42); Lieutenant-Colonel T.L.Wakley (1942-45).

9th Battalion: Lieutenant-Colonel W.H.Lewis, DSO, MC (1940-42); Lieutenant-Colonel E.R.Clarke MC (1942-45).

10th Battalion: Lieutenant-Colonel H.R.Douglas Harding (1940-42); Major-General Sir Richard Howard-Vyse KCMG, DSO (1942); Lieutenant-Colonel W.R.Corfield MC (1942-45).

11th Battalion: Lieutenant-Colonel G.S.Marston DSO, MC (1942-45).

12th Battalion: Brigadier-General J.Micklem DSO, MC (1942-45).

13th Battalion: Lieutenant-Colonel P.W.S.Bulman CBE, MC, AFC, (1943-45).

101st (Bucks Home Guard) Rocket Anti-Aircraft Battery: Major F.S.Low MC (1942-43); Major G.S.Deakin OBE (1943-45).

71st (Bucks and Berks) Heavy Anti-Aircraft Battery: Major J.B.S.Bourne-May (1942-45).

2003rd (Bucks Home Guard) Mechanical Transport Company: Major E.A.Hearne (1943-44); Major F.W.Tillion (1944-45).

ACKNOWLEDGEMENT
Grateful acknowledgement is made to Stanley C. Jenkins for writing the above article and generously permitting its publication on this page.
(The Soldiers of Oxfordshire Trust was formed in 2000 to "establish a joint museum in Oxfordshire under the title of Soldiers of Oxfordshire (SOFO)." The Group's long term objective is to improve accessibility to the military heritage of the county. Stanley C. Jenkins is the Hon. Secretary).
Text and images © Stanley C. Jenkins, 2009