On the afternoon of Sunday 27th June 1947, Admiral Lord Mountevans, K.C.B., D.S.O., LL.D, unveiled a memorial plaque at St. Hilda's Church, Crofton Park, London S.E. 4.
This plaque was to commemorate five local Home Guards who had lost their lives whilst on active service almost exactly three years earlier. They had been on duty at their HQ at Brockley Road School when it was destroyed by a V1 Flying Bomb on 19th June 1944, probably at around 10 p.m. It was a Monday evening. This was one of the first of these devices to fall in this area of London but it would be followed by many more in the locality over the coming weeks - and later by an even more terrifing and devastating weapon, the V2. These were the men:
Corporal F. C. Lucas
Lieut. C. C. Pacey
Lieut. W. W. Ray, M.M.
Lieut. A. E. Smith
Sgt. E. A. Tarr
and this the commemorative plaque in St. Hilda's Church.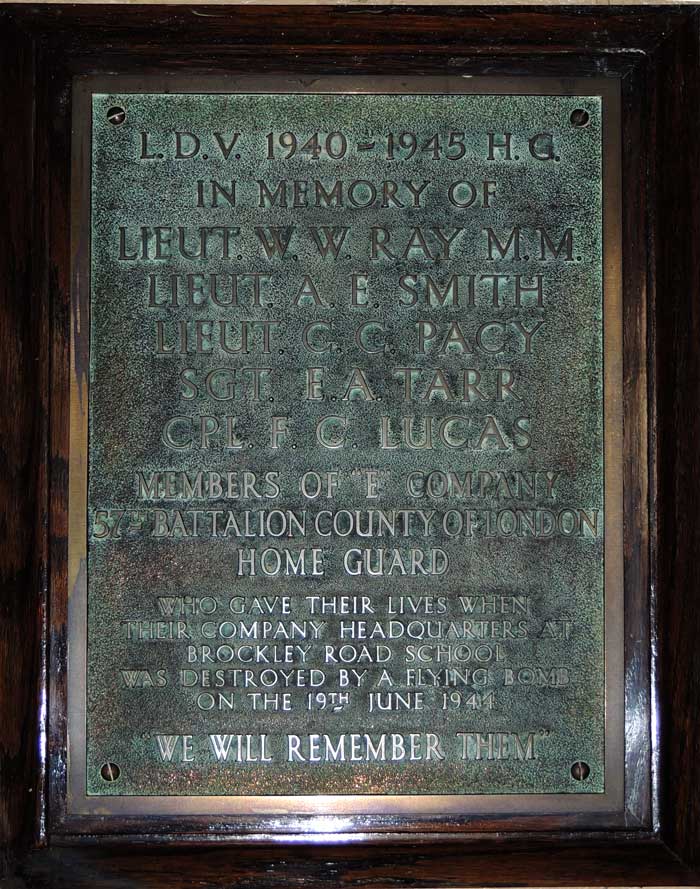 This is how the ceremony of commemoration was reported in The Kentish Mercury in its issue of 27th June 1947.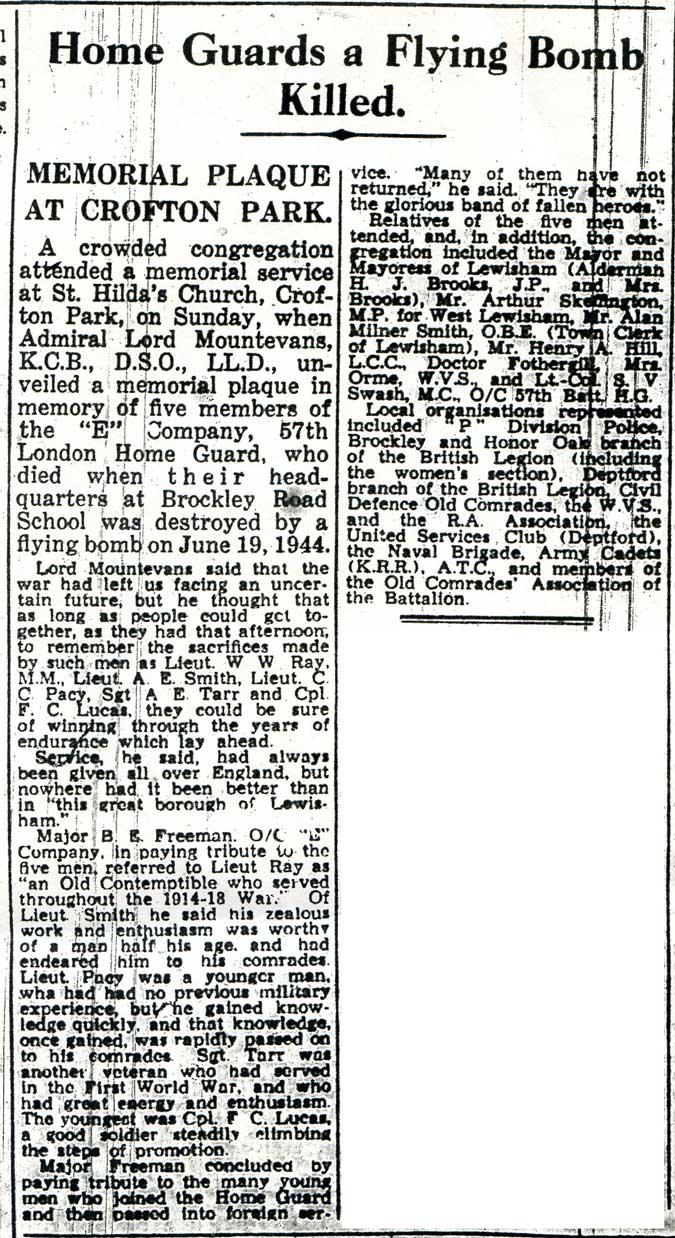 The parade and the Order of Service....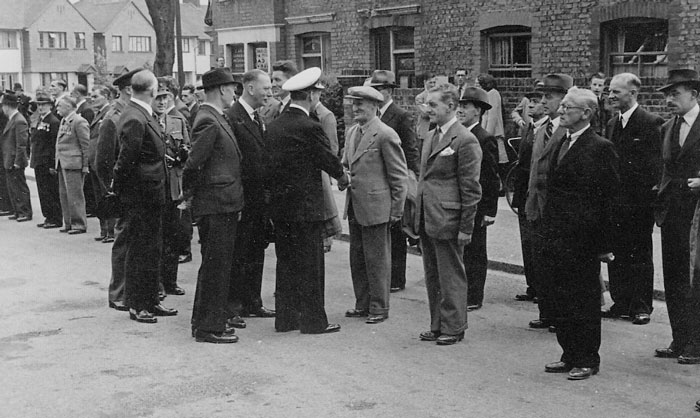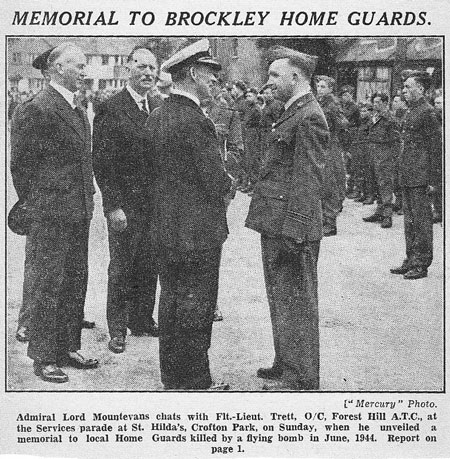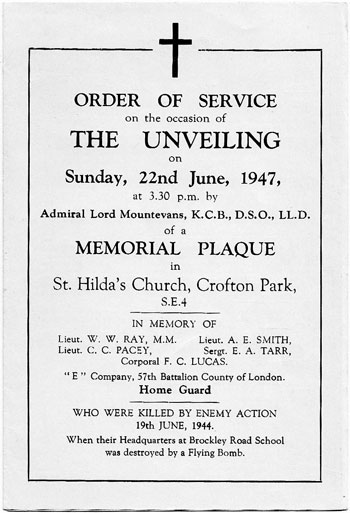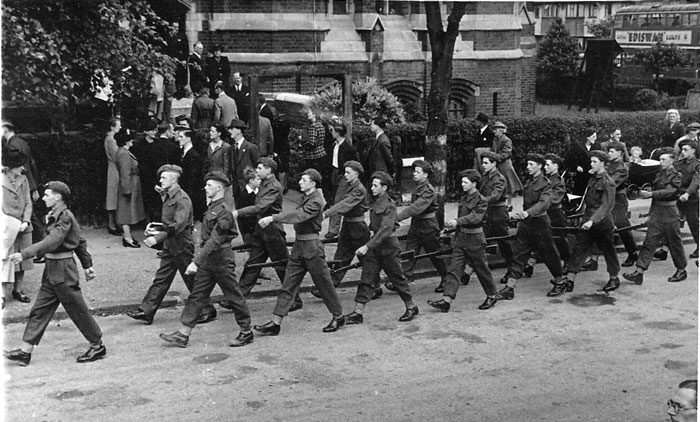 T
he scene outside the church
(above)
....
.... and (below) the unveiling of the plaque.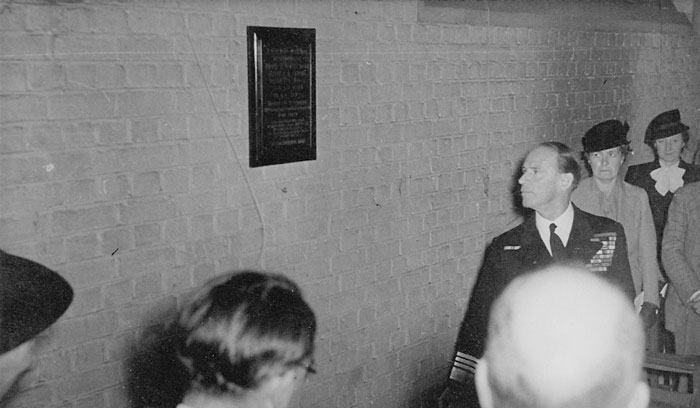 Three of the men, William W. Ray, Albert E. H. Smith, and Ernest A. Tarr, are buried in Hither Green Cemetery, Verdant Lane, Catford, SE6.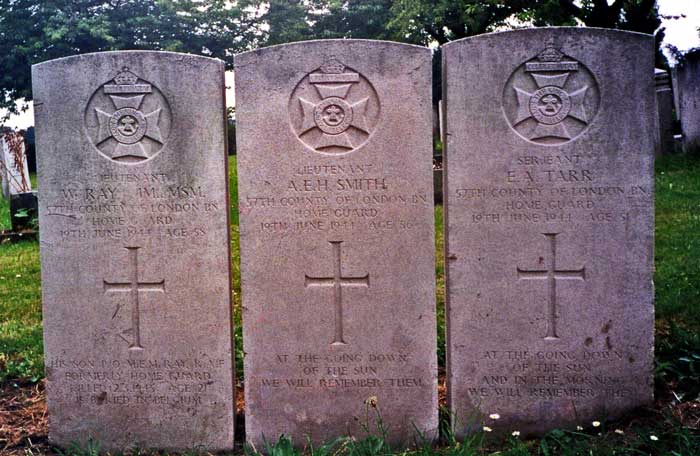 This tragedy must of course have been a devastating blow to the families of the men and to all their comrades in the local Home Guard. In 2004 the daughter of Lt. Ray, Mrs Doreen Hayes, recorded her Wartime Memories which included further information about the loss of her father. This moving article, which also tells us much about the impact of war on just one normal young woman and her family, is part of the BBC's People's War website and can be read via the above link - please read it. (You will leave this website).
In common with many other Home Guard units, the Brockley unit formed its own post-war association, known in this case as the Brockley Company Old Comrades Association, and held reunions in the following years. This is a newspaper cutting describing one of them, on an unknown date: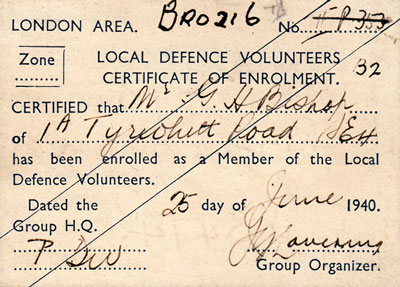 Mr. G.H. Bishop
was the Secretary of this Association and, as his Certificate of Enrolment confirms, a long-standing member of the local Home Guard.



On the day of the unveiling, he collected the signature of many of his old comrades in his copy of
"Britain's Home Guard"
by John Brophy and Eric Kennington
:
********************
It is pleasing to note that awareness of the tragedy has recently been reawakened. Moves are afoot to restore the plaque; and it is hoped that pupils in the long-since rebuilt school will undertake a project whereby the incident will be investigated further and as a result the men involved will be commemorated anew.
Let this page also stand as a modest memorial to them and to their service.