A TEENAGER'S MEMORIES, 1940-1946 ...
I was 12 in 1940. At the outbreak of war in the previous September we were living in Rushall where my parents had lived since they were married. My mother had two sisters living in Streetly and she wanted to move closer to them, even though it seems that house costs were high even in those days. However 88 Hardwick Road, Streetly became available from January 1940, the owner being called up. The house was located at the bottom of the dip going from the Hardwick Arms towards Streetly.
My parents had to get themselves organised to find a school for me. It appears that one of my aunts had a connection with Coogee School in Burnett Road and so I was effectively dumped there on a temporary basis before going on to Wylde Green College in September 1940. My joining Coogee predated our move to Hardwick Road. Initially it was quite a jaunt catching a bus from Rushall to Walsall then to Streetly and back again after school. On one of the early days I set off without my gas mask in its cardboard box and string and did not notice this until the bus got near the bus station. I went and found the Conductor (we had bus conductors in those days) and asked him if I should go home and get my mask. He said he was sure there was not going to be a gas attack that day, so I off I went happily to school.
Whilst at Coogee we had several air raid alerts in the late summer of 1940 and I remember quite vividly seeing the German bomber (an He 111) as we were rushed to the shelter. My Father was convinced that they were looking for Castle Bromwich (the Spitfire plant).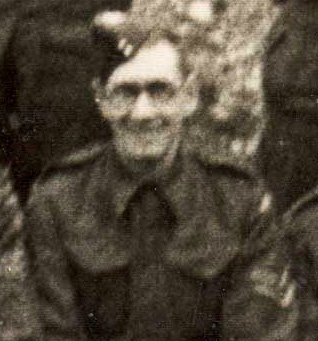 At the beginning of the war my father
(right)
was an accountant with the L.M.S. Railway located at the main admin. office at
Curzon Street in
Birmingham. He however changed his job in 1941 to become the Transport Manager for Tube Investments in Rocky Lane, Aston. This career move allowed him to use a car when many could not. I remember him discussing joining the LDV with my mother and a small group went from the Hardwick Arms and joined with the first wave. Enrolment was at the Church Hall on
Foley Rd. Having been wounded in the first war as a young man when the Zeppelin bombed Walsall his thoughts about this made him an enthusiastic recruit. Whilst I am sure that she supported his efforts loyally, my mother did have serious concerns about the presence of a Home Guard rifle in the house. The result was that the weapon was kept securely locked in a wardrobe when not needed for H.G. activities.
On one of the pages of this website describing the local Home Guard activities there is mention of the regular observing and investigation of suspicious flashing lights. I know that my father was involved on one occasion: the patrol surrounded a house in Streetly and waking the occupant it was found to be the reflection of the searchlights on a glass roof window.
It has been said that the Hardwick Arms made a good living out of the Home Guard. A case of mutual support, one assumes! I remember a particular happening which occurred in the early days of the air raids outside London, probably not many weeks after the formation of the Home Guard. At home we did not initially have an air raid shelter, and not knowing what to expect we decided to go to the nearest public shelter which was located opposite to the Hardwick Arms on the grass verge at the commencement of Wood Lane and near to the Post Office. So at the sounding of the warning we trooped up to the shelter. Several of the menfolk stood talking at the bottom of the access steps, and then decided to go and get a pint or two from across the road. They came back and carried on talking when suddenly a piece of anti-aircraft shrapnel came down the steps - you can imagine the speed they moved into the main shelter bemoaning the loss of beer in transit! In those early days in the shelter children did well as they got an ice cream from Mr. & Mrs. Payne who owned the Melbourne Café (now a Chinese Restaurant).
Webmaster note: the Hardwick air raid shelter, built by the Home Guard in the winter of 1940/41 and photographed, probably two or three years later, from the forecourt of Cutler's Garage, opposite:
Shortly afterwards we purchased an indoor version of the Anderson shelter and had it bolted to the floor in the lounge. With two bunks for my sister and me we got the shelter just before the few bombs on Streetly, in Little Hardwick Road and just behind the Irish Harp, plus three in Sutton Park adjacent to the Park View Rd entrance.
In addition to the wailing siren another form of warning of an air raid for us was the shouted orders to the Searchlight unit which was located off the Chester Road about half way between the Melbourne Cafe (on the corner of Little Hardwick Rd) and the Waterworks pumping station. This was only possible on quiet summer nights when the windows were wide open. It usually happened some ten minutes before the siren. The unit closed down as the anti-aircraft defences became more sophisticated (use of AA rockets etc, and searchlights could be a target).
Initially with the possibility of a full blown invasion and my being of an inquisitive mind there was not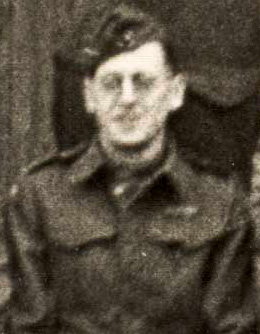 much that I missed at that time, but now, sixty-nine years on, memory is starting to become difficult. However I get sudden memory surges when something triggers me. Many of my memories of the Home Guard do of course refer to my father. But I must also mention my own involvement with the local unit.
My connection with the group was non-military but as a civvie bicycle messenger to take sandwiches and flasks of tea to The Stables at Little Aston Hall (H.Q. of 5 Platoon , "B" Coy., 32nd Staffordshire (Aldridge) Battalion); or to the post on the corner of Chester Road and Mill Lane (adjacent to Mill Green Farm). I also occasionally took documentary messages, and I think I delivered a message to the house of the Platoon Commander, Lt. (later Capt.) Harry Myers, (left) at 101 Chester Road. I remember it being close to a school friend's house which I think was No. 107: his name was Eric Morgan and his father had a plumbing business.
Webmaster comment:
Eric was well known locally as the enthusiastic owner and user of an air rifle. Harry Myers viewed this activity with some consternation. Whilst being surrounded by lethal weaponry himself, in his own home and elsewhere, he was deeply suspicious of armed, teenaged lads in his vicinity!

(Neighbouring families in that part of Chester Road included Darlington/Coates (Army), Parker, Farrington, Behague (AFS/NFS), Bacon (R.A. in Malta), Lyon, Markwick (A.R.P.), Allum (poss. Home Guard), Hall (poss. H.G.), Wassell, Brain (poss. H.G.), Woodward (R.N.), George, Milne (poss. A.R.P.), Price, Grey).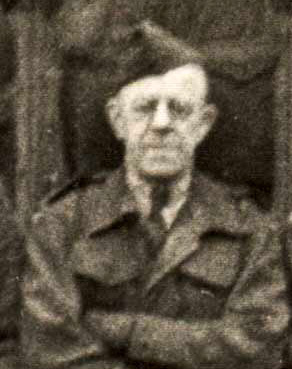 I recall a few names of H.G. members, particularly Lt. Bert Naylor who also lived in Hardwick Road, opposite its junction with Featherston Road (he passed our house often, I think he used the Midland Red bus to the Hardwick, as I did later on - no. 113 from Birmingham); and Mr. Ralph of Middleton Road. I rather felt he had a connection with armaments in some form (an instructor?); his daughter Pat used to travel to Sutton on the same school bus as me. I certainly remember "The Greylands", a large house on the corner of Middleton Road and Manor Road, requisitioned for use as a Home Guard H.Q. and equipped, as other pages of this website inform us, with creature comforts essential to the defence of the area including a bar. A large garage, part of Cutler's Garage business, was used for H.G. storage and somehow in 1945, after stand-down, I got involved in helping to clear it out.
One of my recollections is that the main activity and training was at the weekends especially at the sand pit in Little Hardwick Rd and also at what I remember as the 10 acre field right at bottom of the same road: this was used for practice in constructing dugouts and slit trenches and lessons in camouflage. The Old Veseyans Rugby Football ground is located there now. It was in this area that my cycling prowess came in handy as bringer of rations! Even by the flexible standards of the Home Guard I suppose that my being about 12/14 years old during this period was considered a little too young to be a full member of the Home Guard; but this did not prevent my being used in an auxiliary mode.
As the war progressed many of the local Home Guard, as this website confirms, transferred to anti-aircraft duties thus releasing regular troops to serve in other capacities. It seems that the destination of at least some of these men was the anti-aircraft battery in Sutton Park off Streetly Lane about halfway between Crown Lane and Bellwell Lane park entrances and this included my father. The fearsome equipment which the battery contained certainly intrigued my Father. He secretly hoped that the battery would go into action whilst he was on duty and shoot down an enemy plane! The site entrance is still there - an emergency entrance for the Park but not open to the public. Immediately after the war it became the home of "squatters" for a period - people who in the chronic postwar housing shortage found disused army camps more than acceptable accommodation when compared with the alternative which was often nothing. Some time after we moved from Hardwick Road to Russell Bank Road (off Walsall Road) in 1946 we visited the site; the foundations of the guns, rockets and predictors were still much in evidence.
THE BUILDING OF THE AIR-RAID SHELTER IN WINTER 1940-1941....
(located on the Chester Road, opposite the Hardwick Arms - and Cutler's Garage, seen in the background)