STREETLY, STAFFORDSHIRE MEMORIES (1936 - 1961)
A THIRTY SECOND MEMORY
(1943/1944)
by Chris Myers

A Thirty Second Memory


There's a distant roar, ever growing. It seems to be approaching us. Dad and I are in our dining room, at the back of the house on the Chester Road in Streetly, where we spend most of our evenings because there are easy chairs there and a table and the wireless set. And it's a warm room in winter because there is a fireplace which heats the water as well.
We barely have time to rush to the bay window and look out. It's early evening and the sun is behind us as we look down the garden. The noise by now is reaching its crescendo. It is the roar of eight Merlins, running probably at full throttle. Two aircraft flash past from the left, from the north. From over Mr. Lyon's little market garden, next-door-but-one to us. Lancasters. One slightly behind the other. We seem to see them through the branches of the two apple trees at the bottom of our garden. (They are much taller now, compared with this picture which is six or seven years old and taken the year I was born, 1936).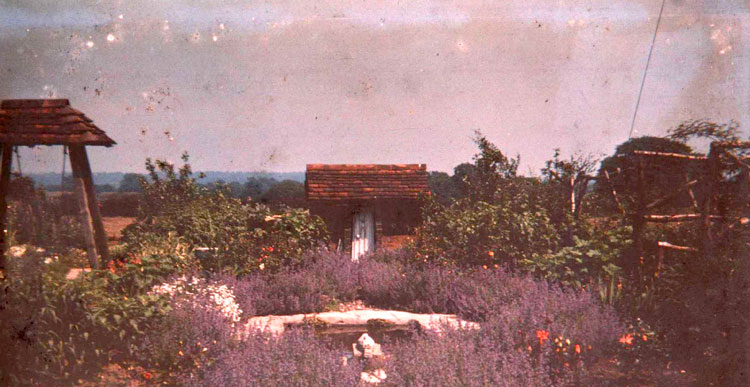 And the Lancs seem almost to clip the roof of my sister's Wendy House; but they must surely be a bit higher than that. Although not by very much. A glimpse of cockpit, engines, fuselage with its RAF roundel, an oval tail fin. Followed immediately by a second tailfin, a little further away, that of the other aircraft. All in green and brown camouflage but gleaming in the sun.
In a split second they have gone. Off to the right. To the south, towards Castle Bromwich and Birmingham. Immediately the roar fades into the distance and in moments it has disappeared entirely. Beneath them, where they have passed, roof tiles in Kingscroft Road have been dislodged, here and there a pane of glass has cracked, a TV aerial leans at a crazy angle. Or at least, these things would have happened, had Kingscroft Road existed, now.
But it doesn't and so they haven't. There's just a field of spring wheat there which no longer ripples and the treetops nearby are still again. All is now tranquil in this rural part of Streetly, as it normally is.
Where have they come from, these two roaring monsters? What are they doing, where are they going?
Perhaps they are two aircraft which only days previously have been rolled out from within the factory on to the apron at Castle Bromwich and are on their last stage of a test flight. When the pilots have decided that all is well and that they'll indulge in a spot of exuberant low-level flying before returning to the aerodrome and signing off the aircraft.
Or perhaps they are not new, but well-used and veterans of visits to Berlin and the Ruhr. Could they even be a pair from a Lincolnshire squadron flying a route which today has been to the south, including a pass at 50 or 60 feet down Derwent Reservoir? And then following a circular course, hedge-hopping their way over Streetly and round in a big loop to the south of Birmingham and finally back northward, over Staffordshire and Derbyshire, back to Scampton. All this prior to more low-level flying practice around the country, tomorrow, and every day; and then, next week, next month, attacking the Möhne and Eder dams.
I have no idea. And never shall.
This family and local history page is hosted by www.staffshomeguard.co.uk
(The Home Guard of Great Britain, 1940-1944)
Please see INDEX page for acknowledgements.
All text and images are, unless otherwise stated, © The Myers Family 2022

INDEX
Home Guard of Great Britain website

INDEX
Family/Local History Pages


L8I May 2022