This is a page within the www.staffshomeguard.co.uk website. To see full contents, go to SITE MAP.
MEMORIES and INFORMATION: 32nd Battn. (17)
32nd STAFFORDSHIRE (ALDRIDGE) BATTN. -"F" COY.
WALSALL WOOD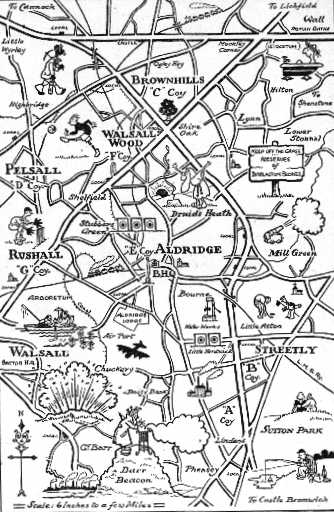 Walsall Wood was defended by "F" Company of the

32nd Staffordshire (Aldridge) Battalion

whose C.O. for much of the war was Lt.-Col. C. Cartwright, D.S.O., M.C.

(See the Battalion area map - left - drawn by the Battalion Adjutant, F.H. Timings - click on it to enlarge).


Col. Cartwright reviewed the role of "F" Coy. in words written immediately after stand-down in December 1944: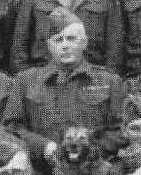 ....."F" Company..... How well Smith and his loyal lieutenants, Arblaster and Mycock, did look after the creature comforts of their men! I still retain visions of amazing meals on mustering tests.

Smith was in command for a considerable time until one day came re-organization and the size of the company was increased by the inclusion of the Shire Oak Platoon, and the stormy petrel of the battalion, the one and only Torkington, took over command.

I find it difficult to understand, but "F" has always been a tough nut to crack. Even "Talky" could not change the Walsall Wood spots, but I am sure there are men in that locality who will never forget the intrusion of this warrior into their peaceful world. If ever circumstances had demanded action on the part of "F" Company, it would not have failed to give a very good account of itself.......

N.B.
The full article can be read elsewhere within this website.


Capt. E. W. Smith

was the local chemist in

High Street

;

Lt. G. Mycock

was President of

Walsall Wood Football Club

; and

Lt. H. Arblaster

was possibly a local farmer.
Their HQ was the

Boot Inn

, opposite the

Horse and Jockey Inn

, in the southern part of the village.


Only one image known to show men of the Walsall Wood Company has so far come to light and it is an excellent one. The precise location - thought to be in Walsall Wood itself -and the date - possibly 1942/43 - cannot yet be confirmed. The parade is headed by

Sgt. Ron Harrison

(1917-2008).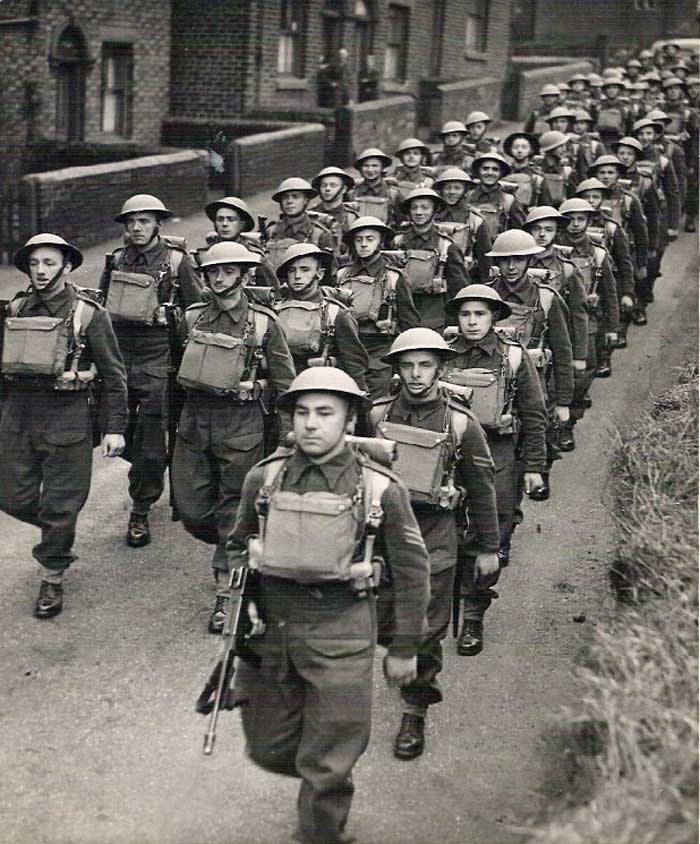 Mr Arthur Wadey

, later the trainer at

Walsall Wood F.C.

, was a Bevin Boy in WW2, working in the local coalmine. He was also a member of the Walsall Wood Home Guard. He had won an anonymous plain leather wallet in one of the shooting competitions and treasured it thereafter. An unusual award perhaps? Well, Colonel Cartwright was a manager of a leather firm in Walsall at that time!
(N.B. Between 1943 and 1945 one in ten of young men conscripted in Great Britain was directed into working in the coal mines where there was a desperate shortage of labour).
To find references elsewhere within the site to subjects mentioned above please see:
- 32nd Battalion Information Summary Page

(

Aldridge, Barr Beacon, Brownhills, Little Aston, Pelsall, Pheasey, Rushall, Shelfield, Streetly, Walsall Wood)
- Index of Surnames and Place Names relating to the 32nd Battalion
- or use the general website Search facility.

Staffshomeguard would welcome any further information which visitors to the page may have; to help us add to the story of the Brownhills Home Guard, please use
FEEDBACK
ACKNOWLEDGEMENT


The above image of the parade first appeared in the excellent BrownhillsBob's Brownhills Blog website. Grateful acknowledgement is made to "Bob"; to Graham Harrison, son of Sgt. Ron Harrison, who provided the image; and to David Evans.

(The HG group image is
© Graham Harrison 2015
)

D17 May 2015, updated Dec 2017