MEMORIES and INFORMATION relating to the
32nd (ALDRIDGE) BATTALION
SOUTH STAFFORDSHIRE HOME GUARD
This is a page of www.staffshomeguard.co.uk. To see full contents, go to SITE MAP.
The most recent addition was on 29th July 2020
*********************************
THE BATTALION WITHIN THE COUNTY ORGANISATION
How the 32nd Battalion fitted into the South Staffordshire Home Guard organisation.
BATTALION OFFICERS
A list of officers attached to the 32nd (Aldridge) Battalion in February 1941.
"HOME GUARDING" - THE BATTALION'S STORY
(told in the members' own words in 1944 and 1945)

INDEX OF SURNAMES AND PLACE NAMES
relating to the Battalion
OFFICERS' GROUP PHOTOGRAPH 1943
BIOGRAPHIES
of Battalion members
TRAINING COURSES AVAILABLE TO THE BATTN. - 1943
The linked page summarises the many training courses available to Battalions in Staffordshire: their location and content; and the names of those commanding them. Almost every subject is covered and the locations are diverse in the extreme, including: Onibury (Shropshire), Bishops Tachbrook (Warks.), Altcar (Liverpool), Umberslade Park (Hockley, Birmingham), Burnhill Green (nr. Wolverhampton), Birmingham Town Fighting School (Bristol Street), Aldridge, Redditch, Doddington (Cheshire), Burscough (Lancs.), Stoke,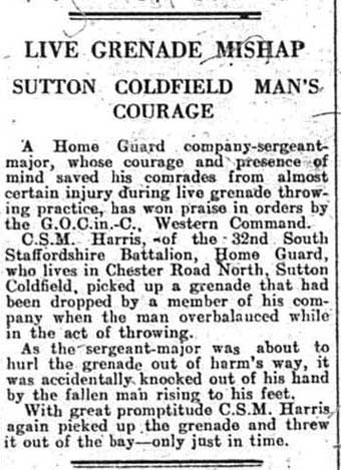 Ullswater, Salisbury, Blacon (Cheshire), Denbies (Surrey), Birmingham University and Warwick.
(Further information about several of these training establishments is contained elsewhere within this website. Please use the SEARCH function to find it).
AN ACT OF BRAVERY
An act of bravery by C.S.M. Harris of Chester Road North, Sutton Coldfield, reported in the Birmingham press. The incident may well have occurred at a grenade training area on the edge of the Battalion's area, near to Walsall and coincidentally but appropriately known as The Chuckery.
(The Webmaster recalls this incident being discussed with suitable admiration in his own Home Guard household. Acknowledgement to Matt Felkin).
Added August 2015
ALDRIDGE
"E" Coy. - ALDRIDGE
Added 8 Dec 2017

**********

A MEMORY OF ALDRIDGE HOME GUARD
Mr. Paul Bailey remembers his grandfather, Pte. E. Sleath, a member of the 32nd (Aldridge) Battalion:

"........I can still see my grandfather cleaning his rifle, issued as part of his Home Guard duties, and I have his Defence Medal issued by Lieut-Col Cowan, Secretary of the Staffs TA Association to him, Pte E Sleath, after the war.

Some weekends the Home Guard (of modern 'Dad's Army' fame) would train in the local streets - jumping in and out of local gardens as they exercised. Very often they would make their way down Paddock Lane into Dumblederry Lane and over the canal bridge to fight a mock battle either side of the canal. Local children would follow knowing that any explosive thrown into the canal would stun the fish and bring them floating to the top..........."


© Paul Bailey 2005 To read the rest of this interesting memoir - which contains other memories of wartime Aldridge and Stafford - in its original setting, the BBC's excellent People's War Archive, please click here. (You will leave this site. WW2 People's War is an online archive of wartime memories contributed by members of the public and gathered by the BBC. The complete archive can be found at www.bbc.co.uk/ww2peopleswar).

**********


Margaret Thompson recalls that her father, Eric Pritchard (seen right in later life), served in the Aldridge Home Guard. He had not been called up owing to a foot deformity. The family lived at that time at 20, Portland Road, Aldridge.

Neighbours also served: Percy Stevens who lived at No. 14 - he appears on the 32nd Battalion Officers group photograph, mentioned above; and Mr Hazard, at No. 24. (House numbers in that road changed in later years, Nos. 20 and 14 becoming 50 and 44 respectively).

OTHER REFERENCES TO ALDRIDGE in this website.
************************************************************************
BARR BEACON and adjoining area
A memory of Pte. George W. Waight of "A" Company.
**********
OTHER REFERENCES TO BARR BEACON in this website.

*******************************************************************
BROWNHILLS
Information about the Brownhills unit - "D" Coy. of the 32nd Battalion.
**********
And about Jack Benton of the Brownhills unit.
(His friend, Thomas Richards, may also have been a member - but possibly
of the nearby 27th Staffs (Walsall) Battalion)
Added 29 July 2020
**********

OTHER REFERENCES TO BROWNHILLS in this website.

*******************************************************************
LITTLE ASTON (see also Streetly, below)
"B" COMPANY - Streetly and Little Aston, including a map of the territory.
Added 12 Feb 2019
********
LITTLE ASTON HALL and THE SCRIBBANS FAMILY
We have received a request for memories of and further information about the role played by Little Aston Hall in the war years, when it and its owner Mrs. Ada Scribbans played host to "B" Coy. of the 32nd Battalion. The request comes from a member of the Scribbans family and may be viewed in GUEST BOOK . If you can help, please make contact direct using the email address there, or via staffshomeguard.co.uk.

********

William Herrington was with the 32nd South Staffordshire (Aldridge) Battalion. He worked the land and lived in Little Aston. He did not talk much about the Home Guard perhaps because of his having lost a brother KIA in Tunisia; but one or two family memories do survive.

William Herrington was based for some of his service on Footherly Moor where there was a mock-up of Birmingham using lighting to fool the Luftwaffe into dropping their bombs early on to an unpopulated area rather than the city itself. When the family moved into Forge Farm in Little Aston one of the bedrooms had been damaged by an incendiary bomb and perhaps this was evidence of the effectiveness of the decoy arrangements! He also worked on a anti-aircraft battery in Sutton Park. This would have been in 1943 and 1944 after significant numbers of local men had been transferred, voluntarily or otherwise, from the 32nd Battalion on to ack-ack duties. There are memories of William returning home at all hours, together with rifle but no ammunition, having slept elsewhere in his greatcoat.

(Grateful acknowledgement to Jason Allen for this information about his grandfather. See also the Visitors' Messages page for June 2012)

**********

See also STREETLY below. And see OTHER REFERENCES TO LITTLE ASTON in this website.
*******************************************************************
PELSALL
A PLATOON OF "D" Coy., PELSALL
Click above to see this captioned photograph, taken probably in late 1941.

Pte. ALBERT SNAPE - "D" Coy., PELSALL
Please click above to read the story of Pte. Snape's Home Guard service.

MEMORIES OF LIFE IN "D" Coy., 1942 - 1944
by Reg. Neville
Please click the title above to read this excellent memoir which includes references to local personalities and places, personal experiences and much detail about Home Guard activities.

**********

OTHER REFERENCES TO PELSALL in this website.
**************************************************************************
PHEASEY
For references within the website please click here.

******************************************************************
RUSHALL
**************************************************************************
SHELFIELD
For references within the website please click here.
*******************************************************************
STREETLY
"B" COMPANY (19) - Streetly and Little Aston, including a map of the territory.
Added 12 Feb 2019
THE HOME GUARD BONFIRE, STREETLY
A memory from May 1945. Click to read.
32nd BATTN. WEAPONRY: A SMALL BOY'S VIEW
Please click on the above title to read this memoir.

MEMORIES OF "B" Coy., MAY 1940 to JUNE 1942
by Graham C. Myers
This fascinating memoir includes many references to Streetly and Little Aston and describes the early life of the local Platoon (see also below).

A HOME GUARD PLATOON - ITS HISTORY
The story of a Streetly/Little Aston Platoon from formation in May/June 1940 until stand-down in December 1944, as recorded in early 1945.

A HOME GUARD PLATOON - IMAGES
The Streetly/Little Aston Platoon photographed in early 1943 and invitations received by Platoon members to assemble in order to form the unit.

A HOME GUARD PLATOON - A TEENAGER'S MEMORIES
The memories of a teenager who assisted the Platoon in an auxiliary role.

A CHILD'S MEMORIES OF WW2
Mr. M. J. Butler makes the briefest of mentions of his father's membership of the 32nd (Aldridge) Battalion in a BBC People's War Archive memoir which will be of great interest to anyone who knows the Streetly - Parson & Clerk - Kingstanding area.
THE FODEN AND CUTLER FAMILIES (Arthur Edgar Foden and Linnaeus William Cutler) and their contribution to the Home Guard effort in Streetly and Little Aston.
Added 14 July 2020
OTHER REFERENCES TO STREETLY in this website.
***************************************************************************

WALSALL WOOD
Information about the Walsall Wood unit - "F" Coy. of the 32nd Battalion.

STANLEY THOMAS JACQUES
(1921-1987)
came from a family who had lived for generations in Walsall Wood. His grandfather, Richard, was the village blacksmith and wheelwright. Stanley began an engineering apprenticeship with the
GEC
in
Witton, Birmingham
in 1938. He was therefore in a reserved occupation when war broke out but nevertheless joined the Home Guard and was a member of the 32nd Staffordshire (Aldridge) Battalion. He was still living in the Walsall Wood at an address of
Friezland Lane, Common Side
or
Salter's Road
. He was issued with documents to validate his carrying of a firearm and for the use of two Matchless despatch motorcycles. Little more is regrettably known so far about his Home Guard service but it would appear that his duties included that of acting as a Despatch Rider.
(Grateful acknowledgement to Colin Jacques for providing this information in memory of his father).


Added February 2016

OTHER REFERENCES TO WALSALL WOOD in this website.

*******************************************************************
WHO and WHERE?
Unidentified members of the 32nd Battalion undergoing weapons training. Any information on names and place would be welcome.
*******************************************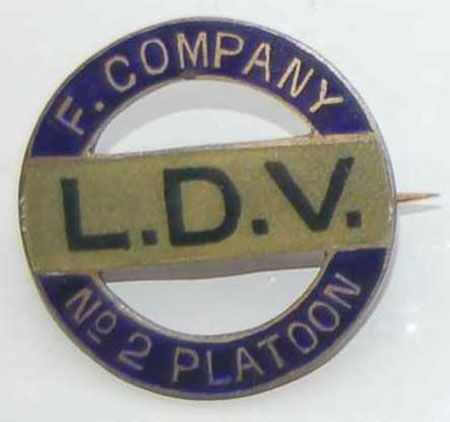 Contributions from visitors are welcomed. Please use FEEDBACK if you have material you would like to appear within this site.