MEMORIES and INFORMATION: 32nd Battn. (8)

No. 16 PLATOON, HELLIWELLS LTD.


This is a page within the www.staffshomeguard.co.uk website. To see full contents, go to SITE MAP.
This photograph, dating from 1944, shows No. 16 Platoon, 32nd (Aldridge) Battalion, South Staffordshire Home Guard. This unit was based on Helliwells Ltd., Walsall Airport and its members were presumably all Helliwells employees. It probably formed part of either "G" Coy., Rushall, under the command of Capt. T. Chapman M.C., or "E" Coy., Aldridge under Major F.P. Stephens, M.C.
Identification of the men pictured would be warmly welcomed.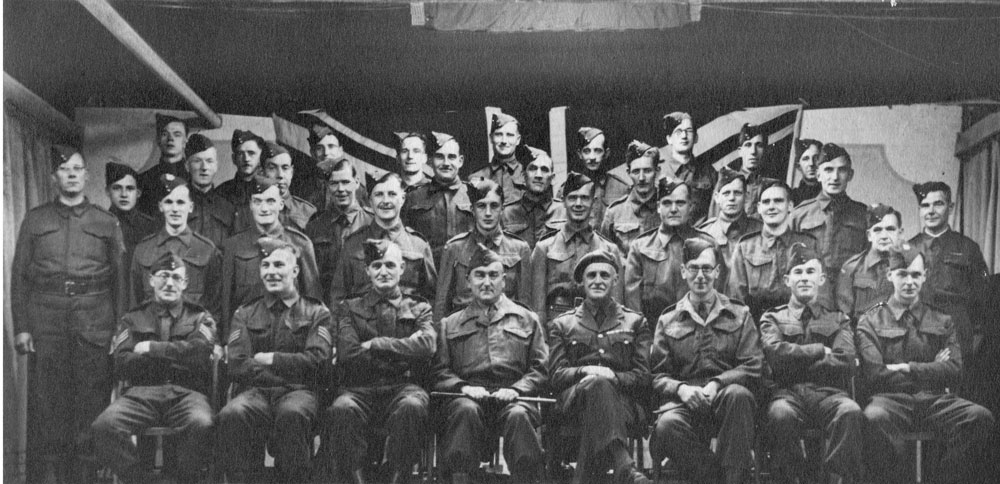 Identifications
Third row from the front, the tall man fourth from the right: Jack Ludford (d.1989, a draughtsman at Helliwells at the time of his Home Guard service).
Acknowledgements
Grateful acknowledgement is made to Mr. Peter Ludford for providing a scan of an original print of the above group image and for the identification of his father.
(The similar image of this group which originally appeared on this page was copied, with his permission, from Mr. Alton Douglas's "Memories of Walsall, A Pictorial Record", published by Brewin Books Ltd. The ISBN reference is: 1 85858 116 8. Mr. Douglas has produced many fascinating books with a similar historical theme, covering much of the West Midlands. A link to his website is to be found on this site's LINKS page).