This is a page within the www.staffshomeguard.co.uk website. To see full contents, go to SITE MAP.
MEMORIES and INFORMATION: 32nd Battn. (19)
32nd Staffordshire (Aldridge) Battalion
("B" Coy.)

STREETLY and LITTLE ASTON
MAP of TERRITORY
Magnified, high definition version


This page contains a magnified, higher definition version of the map shown on the 32nd Battalion "B" Company page. It is a battered and clearly well-used, marked-up print of the 1920 Ordnance Survey map of the area and was originally the property of Lt., later Captain Harry Myers, C.O. of No. 2, later No. 5 Platoon. It shows the territory for which the Company was responsible, effectively an inverted triangle with its tip near to the Parson & Clerk public house and its base stretching from near The Plough and Harrow to the Forge Lane area of Little Aston.
Note the location of Platoon HQs and the various points of importance, perhaps vulnerable points, perhaps the location of other Civil Defence and military sites or even just the location of an accessible telephone. It is interesting that there is no mention of Company HQ which was located in a requisitioned house on the corner of Middleton Road and Manor Road in Streetly, "The Greylands". This suggests that the map was marked up at a very early stage in the War and before the local Home Guard Company had settled into the form which was to take it through to December 1944. Note also that this 1920 map omits all of the housing development in the area which had taken place during the 1920s and 1930s.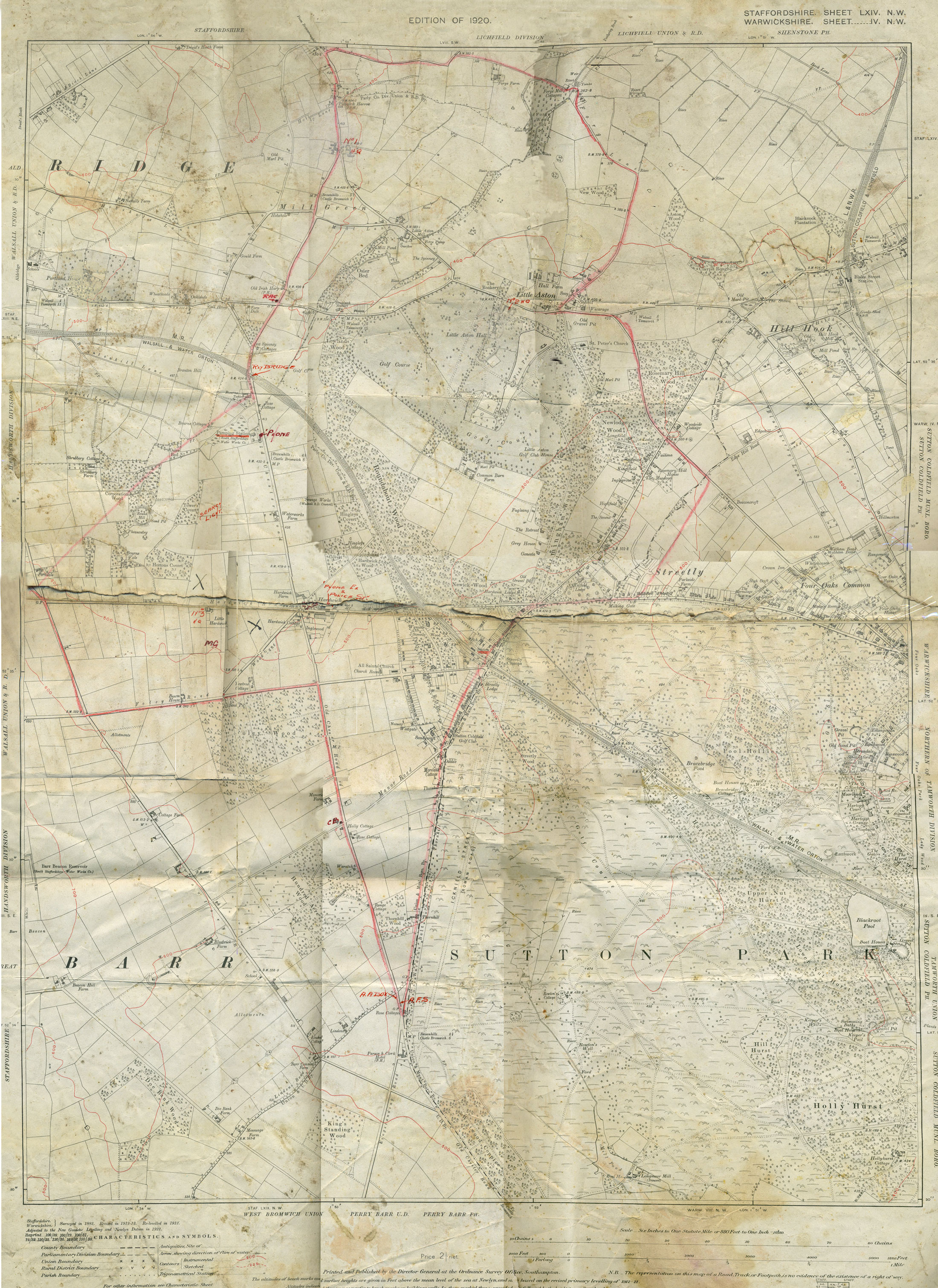 To find references elsewhere within the site to subjects mentioned above please see:
- 32nd Battalion Information Summary Page

(

Aldridge, Barr Beacon, Brownhills, Little Aston, Pelsall, Pheasey, Rushall, Shelfield, Streetly, Walsall Wood)
- Index of Surnames and Place Names relating to the 32nd Battalion
- or use the general website Search facility.

Staffshomeguard would welcome any further information which visitors to the page may have; to help us add to the story of the Aldridge Home Guard, please use

FEEDBACK
Map image
© staffshomeguard 2019