This is a page within the www.staffshomeguard.co.uk website.
To see full contents, go to SITE MAP.
MEMORIES AND INFORMATION - WORCESTERSHIRE

12th WORCS. (WARLEY) BATTN.
and
HARRY MAC LEOD KAY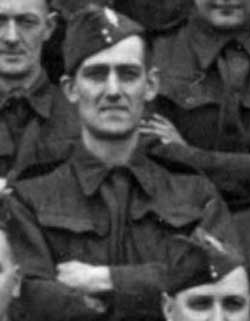 Harry Mac Leod Kay

(1907-1999)

- always known as Mac - was a member of "D" Company of the

12th Worcestershire (Warley) Battalion

whose territory was the

Quinton, Warley and Langley

area on the south-western side of Birmingham. Detailed images of that Company in which Mac appears, and also of all the Battalion officers, can be see on this page of the website.

Mac Kay was born in

Llandovery

, Central Wales. His father came from a well known railway family in

Crewe

and worked for the L.N.W.R. By 1907, when Mac was born, he had worked his way down what is now known as the Central Wales Line as far as Llandovery and would eventually find himself at

Swansea

, working as a foreman on Black 5 locomotives. Mac himself was educated at

Glanmore School

in Swansea and was a keen cricketer. He had a sister and a younger brother who would later survive the sinking of the Free French Navy corvette "Alysse" off Newfoundland in 1942. In 1926 he moved to

Blackheath

in the Black Country, working first for

British Thompson Houston

and later for

The British Tabulating Machine Company Ltd.

(which together with Ferranti later became ICL). He married Phyllis Willetts in 1937 and by the outbreak of war they were living at

14 Long Lane, Blackheath

.

Mac spent the war years working with The British Tabulating Machine Co. Ltd. in the maintenance of electrical-mechanical sorting machines. Official confirmation of his employment is seen to the left.

Early in the century BTM had obtained the UK marketing rights to sell the American data-processing machinery originally invented by Hermann

Hollerith

. Later they manufactured the equipment under licence at the factory in

Letchworth

. During the war they were responsible for the design and manufacture of the "bombe" machines essential to the

Enigma

code-breaking acitivites at

Bletchley Park

. There was a BTM section operating there throughout the war. It is not known whether Mac had any involvement in, or even knowledge of, these highly secret activities.

Mac's employment card reminds us that the period was one of great bureaucracy. National Registration was an obligation imposed on every individual and the surviving records suggest a tight Government control on many aspects of a person's life. The following document issued on 9th June 1943 implies an obligation to notify the authorities of any change of address.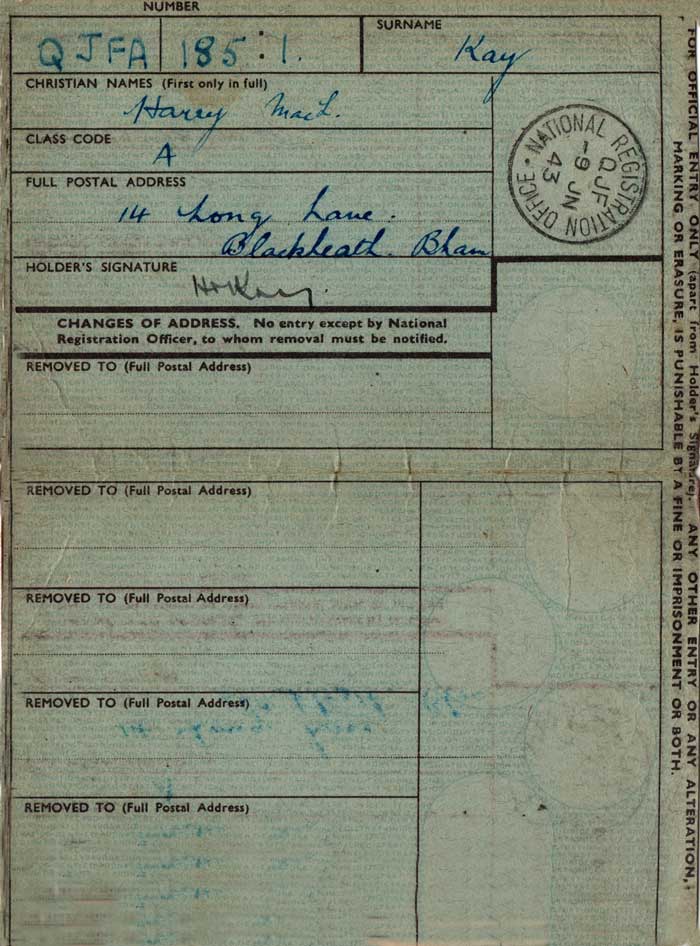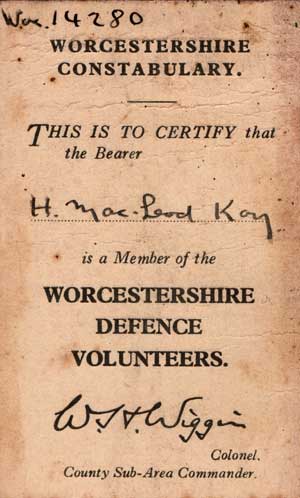 Mac's occupation was probably a reserved one which would have precluded the possibility of call-up into the armed forces. However he joined the Home Guard on July 2nd 1940 and was a member of the local unit, "E" Coy. of the

12th Worcestershire (Warley) Battalion

in which he served for a further four and a half years, right up to the end in December 1944.

At the time of joining he was issued with yet another card, to be carried at all times and accompanying his Certificate of Employment (above) and of course his National Identity card.


This further card

(right)

bears the title of "Worcestershire Defence Volunteers" rather than "Home Guard". This is because Mac signed up whilst the force was known as the Local Defence Volunteers (L.D.V.) before the change of name in late summer 1940 on Churchill's instruction.


An image of "E" Company survives, photographed outside

Brandhall School

on an unknown date, and Mac appears in it. It is shown below. A magnified version of it can be seen on this page of the website.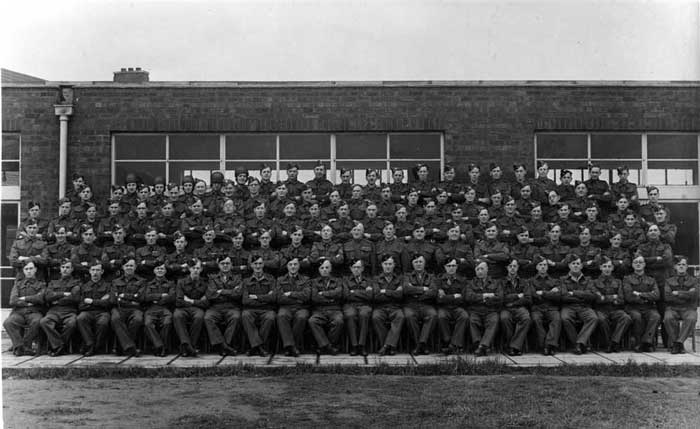 Mac Kay is third row back, sixth from the right
C
lick on image to view a magnified version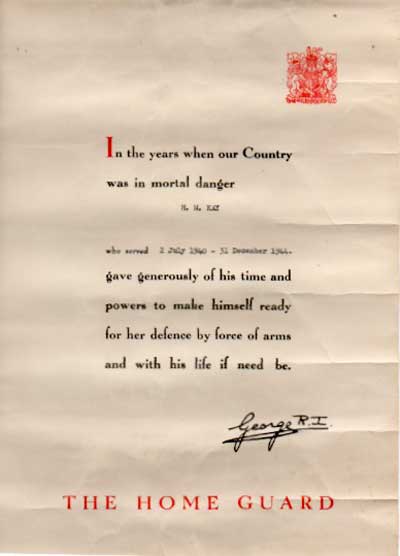 Little information survives on Mac Kay's Home Guard service which lasted for so many years, from mid-1940 until stand-down at the beginning of December 1944.


What is still in his family's possession is the certificate signed by King George VIth acknowledging his dedicated service.


In addition to that there is a family memory of the normal storage place for his Lee Enfield .303 rifle which, when not on active service, nestled companionably on the top of the bedroom wardrobe.


But little else, so far. As we wait for more to emerge, let this page stand as a small tribute to him and his service in defence of family, neighbourhood and country.








In Memory of




Harry Mac Leod Kay




and all his Comrades in




12th Worcestershire (Warley) Battalion.


ACKNOWLEDGEMENTS
Staffshomeguard is most grateful to Paul Kay of Derbyshire for providing the images and information on this page about his father and for permitting their publication on this website; and to Roy Bates.
Images © Paul Kay 2015



FURTHER INFORMATION


To view the Worcestershire sumary page, please use the Mems-Worcs link below





x113 February 2015 - revised March 2015, 19th May 2017