This is a page within the www.staffshomeguard.co.uk website. To see full contents, go to SITE MAP.
MEMORIES AND INFORMATION - WORCESTERSHIRE
3rd WORCESTERSHIRE (DUDLEY) BATTN.
and
Sgt. JOSEPH WILLIAM WESSON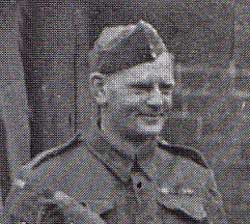 The Dudley area of the Black Country in Worcestershire was defended by the

3rd Worcestershire (Dudley) Battalion

. Within it served

Sgt. Joseph William Wesson
(1898-1982).


Joe Wesson had also served with the Worcestershire Regiment during the Great War and his previous service would have been regarded as invaluable within the Home Guard and would have led to his early appointment to a position of authority.

During his Great War service his home was in

Crescent Lane, Brockmoor, Brierley Hill

. By the outbreak of WW2 he was a family man with children, living at

39 Dingle Close, Oakham, Dudley

. During the war he was employed as a plumber by Dudley Council.

Little is so far known of Joe Wesson's Home Guard service. But an excellent image of him and a few of his comrades survives. This was taken on the occasion of a weekend camp at

Kinver

and probably dates from 1942. The men, mainly officers, are relaxing, probably after a day of training and exercises; they appear cheerful and are enjoying a smoke and a glass of bitter - or is it perhaps mild? Mainly half-pints but there are plenty more in reserve, sitting waiting on the table, with mine host in the process of maintaining supplies. Joe Wesson is standing at the back to the left, sporting beer, cigarette and Great War insignia and maintaining an amused watch over the scene.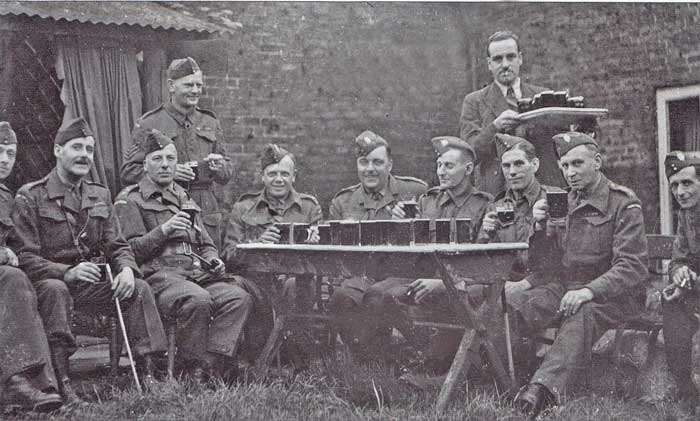 There were some 60 officers in the 3rd Worcestershire and between 1000 and 2000 NCOs and other ranks, all devoting most of their spare time to the service, without pay and for four-and-a-half long years. All of the officers' names are known but very few of the other men (and probably a few women). The Battalion was commanded by

Lt.-Col. A.R. Tanfield

(late of the T.A.) and the other senior officers were

Majors Adair, Canning, Edwards, Elkington, Porter

and

Simpson

. It is likely that some of these men appear in the picture but there is at the moment no information as to who is who, apart from Major W.J. Adair who is sitting second left, holding half-pint and pointing stick.
(Click the link to go to his page).

In Memory of
Sgt. Joseph William Wesson
and
all his comrades in the 3rd Worcestershire (Dudley) Battalion
ACKNOWLEDGEMENT
Staffshomeguard is most grateful to Malcolm Wesson for providing the image and information relating to his father and permitting their publication on this page.
Image

©

Malcolm Wesson 2015
FURTHER INFORMATION

Further information about the Home Guard in Worcestershire is contained elsewhere in various parts of this website. To view the Worcestershire summary page, please use the Mems-Worcs link below.
And if you can add anything to the history of the Worcestershire Home Guard, please contact staffshomeguard via the Feedback link.
x118 May 2015