This is a page within the www.staffshomeguard.co.uk website. To see full contents, go to SITE MAP.
MEMORIES AND INFORMATION - WARWICKSHIRE
NOTABLE VISITORS TO BIRMINGHAM
(1940-1944)
and
The BIRMINGHAM HOME GUARD

In the course of the war there were several formal visits to Birmingham by notable people. These visits often had a significant Home Guard involvement as the Guard of Honour for them was provided by the 31st/32nd Warwickshire (Birmingham) Battalions whose membership exclusively comprised City Transport Department employees.
(Click here to see detailed information about these two Battalions).
These are the notable visitors honoured by the Battalions on behalf of the City:

Images of some of these events are shown below.
King Haakon of Norway inspects a Guard of Honour on 8th April 1942, accompanied by Col. J. Clive Piggott (late Capt. Coldstream Guards), Commander of the Birmingham Zone of the Home Guard. The Guard is provided by the 31st/32nd Warwickshire (Birmingham) Battalions.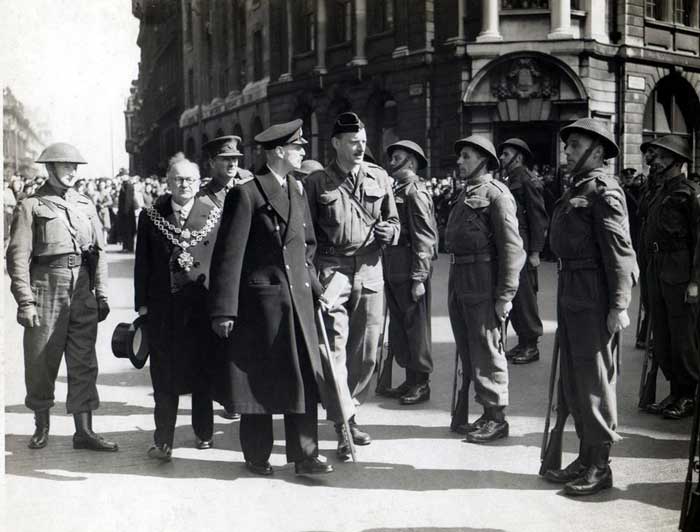 And on 7th February 1942, General de Gaulle shakes the hand of a Home Guard officer, Lt-Col. John H. Lewis. Looking on are the Lord Mayor, Norman Tiptaft, and also Col. Piggott. Does this image perhaps show the moment of farewell, after a successful visit?
John Lewis was at that time second-in-command of "A" Group of the Birmingham Zone and responsible, amongst much else, for the organising of welcoming parades on occasions such as this. He was the son of Alderman W.S. Lewis who towards the end of that year, 1942, would become Lord Mayor of the city. John would eventually perform the same role himself in the post-war years.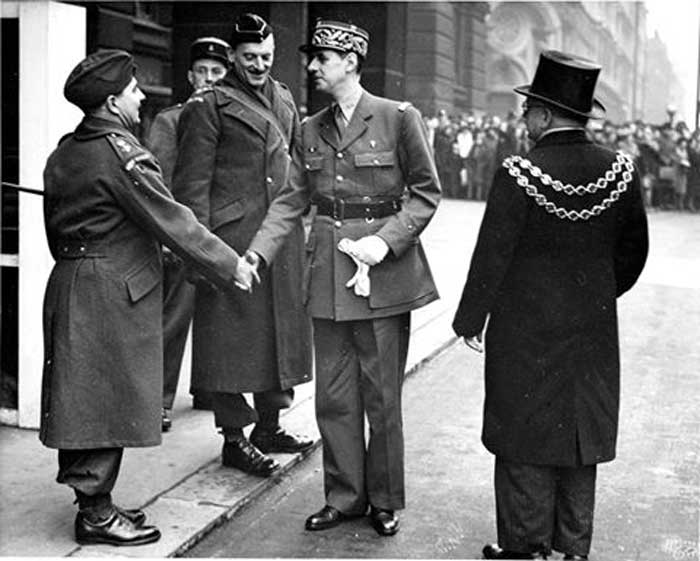 Further images of these events and other notable visits:
Field Marshall Montgomery and General de Gaulle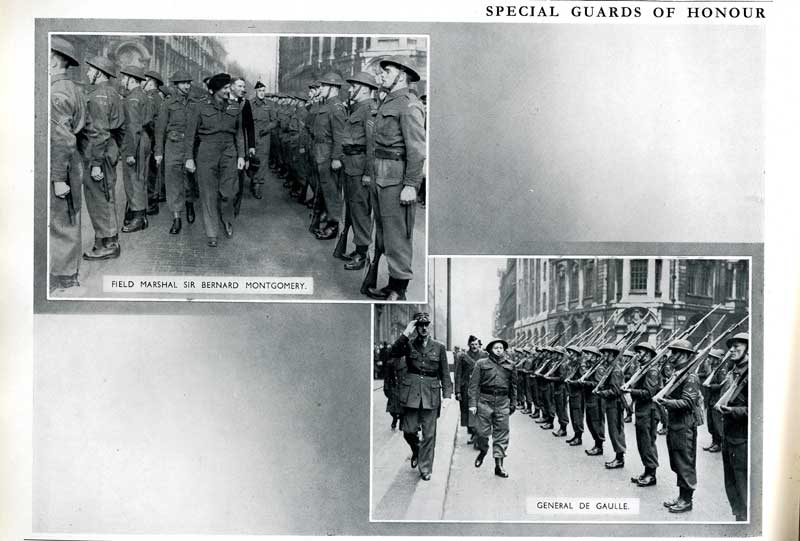 Major-General Blakiston-Houston, King Haakon and Field Marshall Smuts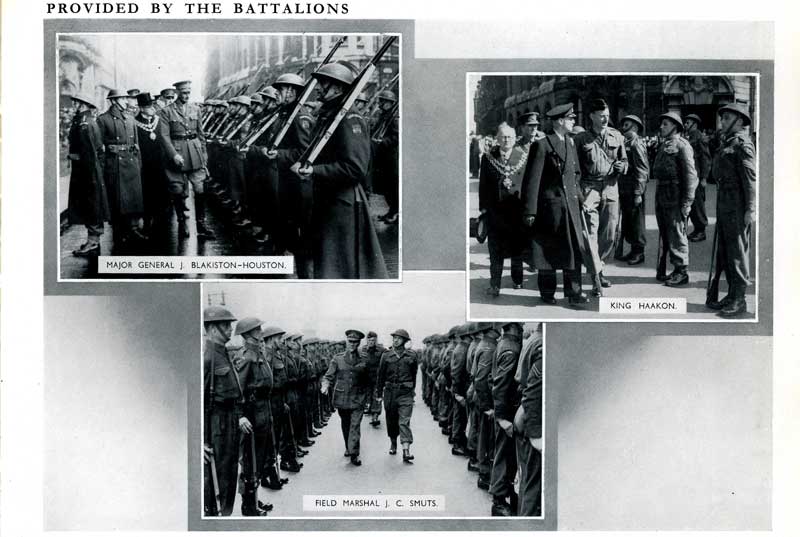 Viscount Bridgeman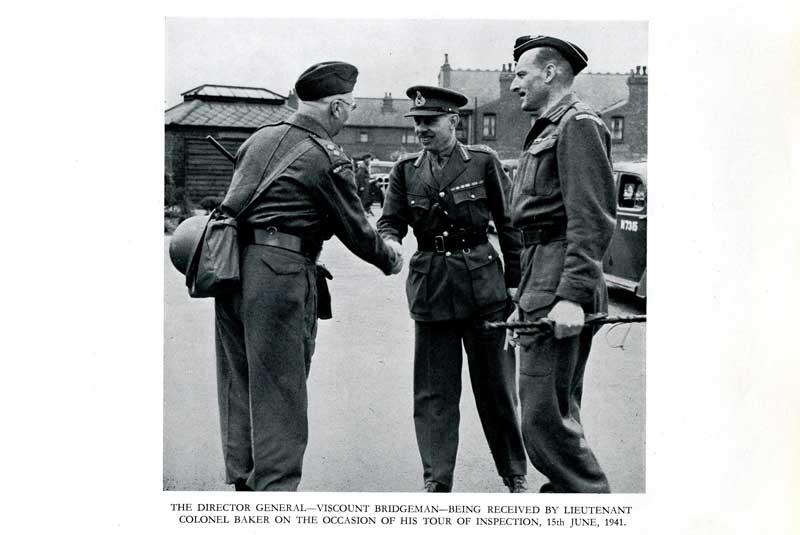 The two Battalions also formed a military band which performed on these and similar occasions. A press cutting shows it in action. The occasion was the first anniversary in May 1941 of the founding of the Home Guard.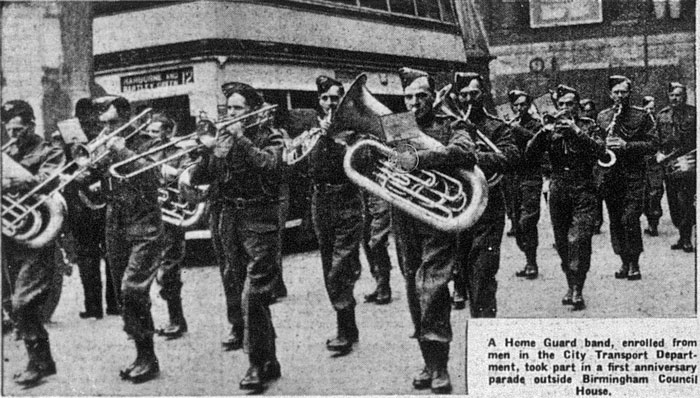 ACKNOWLEDGEMENT
Staffshomeguard is most grateful to Matt Felkin and visitors to his "Wartime Birmingham and the Blitz" Facebook page, especially Adrian de Redman and Alton Douglas, for providing images and information on this page.

FURTHER INFORMATION
- Detailed information about the 31st/32nd City Transport Battalions, incl. full membership list.
- Further information about other Warwickshire battalions
And..... if you can add to the history of the Warwickshire Home Guard, please contact staffshomeguard via the Feedback link below.
x121 November 2015; updated Jan 2017