This is a page within the www.staffshomeguard.co.uk website. To see full contents, go to SITE MAP.
HOME GUARD MEMORIES AND INFORMATION - WARWICKSHIRE, BIRMINGHAM

31st/32nd WARWICKSHIRE (B'HAM) BATTNS.
(BIRMINGHAM CITY TRANSPORT DEPT.)
INTRODUCTION

The 31st and 32nd Warwickshire (Birmingham) Battalions consisted entirely of members of the Birmingham City Transport Department. They were based at the various departmental premises throughout the city and their primary role was to defend and protect these depots against enemy action of any kind. Individual units also cooperated with other Home Guard formations who were responsible for the geographical area in which the particular B.C.T. facility was located.

Most of the information about these two Battalions, consisting of 3000 to 3500 men in total, comes from a commemorative booklet published in January 1945 after the stand-down which had occurred the previous month. In this and associated pages of this website the full contents of the booklet can be read. It is almost unique amongst such Home Guard records in recording every member of the units, including those whose service ended prematurely as a result of call up, retirement or death from enemy action, accident or natural causes.

As with other HG units the structure, designation and command of this defensive force evolved over the years, as follows:

STRUCTURE
May 1940 - July 1940
9th Birmingham (P.U.) Battalion Local Defence Volunteers
July 1940 - October 1940
9th Birmingham (P.U.) Battalion Home Guard
October 1940 - March 1941
11th, 12th Birmingham (P.U.) Battalions Home Guard
March 1941 - December 1944
31st, 32nd Warwickshire (Birmingham) Battalions Home Guard
COMMANDING OFFICERS
Commanding Officers included the following:

Major T.B. Pritchett, M.C. (1940) (Lord Mayor of Birmingham)


Lt.-Col. J. McDonnell

(32nd Battn. to 23rd February 1943)
Lt.-Col. E.V. Horton, M.C. (1941)


Lt.-Col. A.C. Baker

(31st Battn.)
Lt.-Col. E Bowater, M.S.M. (32nd Battn., 1944)

....and

REMEMBERING....


2/Lt. J.I. Brasenell

- E Coy., 31st Battn. - P25, Washwood Heath


Pte. T.R. Crew - B Coy., 32nd Battn. - P27, Acocks Green
Cpl. L.H. Humphreys - D Coy., 32nd Batt. - P37, Cotteridge
W. Matthews, M.M.


L

t. W.A.J. Mitchell - 31st Battn.
W.H. Stacey
Cpl. R.W. Tonks - B Coy., 31st Battn. - P39, Perry Barr
Pte. W.P. Vale - E Coy., 31st Battn. - P41, Tyburn Road
and


all their comrades


in the 31st and 32nd Warwickshire (Birmingham) Battalions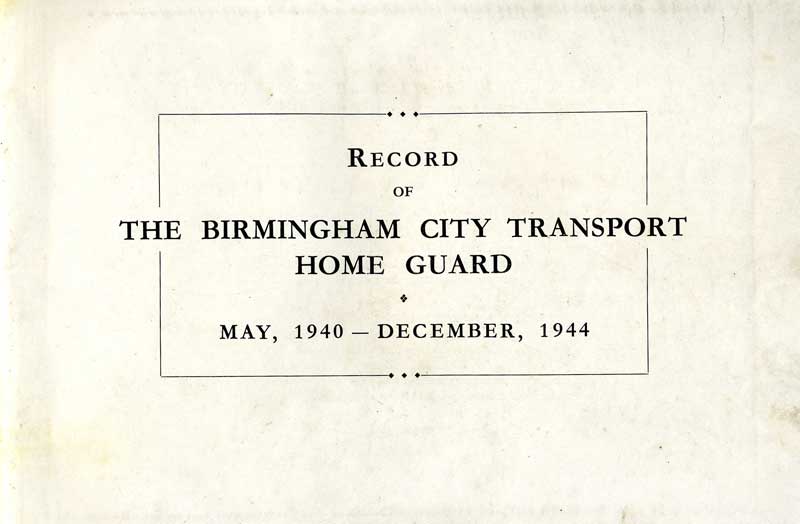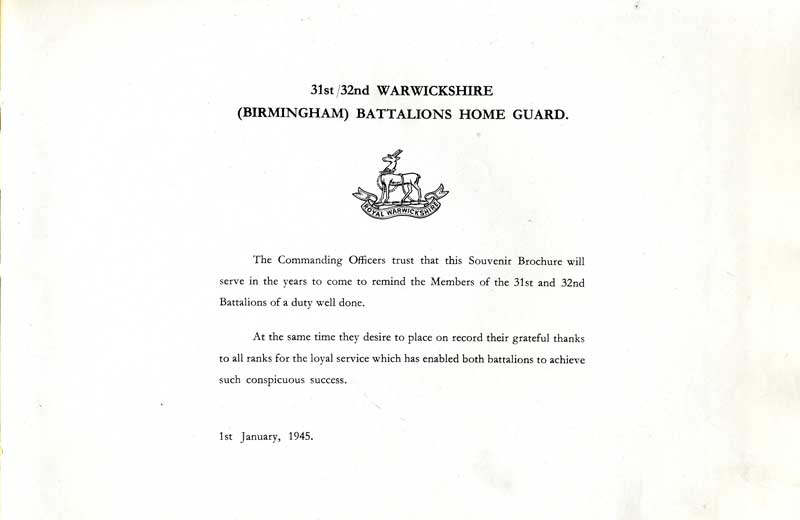 .
....next page:
A Record of the Battalions' activities
**********
Acknowledgements
Grateful acknowledgement is made to Joan and John Nicholls who most generously donated a copy of this Battalion record to staffshomeguard; to Matt Felkin and his "Wartime Birmingham and the Blitz" Facebook page; to the Birmingham History Forum; and to the then Birmingham City Council for permitting and funding the creation of this invaluable historical record.
Other Information about the Birmingham Home Guard
(and the 31st/32nd Battalions and their members)
Please click the MEMS - WARKS link below.
And if you can contribute in any way to our knowledge of the Home Guard in Birmingham, please do so via the Feedback link.