This is a page within the www.staffshomeguard.co.uk website. To see full contents, go to SITE MAP.
HOME GUARD MEMORIES AND INFORMATION - WARWICKSHIRE, BIRMINGHAM

Cpl. ERIC HOLBECHE
of the
STONEHOUSE ANTI-AIRCRAFT BATTERY, HARBORNE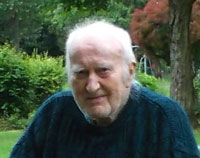 Corporal Eric Holbeche

(b. 1921) was a member of the

Stonehouse Platoon

of the

Harborne Home Guard

unit whose duty was to help man the nearby Royal Artillery Z-battery, a defensive installation equipped with anti-aircraft rockets, rather than conventional guns. This was located close to the Stonehouse pub.
(Detailed information about the operation of this type of weaponry can be seen
here
).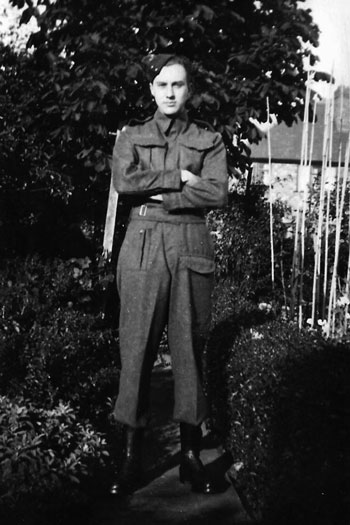 Eric Holbeche was an Austin Apprentice at Longbridge from 1937 to 1942. He was then employed as a Planning engineer in Jig & Tool Design. The clouds of war were already looming at an early stage of his apprenticeship: a very early job was to help with the preparation of measures to camouflage the Works. He recalls painting factory roofs to look like rows of houses. Contemporary descriptions of these arrangements confirm its effectiveness with the factory effectively blending into the landscape; and, with one tragic exception, they seem to have helped protect the area from any major aerial attack.
At some stage he joined the Home Guard, not the Austin factory unit but the Stonehouse platoon and was directed to anti-aircraft duties. This is a picture (left) of him taken in the garden of his home in Gristhorpe Road, Stirchley in 1942, resplendent in smart uniform and impressively polished boots and gaiters.
The duties were arduous. He did one night in eight from 6pm to 6am and also went for training sessions each Sunday. He found it exhausting when he did overnight duty, often after a full day's work, and then at the end of the Home Guard shift having to go on to Longbridge to do the following day's work. He became an instructor himself and trained new members when they joined.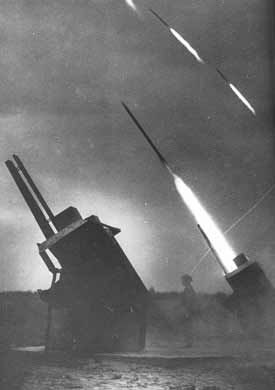 His unit was in charge of four batteries of sixteen anti-aircraft rockets, and they fired two salvos at once. The rocket launchers were made of flimsy material which reminded Eric of milk crates and which, he felt, could easily be knocked up in a garage.
The rockets themselves were fired using power from a car battery. By the time he joined the unit the worst of the air-raids was over and he never fired in anger since there was no attack whenever he was on duty; rockets were however fired on occasions when he wasn't there himself. But he did go to New Brighton on a couple of occasions for training when they fired the missiles over the promenade.
He recalls marching through Weoley Castle on one occasion with the U.S. Army, although he cannot recall what the parade was for. He also says that they were allowed the facilities of the Royal Artillery NAAFI, although they were prevented from buying razor blades eventually, as the regulars were going short. Luckily they were still allowed to buy the beer!
In addition to his Home Guard duties he also did fire-watching duty with the Fire Service, along with his elder brother and one of his sisters.
Acknowledgements
Grateful acknowledgement is made to Susan Holbeche for the information about her father and for his and her permission to publish it in this website; and to Matt Felkin and his "Wartime Birmingham and the Blitz" Facebook page.
Images of Eric Holbeche © Susan Holbeche 2016
***************
ANOTHER MEMORY OF THE STONEHOUSE UNIT
Gunner Dennis Nash recorded his memories in 2003 in the BBC People's War website.
In 1940, after I turned 17, I was conscripted into the Home Guard. Ours was an ACK-ACK (anti-aircraft) Unit and I belonged to the Stonehouse Gang at Harborne in Birmingham. There were another 5 or 6 such units located around the city.

We were issued with a combat unifrom and helmet and also a great coat. This had a red band on the arm with ACK-ACK on it and a picture of an anti-aircraft gun. On the shoulder flash were the words 'Home Guard'. Other members of the gang were either aged 45+ and too old for the regular army, or like me they were in a reserved occupation.

The Stonehouse Gang was made up of 8 groups of up to 140 men. We were on duty for one night in every eight. We had to report for duty by 7pm, or ealier if possible, and our shift finished at 7am. We slept in Nissen Huts, about 28 - 30 men per hut. We had a bunk with 2 blankets on. We were given supper at 9pm and breakfast in the morning before leaving for work. These meals were in addition to our normal rations. If the alarm went off in the night and we were out for more than 45 minutes we were given cocoa too!

Like most people at that time I cycled everywhere: 4 or 5 miles from Quinton to Oldbury, back home for tea, then another 4 miles to Harborne for Home Guard duty. Then after my night shift I would cycle to Oldbury to do my 'day job'.

We did our training on Sunday mornings. This mainly consisted of 'Rocket Drill': collecting ammunition, altering the angle of projection and the bearing of the rockets and firing. We were using high precision guns and shells. We had 64 rocket projectors, each of which fired two rockets simultaneously, and thus had to be operated by two men. The rockets were about 5 feet long and exploded on altitude. When there was an air raid they were all fired together, the barrage of explosions causing the maximum damage to enemy aircraft. The amazing thing about the projectors was that they were only powered by a 4.5 volt torch battery!

Twice during the war I had to go on firing courses, once to Liverpool and also to Swansea. It was at The Mumbles that I remember quite a frightening experience. After firing one of our anti-aircraft rockets a flagstone was uprooted and this made me realise what power these rockets had.
© Dennis Nash 2003
To read the rest of this article please click here. (You will leave this site. WW2 People's War is an online archive of wartime memories contributed by members of the public and gathered by the BBC. The complete archive can be found at www.bbc.co.uk/history/ww2peopleswar.)
Detailed Information
is contained on a page in this website about the operation of Z-Batteries.
(And for further pages on this subject, please use the Search function).

Other Memories and Information about the Warwickshire Home Guard
can be found by clicking the MEMS - WARKS link below.
Contribution of Information
And if you can contribute in any way to our knowledge of the Home Guard in Warwickshire and adjoining counties, please do so via the Feedback link.

x129 - February 2016