This is a page within the www.staffshomeguard.co.uk website. To see full contents, go to SITE MAP.

MEMORIES AND INFORMATION - STAFFORDSHIRE HOME GUARD

34th STAFFORDSHIRE (BILSTON) BATTN.

THE COSELEY HOME GUARD

Associated pages in this Bilston section of the website:
General Battn. Info. - Maj. H.G. George - 1943 Battn. Parade/Review - 1944 Battn. Display - The Coseley Home Guard (this page)
Bilston and adloining areas were defended by the 34th Staffordshire (Bilston) Battalion and the latter comprised several Companies which in turn contained various factory units, including Sankey's, John Thompson, Cannon and Stewarts & Lloyds. Amongst these units was one responsible for all or part of the Coseley area, probably of Company strength; and within it was a unit comprising employees of the Cannon factory which was charged with responsibility for all aspects of the firm's defence. All these men can be described as serving within "The Coseley Home Guard".
Both the Cannon unit and the overall Company of which the former was a part had sports pavilions as their HQ. The Company HQ was in the Coseley Cricket Club Pavilion, located adjacent to Christ Church; and the Cannon HQ was the Cannon Sports Pavilion, an impressive building with function, billiards and snooker rooms and forming part of a complex with tennis courts and bowling green. The two buildings were within half a mile of each other and the Cannon pavilion, near to Gough Road, became a Sons of Rest premises when the factory closed.
Amongst the many men who served within the Coseley Home Guard, the following have so far been identified:
THE MEN OF THE


COSELEY HOME GUARD

Joe Baugh


Ernest Bennett
(Cannon, worked in the foundry for 25 years from 1935, later licensee of Stag's Head, Penn Common; below in 1941)


Jack Bennett

Billy Bradbury
(on parade, 1943)


William (Bill) Briscoe


(lived at 7 Norton Crescent)





Victor Bunce


(late Royal Engineers in Great War, moulder at Cannon)

Bill Clark




Sam Clift


(1941)



Alan Cooke

Harry Cross
(on parade, 1943)


Jack Gill

Sam Green

- Groucutt



These are just a few of the men of the Coseley Home Guard.

There must be many more who could be added to this list - please use Feedback if you can help....




Tom Gwinnett


Bernard Higgins
(Norton Crescent, Coseley)





James (Bill) Jackson


(Northbank Street, Coseley; see image below, James centre, with two serving brothers, Leonard/Len left and Thomas/Cyril right)


Ernie Jones


Daniel Keay
(May have been Quartermaster Sergeant. Remembered for propping up his rifle and golf clubs together, by the front door).

Pte. Harold Leonard Lane
(Apparently a Coseley man but a member of the 35th Sedgley Battn. Died in a training accident - see below)

Dennis Martin

Sgt. Samuel Joseph (Sammy) Meldon
(Lived at 19 Havacre Lane, Coseley; a survivor of the Great War; gave long HG service; died 1965 at 637 Birmingham New Road, Roseville. See below)

Len Millard
(1919-1987, famous footballer, later captain of West Bromwich Albion, worked on Bailey Bridge manufacture during WW2, possibly at Thompsons)



Capt. A. F. Oatley


(C.O. of Cannon unit)





2/Lt. Fred A. Pardoe
(previously Sgt., seen here on parade, 1943)


- Potts

Alfred George Phillips
(b. 1899, served in Great War, P.O.W., lived in Chapel or Ward Street, worked at Stewarts & Lloyds, loyal supporter of Roseville Remembrance Day parades).



William Robinson


(Cross Street/Norton Crescent, Coseley; below, William in the Great War)




Lt. Arthur Smart


(on parade, 1943)



Lt. Arthur Edward Turner

M.M.




Jim Turner


Bert Wassell

Frank Willis


The following image is of the Cannon unit taken outside the works sports pavilion and it almost certainly shows most or all of the entire complement. It is dated June 1941 and is likely to be associated with a formal parade, probably to mark the first anniversary of the establishment of the service in 1940.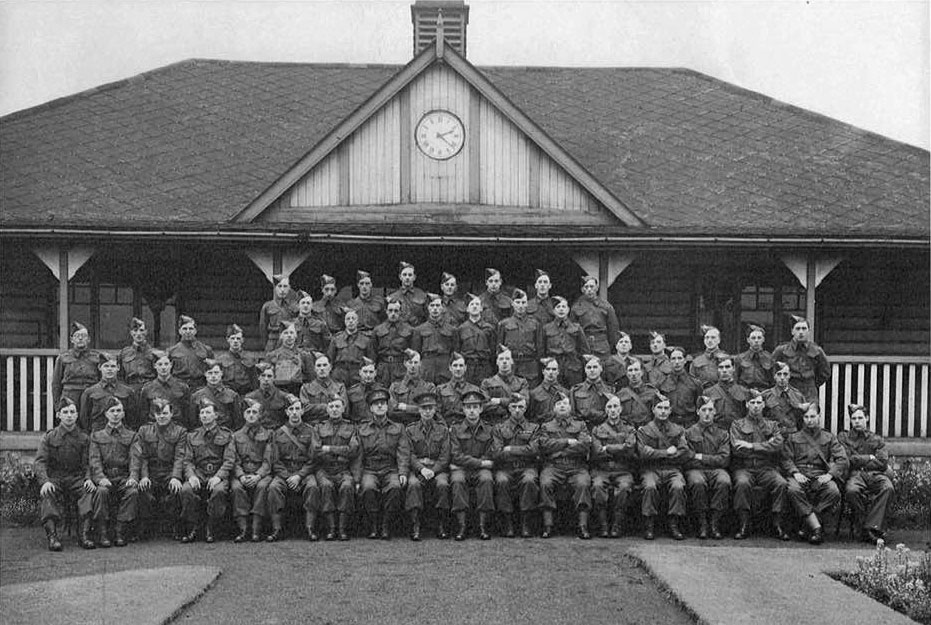 (Click on the image to view a higher definition version)
Identifications so far made are:
Front row
5th from left - Joe Baugh; 8th - Arthur Smart; 9th - A.F. Oatley; 10th - Harry Cross;
14th - Ernie Jones; 15th - Bill Clark
2nd row from front
5th from left - Sam Clift
3rd row from front
extreme left - Fred Pardoe; 4th from left - Jim Turner; 5th (with knapsack) - Tom Gwinett;
3rd from right - Bill Bradley
4th row from front
nobody identified
Back row
3rd from left - Ernest Bennett
This image confirms that, at the time, 1941, A.F. Oatley was in command, supported by two fellow officers, Arthur Smart and Harry Cross.
The above image of the Cannon unit raises an interesting mystery. There survive two versions of this photograph. In addition to the one above, there is a second, at first sight identical version (below) - the men are in exactly the same positions and the clock shows the same time. But an extra man has appeared, peering over a shoulder in the last but one row. We know who he is: Pte. Wassell. But why in one image, rather than both? Perhaps he was held up and only joined the group after the first photograph had been taken; and the photographer was asked to have a second go. But it is strange that both versions have survived into the 21st century. Here is the second image (regrettably no high definition copy has so far surfaced) with Pte. Wassell now in the middle of the back row but one: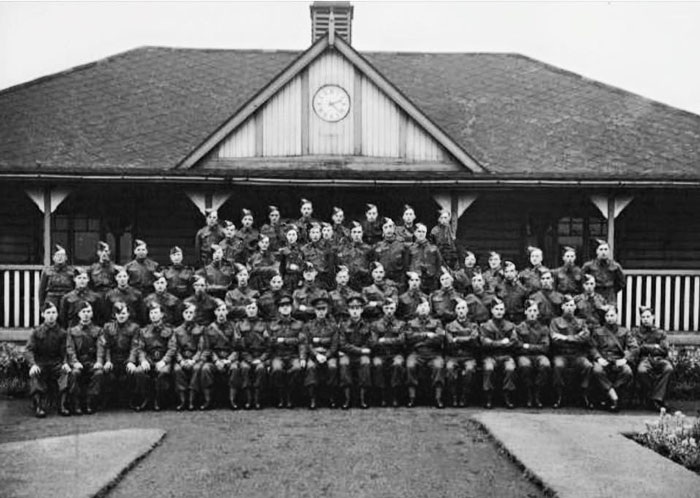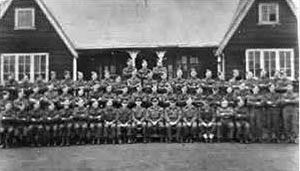 There also survives an image of the Coseley Company (right, perhaps including some of the Cannon men) assembled outside the Cricket Club Pavilion on an unknown date. Regrettably the version available to staffshomeguard is of very low definition and identification of individual men is difficult.

Sections of the Coseley units were photographed parading through Bilston High Street in 1943:
Arthur Smart, Transport Manager at the Cannon, leads a Cannon unit with Harry Cross immediately behind him.
(Click on the image to view a higher definition version)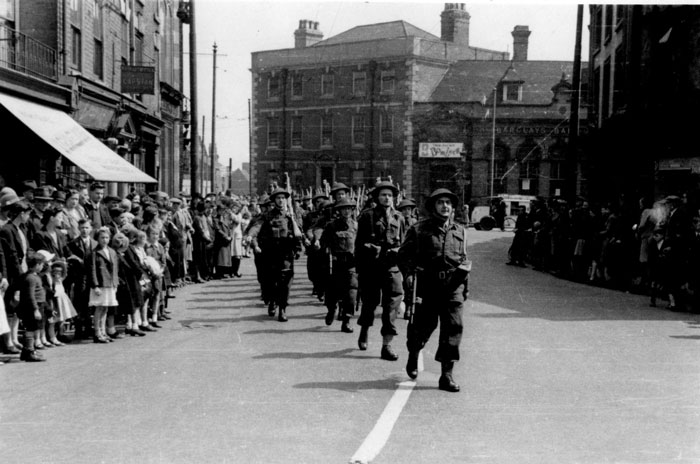 And a further image:
Sgt. (later 2/Lt.) Fred Pardoe, carrying his Sten gun, is leading a column of Cannon men. The tall man in the front rank of the squad is Bernard Higgins, with, to his right, Billy Bradley.
(Click on the image to view a higher definition version)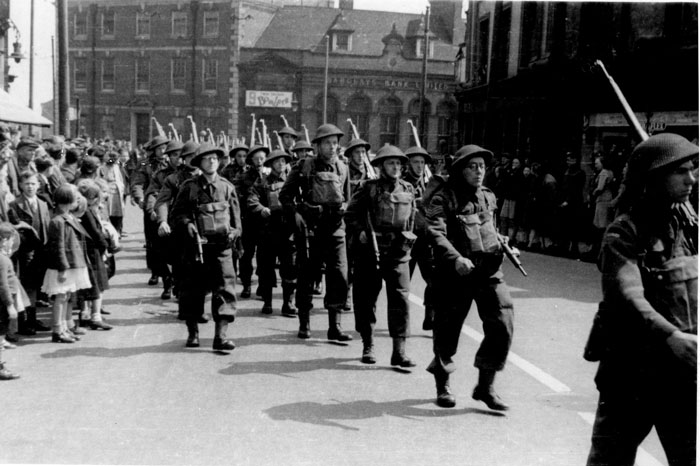 Just seconds later this section is passing the camera and is photographed again:
(Click on the image to view a higher definition version)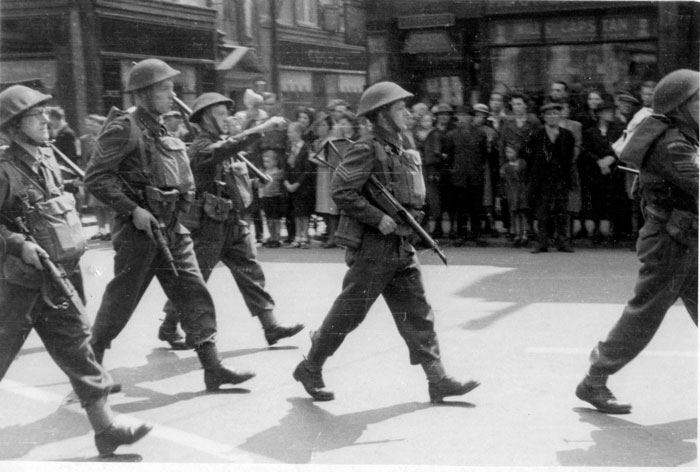 Further photographs of this parade (and many of the faces in the crowd) can be seen
here
.
And finally the story of two Coseley men:
Pte. HAROLD LEONARD LANE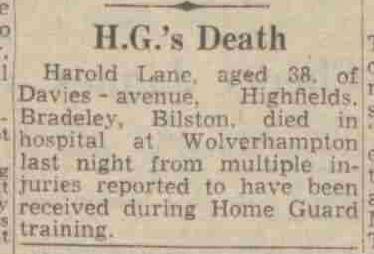 Harold Leonard Lane

, aged 37 and of

Davies Avenue, Highfields

, died on 4th April 1944 as a result of an accident with a grenade during live weapon training. The accident and the inquest were briefly reported in the Birmingham Mail on 5th April and 13th April.
This tragedy was the result of a mishap all too common throughout the Home Guard. A man is taught how to pull the pin out of a Mills Bomb and continues to hold the firing lever until he hurls the grenade and then the latter explodes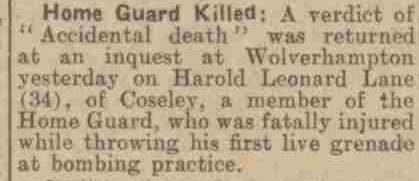 seconds later after reaching its target. But occasionally there is a fumble and the grenade, now primed and about to explode, falls to the floor of the training trench.....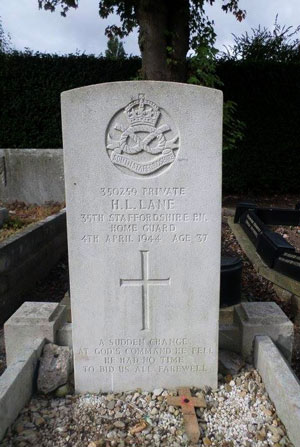 The newspaper report above suggests that it was Pte. Lane who was handling the grenade and somehow dropped it before he was able to throw it. And within the family there is a story that this unfortunate man tried to protect his comrades by shielding them from the detonation with his own body. The detailed inquest report would confirm the precise circumstances but the former has yet to be discovered.
By his address, Harold Lane can be described as a Coseley man and could be assumed to be a member of the 34th Bilston Battalion. But in fact his affiliation was to the adjoining

35th Staffordshire (Sedgley) Battalion

. Perhaps this was due to his being a member of the factory unit at his place of work.
Harold Lane now rests in

Bilston Cemetery

.



Sgt. SAMUEL JOSEPH (SAMMY) MELDON


Before volunteering for the Home Guard,

Sgt. Sammy Meldon

(1897-1965) had had a remarkable Great War service which, somehow or other, he survived, only to take up arms again little more than twenty years later.

He volunteered in early August 1914 and his service with the 1/6th, and later the 4th Battalion,

Manchester Regiment

took him to Egypt, Gallipoli, back to Egypt and finally France and Belgium.

His service at Gallipoli lasted for 7 months and at the time of evacuation in December 1915 he was one of 82 remaining from the original contingent of 887; and one of only 20 who had served continuously.

In France and Belgium he and the Manchesters were posted all over the Western Front, including the Menin Gate, Passchendaele Ridge, the coast at Coxyde, Yser Canal, Nieuport and many places in between. He was Mentioned-in-Despatches at some point during this long service.

By the outbreak of WW2, he was living at

19 Havacre Lane, Coseley

and working at

Boulton Paul

, Wolverhampton.






Sammy Meldon volunteered immediately when the creation of the Home Guard was announced. His King George VI certificate

(below) confirms his length of Home Guard service as being the maximum possible and it probably mirrors almost exactly his period of Great War service.



Sammy Meldon passed away on 11th September 1965 at

637, Birmingham New Road, Roseville

.
Staffshomeguard would welcome further information about the Coseley Home Guard and its members so that the memory of these men can be further perpetuated. Please use the Feedback link at the foot of the page.
**********
In Memory of



ALL MEMBERS OF


THE COSELEY HOME GUARD



34th Staffordshire (Bilston) Battalion




Home Guard



1940-1944


FURTHER INFORMATION ON THE 34th BATTALION:
Further pages of the website contain many more images of, and information about, the 34th Battalion.
Issues 956, 957 and 960 of the Black Country Bugle include much original material about the Battalion.
ACKNOWLEDGEMENTS
Grateful acknowledgement is made to:
Janet O'Brien; many other members of Richard Wassell's excellent Coseley pre-1970 Facebook page including Paul Bennett, Ken Bunce, Tony Clift, Steve Darby, Mark Jackson, Sarah Cotton Knott, Ann Martin, Paula Morris and Anne Southall; Mike Meldon; Janine Harley, Maggie Laity, Matt Felkin and the latter's Wartime Birmingham and the Blitz" Facebook page (for information, image and cuttings associated with Harold Lane); the Black Country Bugle; and "Home Guard List 1941 Western Command" by Jon Mills (Savannak Publications).
Headstone image © Maggie Laity 2017