This is a page within the www.staffshomeguard.co.uk website. To see full contents, go to SITE MAP.

MEMORIES AND INFORMATION - STAFFORDSHIRE HOME GUARD

34th STAFFORDSHIRE (BILSTON) BATTN.

BILSTON

Associated pages in this Bilston section of the website:
General Battn. Info. (this page) - Maj. H.G. George - 1943 Battn. Parade/Review - 1944 Battn. Display
Bilston was defended by the 34th Staffordshire (Bilston) Battalion and the latter comprised several Companies which in turn contained various factory units, including Sankey's, John Thompson and Stewarts & Lloyds. In 1941 the Battalion was commanded by Lt.Col. J. Pitkeathley, M.C. and comprised some 30 officers and an unknown further body of NCOs and Other Ranks.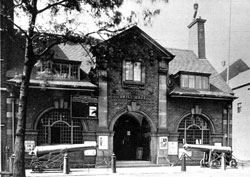 Part of its role comprised the guarding of many Vulnerable Points within the town, e.g. the Drill Hall (right, located, as it still is, near the junction of Mount Pleasant and Mountford Lane; and at the time close to the Theatre Royal, the Globe inn and the Police Station); the ARP centre behind and under the Library; the Telephone Exchange at the main GPO; and the pumping station beside the canal at Bratch.
One memory is that the sections involved in these duties were normally of one or two NCOs and a further five men. Each venue was reached by marching except for Bratch which, because of the distance, required transport in the form of Johnny Toole's coal wagon. Duty was normally every eighth night from 10 p.m. to 6 a.m. and the shifts were 2 hours on, 2 hours off.
Like almost every Home Guard throughout the country, members of these sections were often operating in conditions of low visibility and occasionally of heightened tension when an invasion alert seemed to have been sounded (marked by the ringing of Church bells). They were therefore liable to problems in correctly identifying the threat offered by an object approaching out of the gloom, especially if it resembled a parachute and if it failed to respond to a correct challenge. On one such occasion at The Bratch when the ringing of Church bells could only mean one thing, imminent attack, the combination of poor visibility and high tension resulted in a dead cow, an extremely aggrieved farmer and a compensation bill for the Battalion.

No full list of the membership of this Battalion survives, although there were certainly many hundreds of men involved, if not more. Amongst them will have served the following, whose names have appeared in various memoirs or records:
Lt. W Arkinstall, DCM
Lt. W C Armstrong
Lt. J T Bill
Lt. S W Chattin
Lt. W Edge
Tom Evans
Lt. G W Eyres
Lt. Bob Ford
Lt. H J George
Lt. R Hanstock
Capt. A E Hayes
Maj. R H Hopton
Cpl. Bob James,
Lt. C Lovern
Lt. K C Lowe
Maj. H Marchant
Lt. A F Oatley
Lt. W Parkes
Capt. W S Peach
George Philpot
Lt. G M Pickard
Lt. E Probert
Lt. E E Richards
Capt. D A Richmond
Lt. W Roger
Sid Routely
Capt. G Salter
Capt. A E Seedhouse
Lt. J Sidebotham
Lt. J McE Sinton
Lt. A E Smart
Ken Southwick
Capt. W H Smith
Lt. FJ Timmins
Lt. A Turner
Sgt. Turpin
Maj. D E Wells (M.O.)
Cpl. Bill Whitehouse,
L/Cpl. Ted Wilson
, .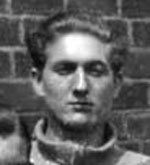 One of these Battalion members was Ken Southwick, a young man who was employed at Bradley & Foster in Darlaston, producers of pig iron and other products. He has generously provided (2016) information about how the unit was organised and operated and also his personal memories of those times, 75 years ago. The information he has provided forms the basis of this web page.
Ken had left school in 1938 at the age of 15 and well remembers William "Bill" Peach who was his Headmaster at Bilston Boys Central School, Fraser Street. Bill had served as an officer in the Great War. Lt. Chattin was another officer in the Battalion - he is remembered as a member of a family who had a bakery business in Bilston. (Just as in "Dad's Army" many members of the Bilston Home Guard had links with local businesses). Bob Ford is also remembered as one of Ken's comrades. Ken himself left the unit in 1943 to serve in the RAF.
The Battalion's role was to defend four places: Bilston itself, Ettingshall, Bradley and the Bratch Water Pumping Station (which provided the water supply for Bilston). Battalion HQ – or at least HQ of two of the Battalion Companies – was at the Drill Hall (on the Bilston-Willenhall Road opposite the Theatre Royal and now the Robin 2 Music Venue).
We are also indebted to Ken for details of the dead cow mishap. (This may have occurred on the night of 7/8th September 1940 when the code word "Cromwell" indicating that invasion was imminent - i.e. within 12 hours - was incorrectly signalled to Home Guard units).
**********
FURTHER INFORMATION ON THE 34th BATTALION
Further pages of the website contain many more images of, and information about, the 34th Battalion.
Issues 956, 957 and 960 of the Black Country Bugle include much original material about the Battalion.
ACKNOWLEDGEMENTS
Grateful acknowledgement is made to Ken Southwick and John Ashmore; the Wolverhampton History and Heritage Website; Black Country Bugle: and Home Guard List 1941 Western Command, by Jon Mills (Savannah Publications).