HOME GUARD MEMORIES AND INFORMATION - OTHER COUNTIES (M-S) - OXFORDSHIRE
3rd OXFORDSHIRE BATTALION,
WITNEY Coy.
and
Cpl. FRANK ERNEST BISHOP

This a page within the www.staffshomeguard.co.uk website. To see full contents, go to SITE MAP.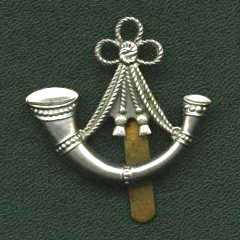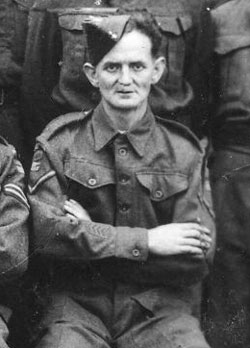 Frank Ernest Bishop
(1906-2002, right
) was a Witney man, born and bred, who lived in the town throughout his entire life. He died there at the ripe old age of 96 in 2002.





EARLY YEARS AND PRIVATE LIFE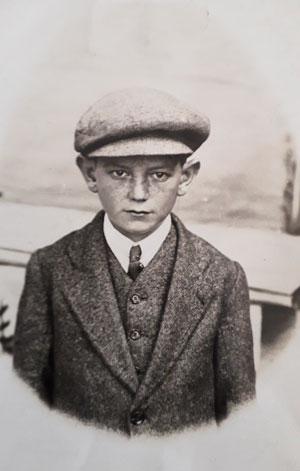 Frank's early life was eventful, despite being too young to serve in the Great War. He is pictured
(left)
in 1916, not looking at his most cheerful! In 1919, at the age of 12, he sailed to

Montreal

on

SS Toreggan

with his parents and possibly five of his siblings with a view to emigrating there, a sort of reconnaissance trip. But life in Canada obviously did not suit all the family and Frank returned with his parents
(right)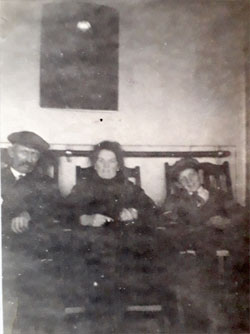 and brother Alfred (who later died of TB) in June 1920.

On his return, aged 13, he was a warehouse worker in

Earlys Mill

(a blanket factory) until his late teens
(seen below left at around that time with other lads working there)
and then, after marrying

Olive Weaver

in 1929, he worked as a local milkman in

Witney

. He later got a job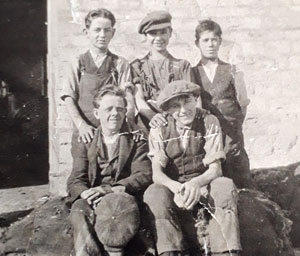 at the

Morris

car factory in

Cowley

(now BMW) but was out of work for some time in his 50s after a serious car accident which left him with leg injuries that plagued him for the rest of his life.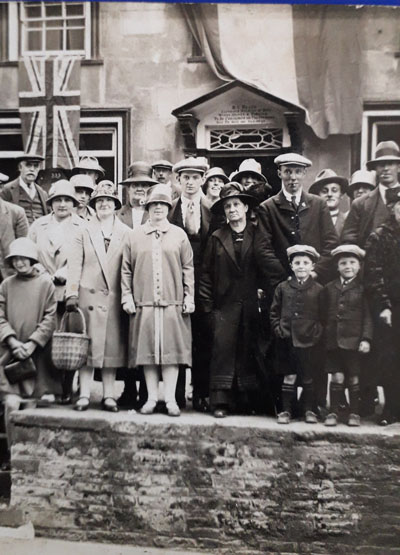 A glimpse of Frank in the 1930s is to be seen on the occasion of the 1930 British Legion Carnival at Witney (right). He is standing to the left of the somewhat austere lady dressed in black in the front row.



Frank's marriage to Olive lasted for 61 years until her death in 1990; their only son joined the Royal Navy at the age of 17 and rose to the rank of Chief Petty Officer.





WORLD WAR TWO



It is thought that Frank was not called up in WW2 due to eyesight problems. But instead he volunteered for service in the Home Guard in the earliest days following its establishment in May/June 1940; and found himself serving in the

Witney Company

of the

3rd Oxfordshire (Chipping Norton) Battalion

.


He is shown below in this group, probably showing his entire platoon, and photographed outside

St Mary's Church

probably on 14th September 1941. The Platoon would have been one of several which made up the Witney Company of the

3rd Oxfordshire Battalion

; another was the

de Havilland Witney

factory unit about which there is further information within this website.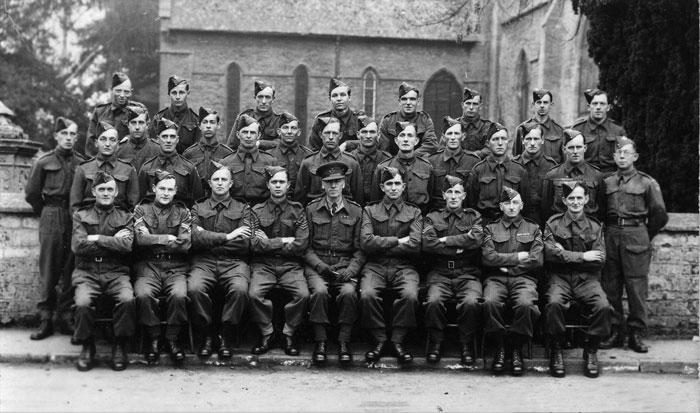 Identification: front row, extreme left, Frank Ernest Bishop
Click on image to view a magnified version of this and other Witney group images


Little is so far known of Frank's Home Guard service. The image above indicates his rank of Corporal which marks him out as a man regarded as suitable to hold a position of authority, despite his lack of previous military experience. His years in the Home Guard and this service to his country during WW2 are acknowledged by his King George certificate. And this document tells us that he volunteered in early July 1940 - only a month or so after the Home Guard started to form itself - and served right through to the end in December 1944. His hours of voluntary service during this period would certainly have been in the thousands.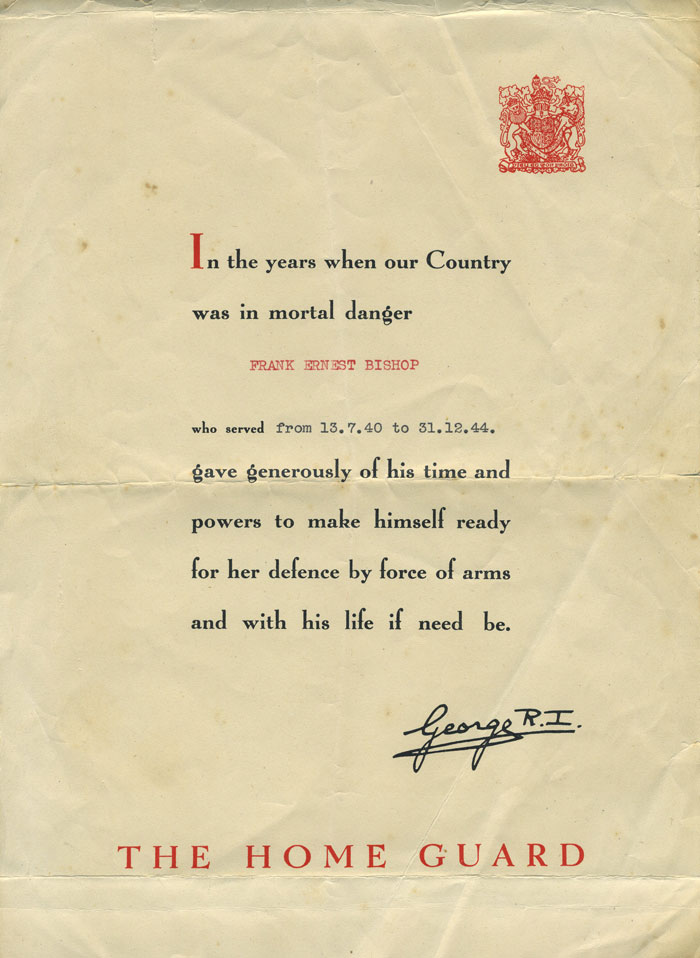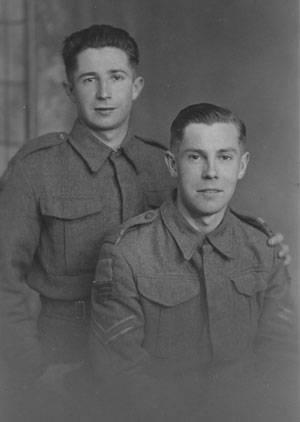 Frank Bishop had two brothers-in-law serving in the Army in WW2. They are, left, Raymond and Ronald Weaver. Both survived the war although Raymond, standing, was wounded in Europe. Let us remember them too.
And also "Deborah's Boys" - two unidentified young men who also served their country early in the 20th century in different campaigns, possibly both in the Great War: we'll call them Jack and Albert. Just possibly Witney men but quite unknown and forgotten - but not by the owner of their photographs nor, now, by any visitor to this page. Here they are, below:





***********
For further information on the Witney Company and also on the de Havilland Witney Platoon please use the link to Other Witney Memories below.

ACKNOWLEDGEMENT
We are most grateful to Deborah Bishop for these memories of her grandfather and others; and for her permission to reproduce them here.
Images © Deborah Bishop 2019
x170 - September 2019, updated April 2020