This is a page within the www.staffshomeguard.co.uk website. To see full contents, go to SITE MAP.
MEMORIES AND INFORMATION - WORCESTERSHIRE
5th WORCS. (HALESOWEN) BATTN.
and
SERGEANT CYRIL HODGETTS

HALESOWEN

was defended by the

5th Worcestershire (Halesowen) Battalion

, commanded by

Lt-Col. B.J. Keene

.

Battalion H.Q. was at

The Drill Hall, Grammar School Lane, Halesowen

and Company/Platoon HQs were located at different places in and near the town.

Amongst its members was

Sgt. Cyril Hodgetts

(right), a resident of

Cradley

, a chainmaker and a family man. He was a member of the Battalion's

"C" Company

from 1940 to 1944.

We remember his life and service on this page.
EARLIER LIFE OF CYRIL HODGETTS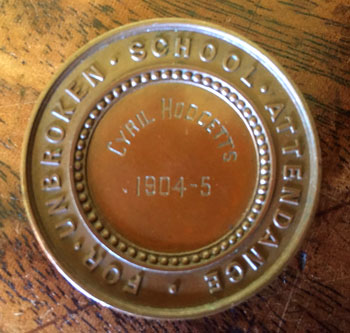 Cyril was born on 11th September 1894 at

36 Intended Street, Cradley

- the same street as at least one of his comrades, George Hussey. He attended the

Baptist School

by

St Peter's, Cradley

where he was awarded a medal
(right)
for unbroken school attendance in the period 1904-1905.

He left school at the age of 13 to go to work as a labourer at

Noah Hingley's, Netherton

where he ended up as a Heavy Cable Chain Maker, making 3 or 4 links per day for cable chains for ships. The work was hard and unbearably hot and the hours were long - and especially so for initially a teenager, to the extent that, during the summer months, he would start a special 4-hour shift really early in the mornings before the heat of the day built up. Cyril, like other Chainmakers, did not go to war as he, and they, were needed at Noah Hingley's and their jobs were regarded as reserved occupations.

Some of Cyril's pals were nevertheless called up. He was particularly friendly with Clarence (Clary) Bowen (

Pte. C. Bowen, no. 33141, M.G.C. Service Battalion

-
1896-1975
) and a postcard from Clary to Cyril from that time - 14th September 1916 - survives:

Clary had a brother,

Alfred Bowen
(b.1889)
. It is possible that he was the

Lt. A. Bowen

listed as a member of the Halesowen Home Guard.

Cyril was present at Clary's wedding in 1927 to

Blanche Head

, presumably in the Halesowen and Cradley area. He is seated on the left. Could that be Alfred Bowen at the rear? No doubt it was a joyous occasion, even if not at the precise moment when the photographer's flash went off!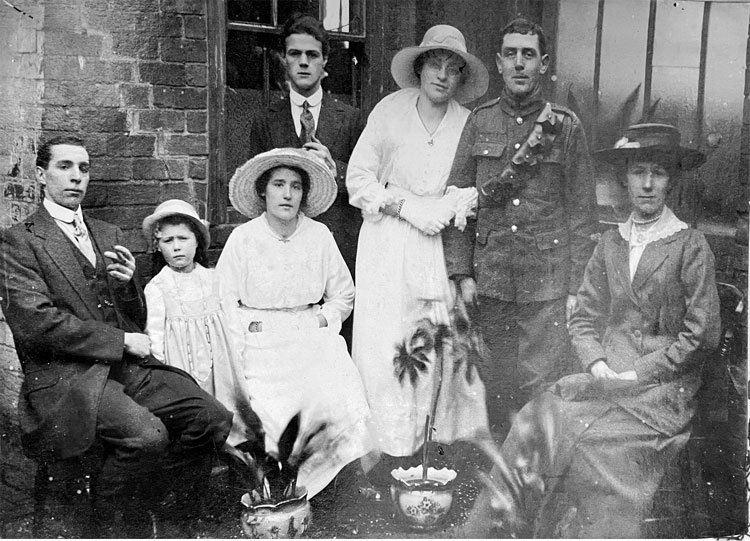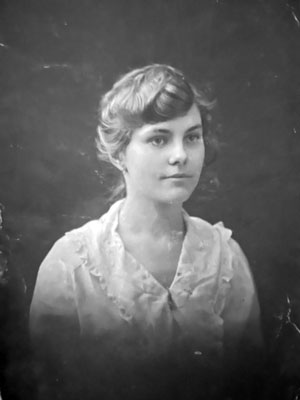 Cyril himself married

Doris Gwendoline Hill

(1899-1985 - seen left, aged 24, at around the time of their marriage) on 15th September 1923 at

Christ Church, Quarry Bank

.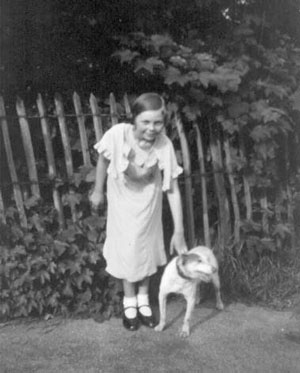 They lived at

16 Drews Holloway South

where they had two children,

Hazel

(1924-2012) and

Alfred

(1926-1959). They also had a black Labrador Jack who used to guard Hazel's pram and later another dog, Nip, a Jack Russell/Staffie cross. Here
(right)
is Hazel with Nip.

The photograph below seems to represent a jokey depiction of a works fire brigade, The Staffordshire Lightning Fire Brigade - "In Case of Fire, Drop Us a Card". Its members are dressed up perhaps to participate in a 1930s carnival. Cyril is present (marked with a "X") but, with the false nose and other facial modifications, it is difficult to make much out, apart from the fact that he is enjoying a cigarette. The vehicle behind gives a rough indication of date, as does also the use of the German Maltese Cross: ten or fifteen years later it would have been a Swastika.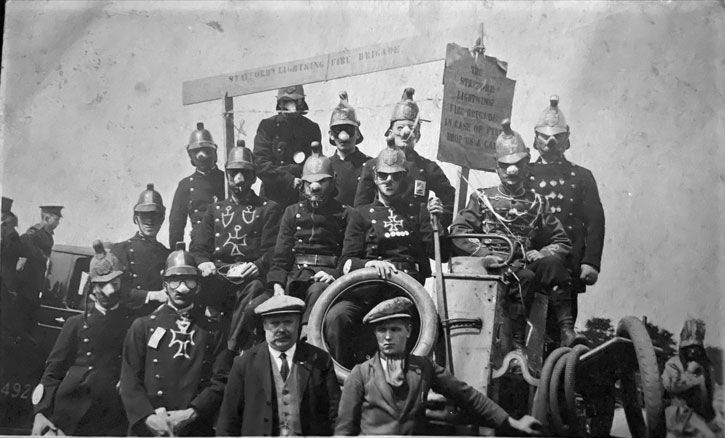 In their home life Cyril and Doris were good at playing the piano and the organ at home and, in those pre-TV days, also played cards, chess and draughts. Cyril was very tall and athletic, with Hazel being the second tallest at 5ft 8", then Alfred and finally Doris as the smallest of them all - which is confirmed by a later photograph below.

Cyril was a good marksman, a skill and interest which he later passed on to Alfred and which was shared with a life-long friend of Alfred's,

Roy Adams
(b. 1926)
. He is also known to have trained with the

Worcestershire Regiment

, but whether this was as a result of pre-war involvement with the

Territorial Army

or whether the memory relates to an aspect of his Home Guard service, is not known. But nevertheless the only record we have of his rank in Home Guard days is of Sergeant - an appointment which would indicate some significant personal qualities and technical skills, especially as Cyril was unable to offer evidence of Great War military service; the latter was a qualification for N.C.O. rank which was almost obligatory in the earliest period of the Home Guard.

There is a vague family memory of Cyril, together with a man named Smith, starting up the local unit of the Local Defence Volunteers in the summer of 1940 and this unit, and others, quickly evolved into what was later called "The Halesowen Home Guard". (There were, inevitably, a number of men with the surname Smith in the Battalion but by 1944 just two in Cyril's Company - "C" Coy. - amongst those recorded at that time:

Major F.P. Smith

, Coy. Commander and

Sgt. H. Smith

; but we cannot know whether either of these was definitely the man who is remembered.

The men used to assemble at the

White Lion, Windmill Hill, Cradley

, the

Witley

pub and possibly at other places.

There is a memory within the family of Cyril undergoing fire brigade training: whilst this could have been part of his wartime service, it is more likely to refer to his prewar involvement in a works fire brigade, as indicated in the photograph above. Or perhaps even to both.

At an unknown date, but almost certainly before 1944, Cyril was appointed to be the

Range Warden

at the open range at

Witley Colliery, Halesowen

. There he would have been responsible for the organisation, safety and smooth running of this important training venue, including the looking after of ammunition, setting up of targets, supervision of those using the range and so on. The published history makes little mention of the

Witley Range

and it is difficult to know whether it was a rifle range where the men would practise solely with their .300 or .303 rifles or whether it was the site where, as surviving photographs of Halesowen training sessions show
(right)
, a wider and even more fearsome range of weaponry was used. Is Cyril shown in any of these?

Just one photograph survives definitely showing Cyril in his role of Range Warden. Here he is, sitting bottom right, in the company of a group of men who, the caption tells us, are all members of

No. 19 Platoon, "C" Coy.

And the man sitting alongside him, the Platoon Commander, is

Lt. G. Hodgetts

. It seems too much of a coincidence that the single photograph retained within the Hodgetts family papers showing Cyril in the Home Guard is the one where he is seated by the side of a man who shares his surname. Family research has yet to confirm the relationship - and any family relationship with a further two men,

T. Hodgetts

and

W. Hodgetts

who were also members of the Halesowen Home Guard.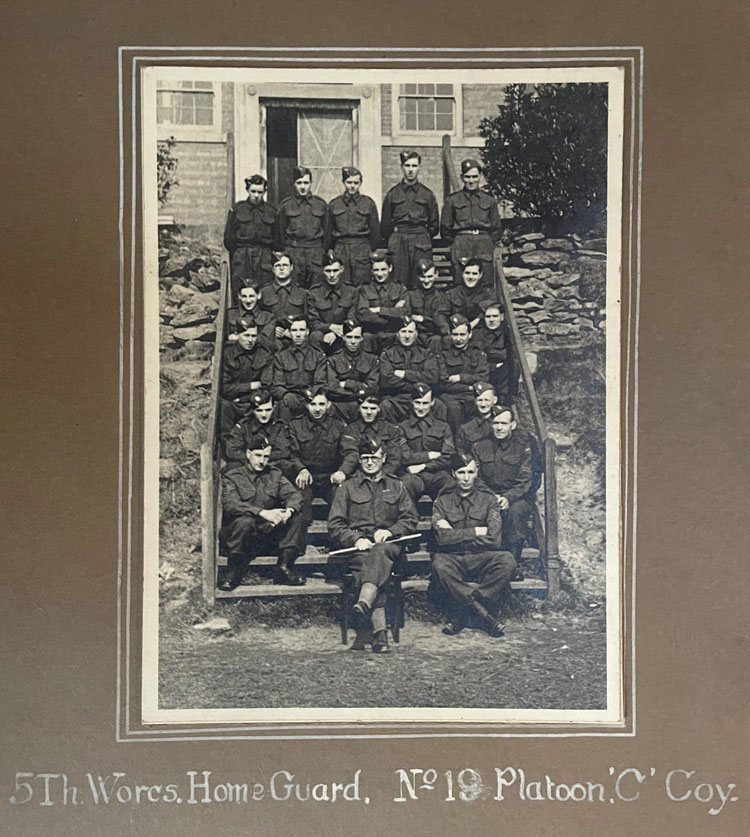 Front row: first from right - Cyril Hodgetts; middle - G. Hodgetts
For names of other men who are somewhere in this photograph - see P. 27 of "Halesowen Home Guard"


(It should be noted that by 1944 No. 19 Platoon is reported as being part of "D" Coy., rather than "C" as stated on the image).

In common with every other Home Guard Cyril Hodgetts's service came to an end at the beginning of December 1944 when all possibility of invasion or significant incursion was a thing of the past. On Sunday December 3rd 1944 he would have participated in the farewell Home Guard parade through the streets of Halesowen before a crowd who, we hope, showed their appreciation of the four-and-a-half long years of voluntary and demanding service which many of the men, Cyril included, had given.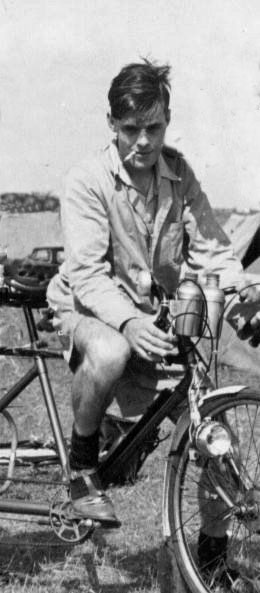 In
the postwar years, Cyril maintained his interest in shooting which he passed on to his son, Alfred
(see left),
and Alfred's friend,

Roy Adams

, both of whom owned their own guns and became in their turn good shots. Roy later married Alfred's sister, Hazel, who by then was working for the GPO.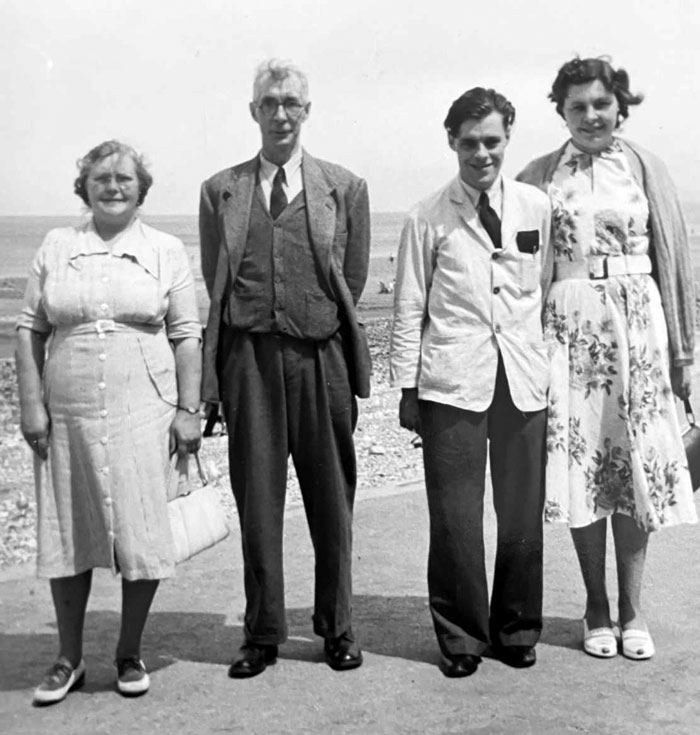 Here
(right)
is an image of Cyril, Doris and their two children photographed at a seaside location, probably in the late 1940s or early 1950s. The height difference mentioned above can be clearly seen.

At around the end of the war, Cyril, then in his mid-fifties, developed eyesight problems and this caused him to leave his employment as a chainmaker. He got a job with the

A

ustin Motor Company

at Longbridge and travelled there daily from his Cradley home,

16 Drews Holloway South

, with his son Alfred who was a draughtsman at the same factory.

Alfred died in 1959 at the age of only 32, in 1959, and his father, Cyril, followed him on 21st August 1966, aged 71. They both now rest at

St. Peter's Church, Cradley

, together with Doris.

Cyril Hodgetts
is remembered within his family
as being sociable, kind and hard working, a man who enjoyed to the full his hobbies and his family life.


In Memory of

Sgt. Cyril Hodgetts



and of




all his comrades




in the


5th Worcestershire (Halesowen) Battalion


(1940-1944)



*********************

ACKNOWLEDGEMENT
is gratefully made to Mags Adams-Aston for providing this information about her grandfather and other relatives; and generously permitting its publication in this website.


Family images © Adams family 2021




FURTHER INFORMATION

Other
information about the Halesowen Home Guard (5th Worcestershire (Halesowen) Battalion), including the contents of a 1944 history, is available on the main battalion page of this website; and about the Worcestershire Home Guard in general in the Worcestershire summary page. Much information about the Home Guard in the county is also contained in the book

Chronicles of the Worcestershire Home Guard

by Mick Wilks (Logaston Press, 2014, ISBN 978 1 906663 87 2).

And if you can add anything to the history of the Worcestershire Home Guard, and especially the Halesowen unit, please contact staffshomeguard via the Feedback link.