MEMORIES AND INFORMATION - INVERNESSSHIRE
LOUIS WALSH
and
3rd INVERNESS (NEWFOUNDLAND) BATTN.
NEWFOUNDLAND OVERSEAS FOREST UNIT
WOMEN'S TIMBER CORPS
This is a page within the www.staffshomeguard.co.uk website. To see full contents, go to SITE MAP.
The story of the Newfoundland Overseas Forest Unit and its Home Guard unit, the 3rd Inverness (Newfoundland) Battalion, is referred to briefly on another page of this website. It is covered in considerable detail on an excellent Canadian site about NOFU which contains images, members' lists and much other information.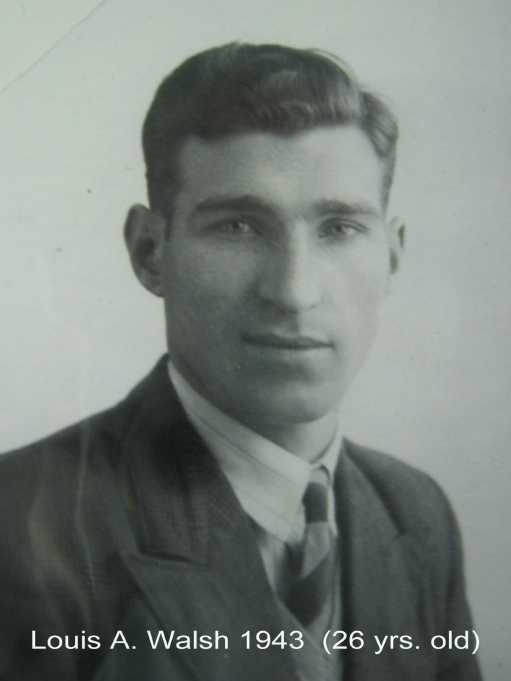 Louis A. Walsh from St. John's (seen right) was one of the approx. 3680 members of the Newfoundland Overseas Forestry Unit who came to the UK early in the war and worked in the North of England and Scotland until 1946.
By 1942 most of the NOFU members were located in large forests in the Highlands of Scotland. Louis was based in a camp at Duthil, about 25 miles south-east of Inverness.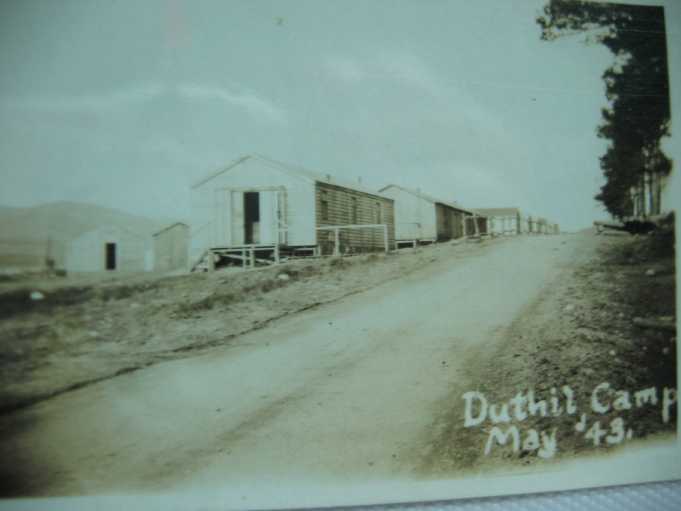 Like so many of his comrades Louis Walsh responded to the call to arms and joined the 3rd Inverness (Newfoundland) Battalion of the Home Guard. Detailed information on this Battalion can be seen on the NOFU website mentioned above. Several pictures of Louis's service survive. Here he is (below, second from the left) before he received his corporal's stripes, holding a map and gazing into the middle distance.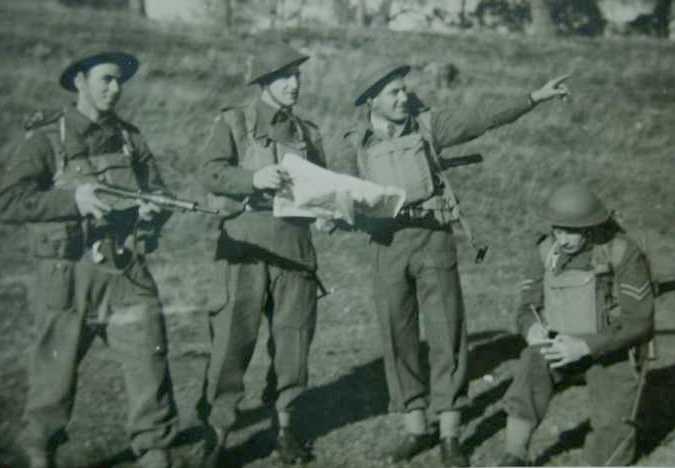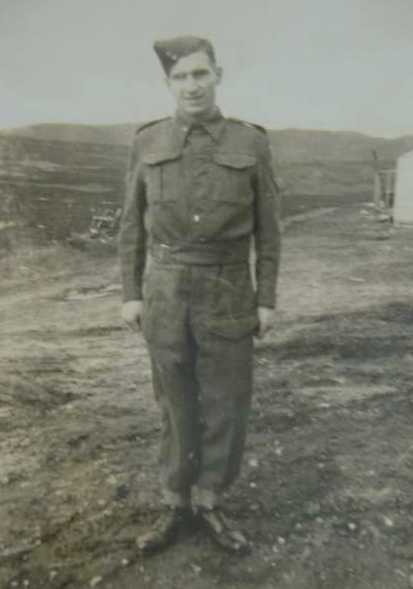 And here photographed (right) at Duthil in June 1943, demonstrating a shine on his boots worthy of a Guardsman.
Louis Walsh, as Cpl. L. A. Walsh, HQ Coy., was selected to represent the Battalion at the national Home Guard stand-down parade in London on Sunday December 3rd 1944. This honour was shared with two comrades, Cpl. Les Styles, "B" Coy. and L/Cpl. H. Wheeler, "A" Coy. These are thought to be the men (below) standing on either side of Louis that weekend somewhere in central London, in front of some government offices which appear to have a Newfoundland association - and which also indicate the general grubbiness of London after five years of war.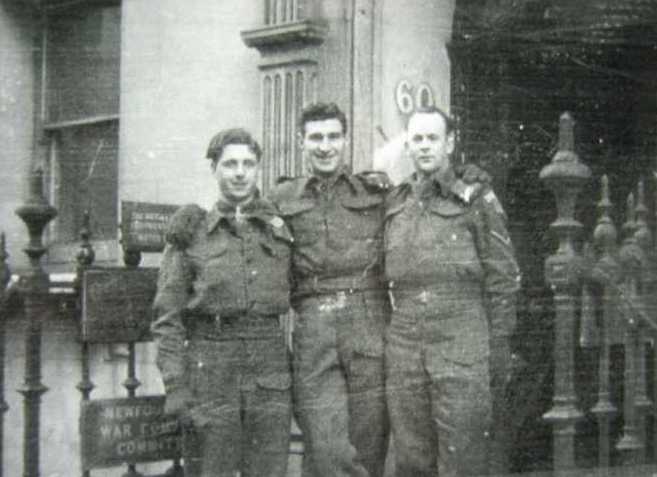 Working in parallel with the men of NOFU were members of the Women's Timber Corps, part of the British Women's Land Army. Girls and women of this Corps, some as young as sixteen or seventeen, lived and worked in separate camps. There they faced similar rugged conditions and back-breaking work. Their role included felling, snedding (the removal of side shoots and branches from a tree), loading, crosscutting, measuring, driving tractors and trucks, working with horses and operating sawmills. They were known as Lumberjills. It is not known whether any became affiliated to local Home Guard units but social contact with NOFU men occurred at weekly dances and similar events in local village and town halls.
For all the above photographs and most of the information on this page we are indebted to Mr. Colin Walsh of Toronto. He writes (in March 2007) of his mother and father as follows:
My father, Louis Walsh passed away on June 5, 1983 at 65 years old. He was Member # 2194 in the Unit. He had fond memories of that time as does my mother who happily is still with us. They enjoyed the local dances and the warmth of the people living in the villages and towns.

My Mother, formerly Rosalind Elder and originally from Scotland, travelled back there to revisit the areas where the Camps were located for a BBC Radio show. My Mother has been quietly working to have the Women's Timber Corps (Women's Land Army) recognized for their Wartime Service. My Father from Canada, was well recognized, by receiving two medals: The Defence Metal and the Volunteer Metal. I would love to see one of the last few surviving members of the WTC, my Mother, who is 80 yrs old, receive recognition from the Queen for her contribution. I understand a statue has been commissioned in honour of the WTC and is being placed on August 7, 2007 in the Highlands.

My Mother and the Queen were born in the same month and year. They both serviced their Country through their Homeland activities as they were so young. I thought of writing her, as she was the inspiration to the young women of the Women's Timber Corp, Land Army to join.

My Mother refers to her Corps. as the "Forgotten Army". I believe she is the last member.
Two months after Louis was released from his contract, twelve other former members of the 3rd Inverness (Newfoundland) Battalion represented the unit at the Victory Parade through London on June 8th 1946. This event is also well described on the NOFU site.
The story of Louis's wife Rosalind, formerly Rosalind Elder, and her experiences with the Women's Timber Corps from a very young age, before her eventual journey to Newfoundland as a War Bride, are fascinatingly recorded and illustrated in her own website.