MEMORIES AND INFORMATION - WARWICKSHIRE
SUTTON COLDFIELD HOME GUARD
and
Captain J. R. BROSCH
This is a page within the www.staffshomeguard.co.uk website. To see full contents, go to SITE MAP.
Captain John Reardon Brosch (1894-1964) was a member of Sutton Coldfield Home Guard, the 6th Warwickshire (Sutton) Battalion commanded by Lt. Col. W. Bigwood, M.C. of Four Oaks.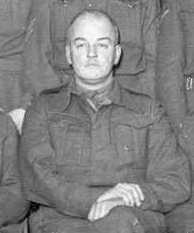 In his private life Capt. Brosch was involved from about 1912 in metal manufacture as J. Reardon & Co. The printed Company name was J. Reardon & Co, Metal Manufacturers, Nickel Silver Works, located in Birmingham. Some time about 1918 J. Reardon & Co. was absorbed into John E. Mapplebeck. The latter Company, after WW1, used the Spade Mill (in the dam of Powells Pool, Sutton Park) for rolling, until - it is said - a labourer stopped the water wheel, not by closing the sluice, but shoving a timber into the wheel, thus ending water powered rolling.
Captain Brosch lived with his wife, Marjorie Ellen, and their children, Veronica (Bunty), Sheila, John and Richard, initially in Goldieslie Road and later, including the war years, in Little Sutton Lanes, off the Lichfield Road.

Through the generosity of his grandson, Mr. Andy Diss, we are able to show below various pictures of the Sutton Home Guard. In the first, in an unknown indoor location but decked out in patriotic fashion, Capt. Brosch is seated fourth from the left in the front row. As ever, the number of men bearing Great War ribbons is noteworthy. The formation of the group is interesting as well: there are as many officers and NCOs as there are privates and one has to wonder whether this group of men had a specialist Battalion-wide function - Signals for instance - rather than being a standard platoon or section.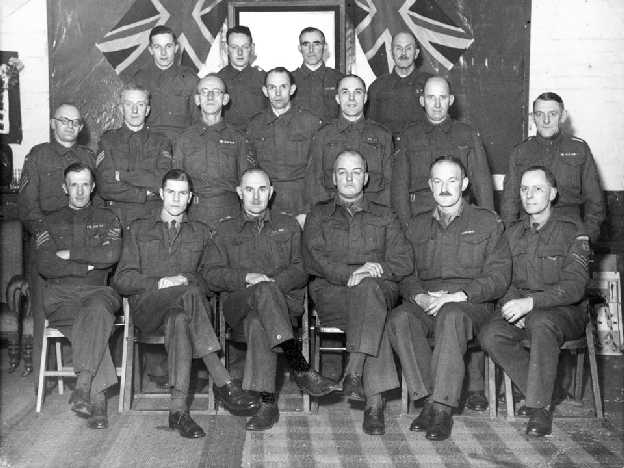 Click on the image to see a higher definition version.
Front row: third from left,. Lt. Rupert L. Thomas; fourth, Captain J.R. Brosch, sixth, - Wightman/Whiteman.
Middle row: fourth from left, Fred Norton.
The location is not known for certain. One unit with which Capt. Brosch was involved used to meet in the pro's hut at Moor Hall Golf Club, where, it is rumoured, more than one Home Guard holed out in the roof during rifle cleaning. On the other hand Lt. R.L. Thomas was known to frequent one local HQ which was in a disused pub on the corner of Tamworth Road and Reddicap Heath Road.
A second similar image shows the same group of men with others having joined them - same occasion, same location.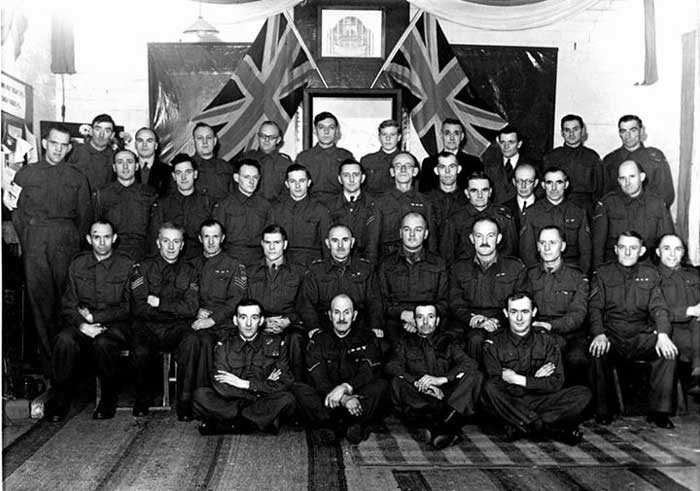 The third image is of a larger group of men, obviously engaged in an exercise of a type described in the 32nd (Aldridge) Battalion pages of this website. Again the location is unknown although Sutton Park, a regular training ground for this and adjacent battalions, has to be a strong possibility. It is obviously winter and here we have a group of men pausing for a few moments during a Saturday or Sunday - or even whole weekend - training exercise. They will be regularly sacrificing much of their spare time in the defence of the town and, if they are in manufacturing, probably working a 50-60 hour week at their normal job as well. Capt. Brosch is standing in the middle of the front row of this group and is wearing a tin hat.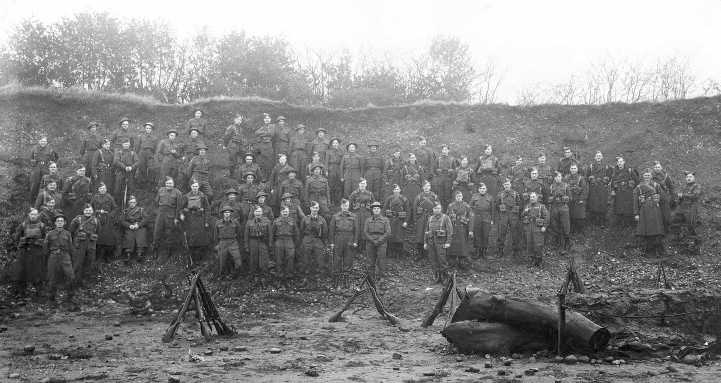 Click on the image to see a higher definition version.
The only partipitant identified with certainty is Capt. J.R. Brosch, sixth from the left in the line of officers at the front of the picture. Lt. R.L. Thomas may be the officer third from the left in this row and Lt. H.A. Pearce fourth, but we cannot be certain.
An expert opinion has been sought on some of the detail within this picture and is the basis of the following comments. The image's probable date is early winter 1942. This is based on the absence of Sten guns which were only widely available in reasonable numbers during 1943; and on the presence of various insignia which started to appear in quantity in late 1941. The number of men involved suggests that they were members of one or two companies of the 6th Warwickshire. The disparity of uniform and kit is noticeable - men in just battledress, others in greatcoats, some with pouches and webbing, tin hats in some cases and forage caps in others. None of this gives a clear indication of the form of the exercise. Its location seems to be within some sort of pit - could it have been, at least partly, rifle training? The Musketry Instructor, Lt. H. Pearce, appears to be present.
It is hoped that more men will be recognisable with reasonable certainty, perhaps including one or two of those who are remembered in words alone elsewhere in the website. Use the higher definition versions of the images to aid recognition. And please use FEEDBACK if you are able to comment on identities, location or activity.