Thomas Snook and Francis Bouzane were both members of the Newfoundland Overseas Forest Unit and its Home Guard unit, the 3rd Inverness (Newfoundland) Battalion. This Battalion is referred to briefly on other pages of this website. It is covered in considerable detail on an excellent Canadian site about NOFU which contains images, members' lists and much other information.
Thomas Snook from St. Alban's and Francis Bouzane from St. Patrick's were two of the approx. 3680 members of the Newfoundland Overseas Forestry Unit who came to the UK early in the war and worked in the North of England and Scotland until 1946.
By 1942 most of the NOFU members were located in large forests in the Highlands of Scotland. Like so many of their comrades these two men responded to the call to arms and joined the 3rd Inverness (Newfoundland) Battalion of the Home Guard which was formed to guard against the risk of German incursion in remote areas. Detailed information on this Battalion can be seen on the NOFU website mentioned above.
An image of Francis's service survives. He is on the extreme right, back row, of this photograph. Unfortunately neither the other men nor the location and date have so far been identified. Further information from any visitor to this site would be very welcome.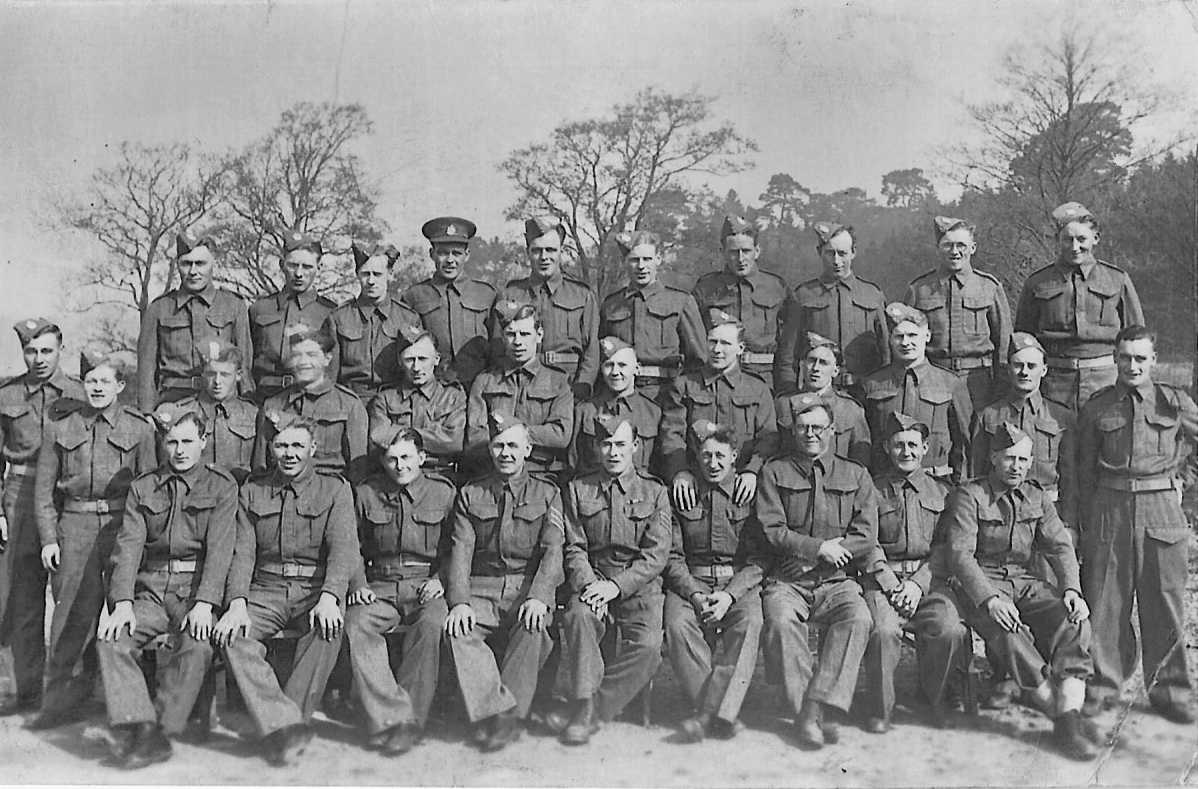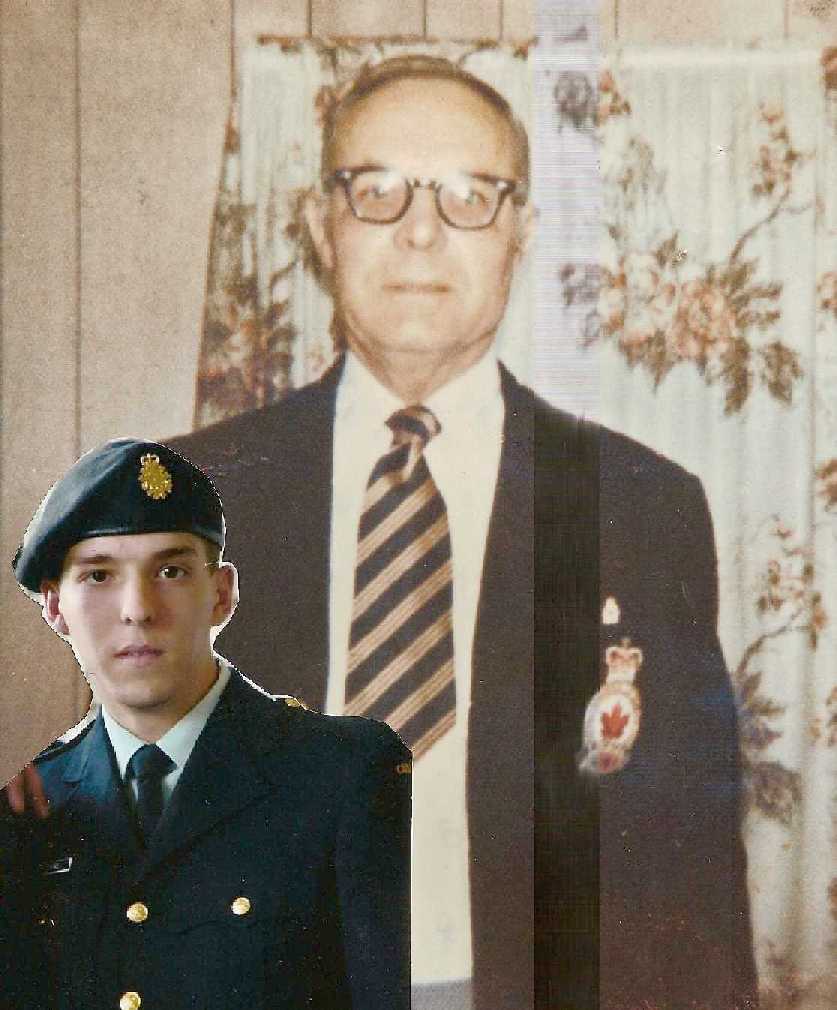 Thomas and Francis returned home to Newfoundland, married and raised families. Thomas's daughter eventually married Francis's son. Here (left) in later life is Thomas with, inset, his grandson, Stephen Bouzane.
And (right) Francis in his Home Guard uniform.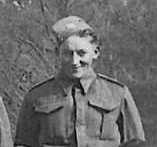 Both Thomas and Francis have now passed away, Thomas in 1994 at the age of 78 and Francis in 2003, aged 83.
Thomas Snook's original Engagement Contract dated 14th June 1940 survives and is reproduced below. It is the day on which the German Army enters Paris and just 11 days after the end of the Dunkirk evacuation. Great Britain is at greater risk than it has been for 900 years. The men of Newfoundland respond to the call.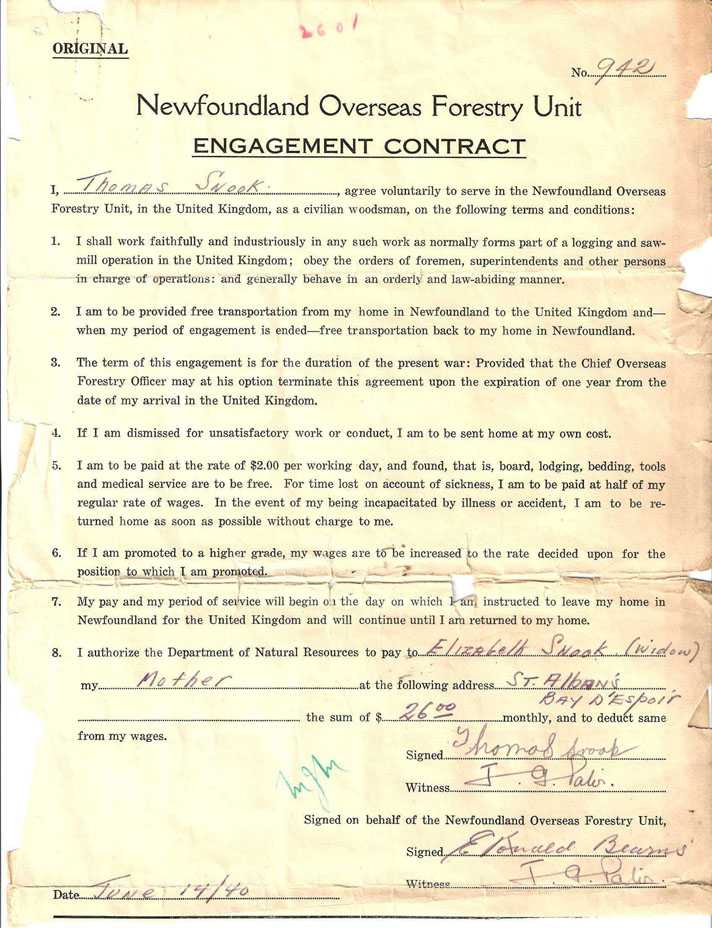 Thomas's Home Guard service is commemorated in his King George VI certificate.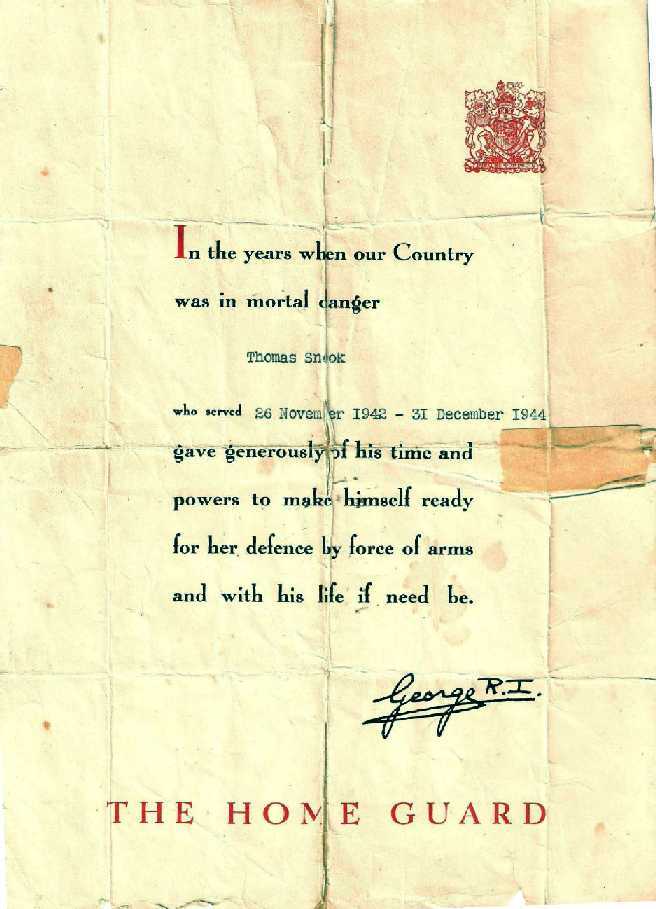 *************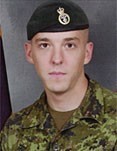 Cpl. Stephen Bouzane, the grandson of Thomas and Francis, served his country in the 3rd Battalion Princess Patricia's Canadian Light Infantry. Together with two of his comrades he gave his life on 20th June 2007 in Afghanistan, near to Kandahar. He was 26 years of age. May this website page stand as a reminder of his sacrifice and a very minor tribute to his service, as well as that of his two grandfathers.