HOME GUARD MEMORIES AND INFORMATION - OTHER COUNTIES (M-S) - SUSSEX
8th SUSSEX (BOGNOR REGIS & SELSEY) BATTN.
and
JOHN ROBERT OLIVER
This is a page within the www.staffshomeguard.co.uk website. To see full contents, go to SITE MAP.

At the outbreak of war, John Robert Oliver was Clerk-in-Charge at the Bognor branch of Westminster Bank Ltd. He enlisted in the local Home Guard in its earliest days, at a time when the threat of invasion was growing by the day. His unit will have been part of the 8th Sussex (Bognor Regis & Selsey) Battalion. At this time his son, also John Oliver, and to whom we are indebted for these memories, was five years of age; he was sent off to the Cotswolds with his mother and brother, out of harm's way, and remained there for some nine months.
("Out of harm's way" may, on the basis of recently unearthed evidence, be an inappropriate phrase. Several contemporary letters written to her husband by Mrs. Oliver from Lower Slaughter in Gloucestershire tell a remarkable story of Luftwaffe attacks on this tranquil corner of rural England in 1940).
In the meantime John Oliver Sr. was well and truly immersed in all the traditional activities of the Home Guard at the time, given added urgency and importance since this stretch of coast was as likely as any other to be the location of a German invasion. Even so, at the beginning he was expected to guard his homeland without the assistance of a rifle. After he had been issued with one there is a memory of his enthusiasm in demonstrating the procedure for "Fix Bayonets" to his two sons which resulted in a hole in the living room ceiling.
As the war progressed John Oliver transferred, like so many others, to artillery duties. But in his case it was not the usual function of anti-aircraft defence in the course of which Home Guards throughout the country manned their anti-aircraft guns and rocket launchers in and around inland towns and cities. In this and many other coastal locations, both along the South Coast and in other areas, the Home Guard became increasingly involved in the manning of large coastal defence guns and this was the case for the unit to which John belonged. His son recalls being taken to see those deployed on the Bay Estate, concealed in fake holiday bungalows, as well as a Battery Observation Post. Training included practice shoots with similar weaponry at the fort at Newhaven which involved a towed target.
The Bognor guns, according to the father, had once been on HMS Hood, having been removed during a refit. Here they are, on the ship prior to its 1941 refit (after which of course Hood was tragically lost during the engagement with Bismarck).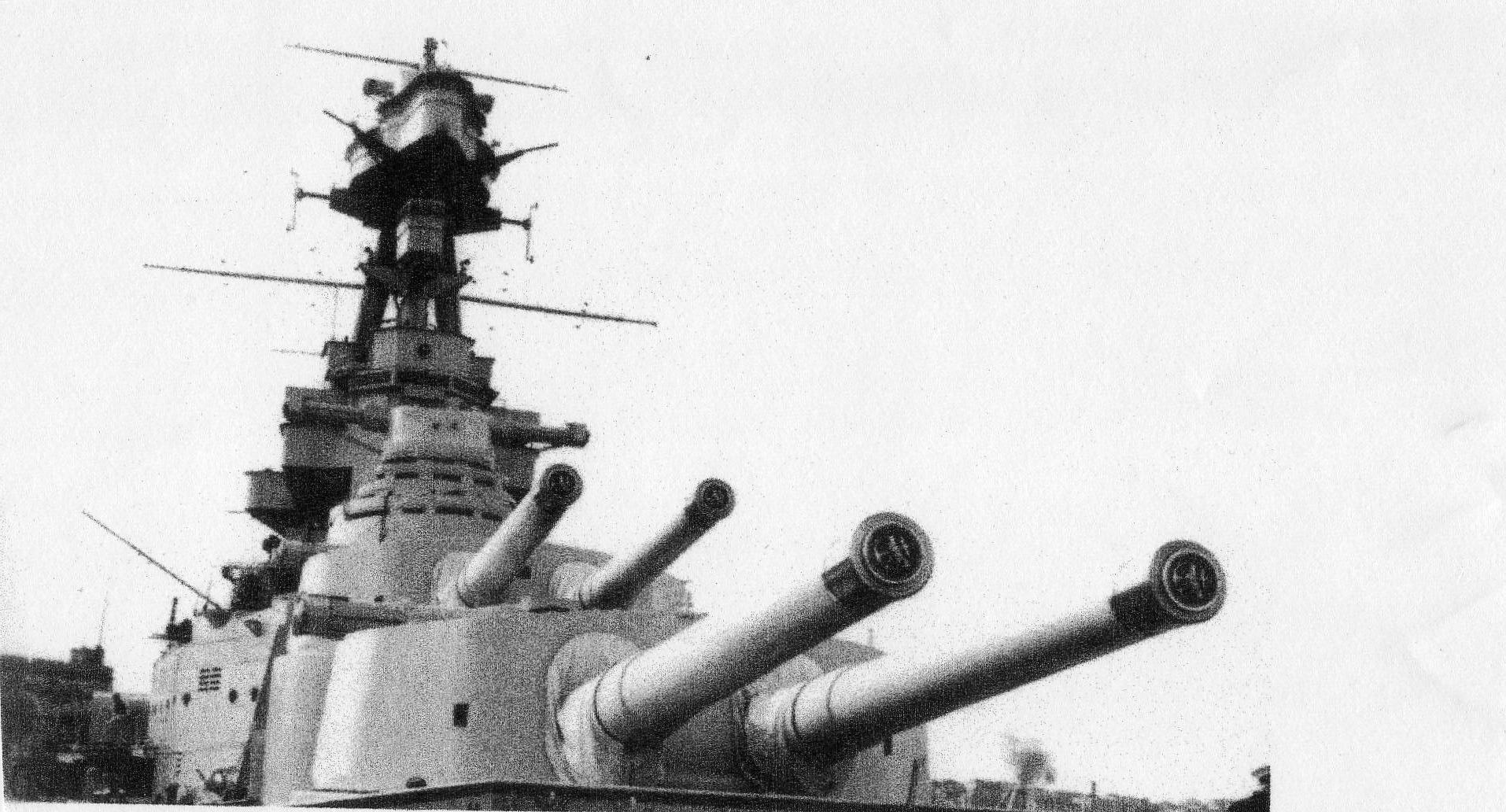 It is hardly surprising to learn that when these monsters were fired the whole town shook. There was some question as to whether they would depress sufficiently to allow them to engage targets on or near the shore in the event of an invasion but fortunately this was never put to the test.
Amongst all scares of those times one in particular stands out: the night in 1944 when John was alone on guard. A severe storm was blowing and in all the mayhem a large piece of a Mulberry Harbour crashed through the scaffolding poles which lined the beach.
John Oliver had a comrade on the guns, a Mr. Whitehouse; the men were called Bombardiers - which was of course Royal Artillery terminology - and there is a memory of a small metal sign on each of their front gates denoting their HG membership.
Two images of the AA unit to which John Oliver eventually belonged have survived. It is the 149 Coast Battery, Royal Artillery and is shown below with both its Home Guard and its R.A. members.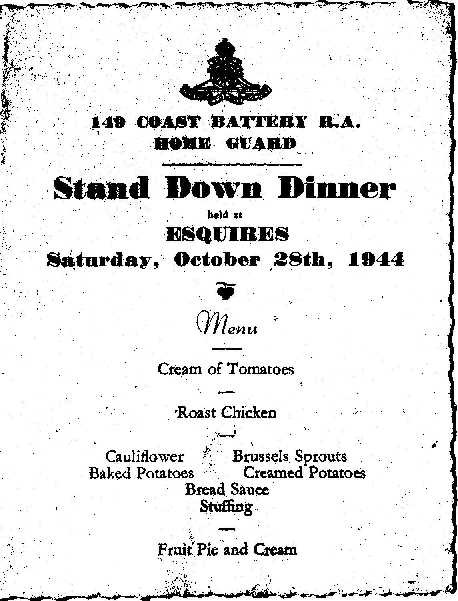 When the job was done and it was known that the Home Guard was to be stood down, the Battery organised a celebratory stand down dinner. Perhaps not the most adventurous menu by sophisticated 21st century standards but after years of stringent rationing no doubt a feast to John Oliver and his comrades. And they certainly deserved it.
(Webmaster's note:
We were delighted to be contacted in October 2014 by 95-year-old Mr. Angus Cameron of Lincolnshire. He advised us that he served as a Regular R.A. man in 149 Battery. He was styled Engine Room Fitter (an old naval term) and was responsible for the running of the two generators which powered the two searchlights. He was one of the ten R.A. men left behind to carry out care and maintenance of the equipment when the Regular gunners left in readiness for D-Day and the Bognor Home Guard took over. He is in the front row of the top group picture, 6th from the right behind the low wall; in the second picture he is in the second row from the front, extreme right - the only man in a beret).
ACKNOWLEDGEMENT
We are most grateful to John Oliver (Jr.) of Eastbourne for these memories of his father and his permission to reproduce them here. Both he and staffshomeguard would like to supplement them with other reminiscences concerning the Bognor men and especially with any further photographs of the unit which may exist. Please use Feedback if you can contribute anything and your comments will be passed on to Mr. Oliver; or alternatively contact him direct.