HOME GUARD MEMORIES AND INFORMATION - OTHER COUNTIES (M-S) - OXFORDSHIRE

OXFORDSHIRE HOME GUARD
by Stanley C. Jenkins
This a page within the www.staffshomeguard.co.uk website. To see full contents, go to SITE MAP.

THE OXFORDSHIRE HOME GUARD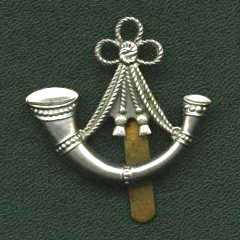 The Fall of France in May 1940 heralded an altogether more serious phase of the war and, in expectation of imminent Nazi invasion, road signs and station name boards were hastily removed. On 14th May the Secretary of State for War appealed for able-bodied men aged 17 or over to register for service in a home defence force to be known as "The Local Defence Volunteers". The response was immediate and almost overwhelming as thousands of men - many of them veterans of the Great War - enrolled for service in the new force. On 15th August 1940 the LDV was renamed "The Home Guard".

The main threat was perceived to be from enemy parachutists, and there were inevitable false alarms, with innocent persons being rounded up and confined in makeshift cells. On the night of 17th-18th September 1940 an invasion was thought to be taking place and, the codeword "Cromwell" having been given, the Home Guard took the extreme step of ringing the church bells as a warning of imminent attack. The next few weeks provided "many exciting and amusing incidents, until the approaching winter made the chances of invasion less probable", and the Home Guard units settled down to a programme of organisation and training.
The Oxfordshire Home Guard was originally commanded by the reassuringly-named Brigadier-General A. Courage, but in November 1940 General Courage retired as Zone Commander, his replacement being Captain the Hon. B. Mitford RN.

There were, by this time, seven Oxfordshire Home Guard companies with headquarters in Banbury, Bicester, Chipping Norton, Bullingdon, Henley, Oxford and Oxford University. Following the publication of Army Council Instruction 653 in June 1940, these units were subsequently organised into eleven battalions of varying strengths, the larger units such as the 1st (Banbury) and 2nd (Bicester) battalions, having over 1,500 men and 1,600 men respectively, while the 3rd (Chipping Norton) Battalion ultimately had a strength of 60 officers and 2,191 men. There was also an Anti-Aircraft Battery, while the 6th (Oxford City) Battalion was later asked to form a "Rocket Battery" at Cowley. Oxfordshire Home Guardsmen were affiliated to the Oxfordshire & Buckinghamshire Light Infantry and, as such, they wore the familiar stringed bugle horn cap badge (see above).

The meagre supply of weapons and equipment available during the early months of 1940 included shotguns and pikes, but these deficiencies were remedied during the following winter. Thereafter, "matters gradually improved until every man had an up-to-date personal weapon, while examples of every conceivable bomb, grenade, mortar and anti-tank device eventually found their way into the local Home Guard armouries".

The final strength of the Oxfordshire Home Guard, when it was officially stood down in November 1944, was around 12,500 men. The eleven battalions were as follows:

1st Oxfordshire (Banbury) Battalion:
Lieutenant-Colonel A. Stockton (1940); Lieutenant-Colonel H.T. Lefeaux MC OBE (1940-45). Final strength 60 officers and 1,533 men.

2nd Oxfordshire (Bicester) Battalion:
Lieutenant-Colonel Lloyd-Mostyn (1940-41); Lieutenant-Colonel A.G. Fane MC (1941-43); Lieutenant-Colonel Sir A. Peyton Bt (1943-45). Final strength 54 officers and 1,670 men.

3rd Oxfordshire (Chipping Norton) Battalion:
Lieutenant-Colonel E.T. Chamberlayne DSO, TD (1940); Lieutenant-Colonel The Hon.B. Mitford DSO (1940-45). Final strength 60 officers and 2,191 men.

4th Oxfordshire (Bullingdon) Battalion:
Lieutenant-Colonel A.V. Spencer DSO (1940-45). Final strength 58 officers and 1,208 men.

5th Oxfordshire (Henley) Battalion:
Lieutenant-Colonel H.C. Tweedie DSO, OBE (1940); Lieutenant-Colonel A.F.R. Wiggins (1945). Final strength 57 officers and 1,382 men.

6th Oxfordshire (Oxford City) Battalion:
Captain E.L. Francis (1940); Lieutenant-Colonel J.A. Douglas (1940-45). Final strength 83 officers and 2,069 men.

7th Oxfordshire (Oxford University Senior Training Corps) Battalion:
Colonel C.H. Wilkinson MC (1940-45). Final strength 4 officers and 444 cadets.

South Midland H.G.Transport Column:
Lieutenant-Colonel W.B. Street (1943-45).

Oxford Company:
Major F. Beecher (1942-45). Final strength 8 officers and 244 men.

111th (101st Oxfordshire HG) 'Z' Anti-Aircraft Battery: Major R.B.Freeman MBE (1943-45). Final strength 35 officers and 1,400 men.
*******************
FOOTNOTE

It is interesting to note that Frank Pakenham, the future Lord Longford, was a member of the Oxfordshire Home Guard. He had enrolled as a private in the (Territorial) Light Infantry in 1939 and, at the outbreak of World War II, he was commissioned as a second lieutenant in The Oxfordshire & Buckinghamshire Light Infantry. Evelyn Waugh recorded meeting him "in uniform, full of ambitions to serve in any capacity, civil or military, greatly dismayed by the obscenity of conversations among private soldiers".

Sadly, 2nd Lieutenant Pakenham's career as a soldier was a complete and utter disaster. He was incapable of such routine tasks as making his bed or keeping his equipment clean, and the psychological strain soon made itself felt. Having suffered a severe personal crisis, this member of a long-established military family was invalided out of the Army on "medical" grounds in 1940. This was a bitter blow for a man who, despite his very obvious eccentricities, had been determined to play a part in the war against fascism.

In an attempt, perhaps, to prove that he was, after all, a worthy
descendant of Wellington, Frank Pakenham helped Maurice Bowra (1898-1971) to
raise the South Company of the Oxford City Battalion of the Home Guard -
Pakenham being the commanding officer while Bowra, the Warden of Wadham
College, was second-in-command. Unfortunately, even this worthy activity
descended into farce when he was shot in the foot by the only member of his
company to possess any ammunition.
*******************
ACKNOWLEDGEMENT
Grateful acknowledgement is made to Stanley C. Jenkins for writing the above article and generously permitting its publication on this page
(The Soldiers of Oxfordshire Trust was formed in 2000 to "establish a joint museum in Oxfordshire under the title of Soldiers of Oxfordshire (SOFO)." The Group's long term objective is to improve accessibility to the military heritage of the county. Stanley C. Jenkins is the Hon. Secretary).

Text and image © Stanley C. Jenkins, 2009