Best viewed in Internet Explorer.
This is a page in the staffshomeguard website.
To see full contents, go to SITE MAP.
HOME GUARD MEMORIES AND INFORMATION - WORCESTERSHIRE

HAGLEY HOME GUARD
and
Harry Harper, Jack Holyoake,
Geoffrey John Bealey
The following photograph, generously provided by the niece of one of the men depicted, shows the Hagley Home Guard, part of one of the twelve Worcestershire Home Guard Battalions. A reminiscence informs us that one of its duties was to guard the the large water pipes, just on the edge of the village, which were above ground and through which flowed the water supply from the Welsh reservoirs to Birmingham.


Three men within the group have so far been identified. They are brothers-in-law. Harry Harper, the older brother of the father of our contributor, is seated third from the left (and shown upper left). In the row behind him, sixth from the left, is Jack Holyoake (lower left), married to Harry's sister, Dorothy. And Geoffrey John Bealey (above right), almost certainly the youngest member of the unit, is seated at the extreme left of the second row, some time before his call-up on 14th June 1944, his 18th birthday.

The Harper family were at that time living in Ivy Lodge, Monument Lane, Hagley. Harry was one of five brothers and sisters. The father, Albert Edward Harper, was employed at the firm of T. W. Lench in Blackheath and he decided to move the family from the house in Quinton to Hagley, in order to be further away from the danger of bombing. He encouraged the families of his children to share this refuge.
The identification of further men on this image would of course be welcomed by the contributor and by staffshomeguard.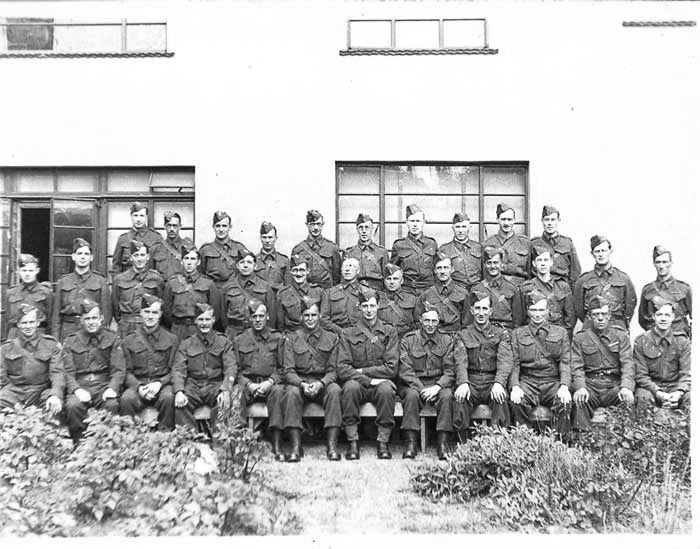 Click on image to see expanded version

ACKNOWLEDGEMENT
Grateful acknowledgement is made to Linda George for the information about her uncles and for her permission allowing us to publish that and the accompanying group photograph: and to Geoffrey John Bealey.

Image© The Holyoake Family 2009