This is a page within the www.staffshomeguard.co.uk website.
To see full contents, go to SITE MAP.
HOME GUARD MEMORIES AND INFORMATION
WARWICKSHIRE, BIRMINGHAM - ROBIN HOOD, SPARKHILL, ACOCKS GREEN

42nd WARWICKSHIRE (B'HAM) BATTALION)
and
Lt. E. J. MOON, M.C.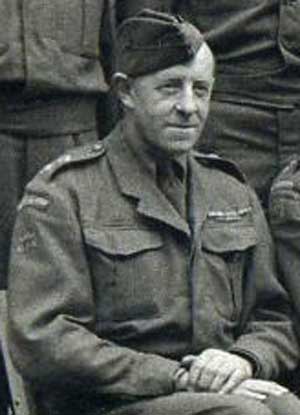 Lt. E. J. Moon M.C. was an officer in the 42nd Warwickshire (Birmingham) Battalion of the Home Guard which was responsible for the defence of an area covering Robin Hood, Sparkhill and Acocks Green. This area included many factories, the larger ones of which had their own works Home Guard units and the Battalion appears to have consisted entirely of such units. The Battalion Commanding Officer in 1941 was Lt. Col. W.J. Johnson but in 1942 he was succeeded by Lt. Col. A.M. Allan.
Lt. Moon does not appear in the 1941 Officers' List which means that either he joined the Home Guard at a later date, perhaps due to onerous work commitments or he might even have rejoined the Regular Army; or he was in the Home Guard as an NCO or Other Rank (which, bearing in mind his military record and specialised knowledge, seems unlikely).

Lt. Moon had served in the Great War and with the help of the London Gazette it is possible to trace a little of his service. In a dispatch of 12 June 1915 General Hamilton, commanding the Mediterranean Expeditionary Force, mentions two officers of the Royal Corps of Engineers, one of them Temp. Lt. E. J. Moon (L.G.5 August 1915 ). This almost certainly means that he served at Gallipoli and obviously with distinction. Whether this was the occasion when he won his Military Cross, or whether it was on some later occasion either before or after the withdrawal at the end of that disastrous campaign, it has not so far been possible to establish. Nor are his whereabouts between mid-June 1915 and the end of the war so far known.
On 19 February 1919 his appointment to the rank of Acting Captain is gazetted, to be held whilst he acts as adjutant of "Remts. Sqdns". With effect from 18 January 1922 he relinquishes his appointment as Dep. Asst. Director of Remts. and his temporary rank of captain (L.G. 28 February 1922). Finally on 28 April 1922 it is gazetted that he relinquishes his commission and is appointed Captain.
By the autumn of 1944 this Battalion, like many others, was no doubt a very different unit from that which had defended its area in the days when enemy invasion or incursion had appeared possible or even likely and there was the constant threat of aerial bombardment of the factories where its members served. In particular many men would have been transferred to anti-aircraft duties over the previous 18 months to two years whilst the latter threat still existed. But the training activities and exercises would have continued and the unit had not by then have been released from its responsibilities even though the end was near.
On 3rd October 1944, a Tuesday evening, the Battalion held a celebratory dinner at the Imperial Hotel in Birmingham which seems to have been attended by most of the officers still serving in it. By then "stand-down" was imminent and finally occurred at the beginning of December. The souvenir programme for this dinner contains a very useful summary of the Battalion's history over the previous four years. This is transcribed below.
"TO MAKE ASSURANCE DOUBLY SURE"

Mr. Anthony Eden, Secretary of State for War, used those words in his broadcast to the nation on May 14th, 1940.

That same night, and for several days following, the Police Stations at Robin Hood, Sparkhill and Acocks Green were at their busiest, registering "Local Defence Volunteers". Many of the men so enrolled were to become members of our 42nd Battalion.

Shortly afterwards the work of organising "Factory Units" began, and in our defence area the following factories formed their own units :
Aldis Bros.
Berrys Electric Ltd.
Brooke Tool Manufacturing Co. Ltd.
Clifford Aero and Auto Ltd.
Electricars Ltd.
George Goodman Ltd.
Joseph Lucas Ltd. (Formans Road and Shaftmoor Lane).
Midland Electric Manufacturing Co. Ltd.
Pennant Manufacturing Co. Ltd.
Serck Radiators Ltd.

These eleven units combined to form the 42nd Battalion (known as the 22nd for a couple of weeks), and established Headquarters at the M.E.M. Sports Pavilion, under the command of Lieut.-Colonel W. J. Johnson.

Space does not permit a detailed history. We trained - we guarded factories - we took our turn in the blitz - we watched D.A.'s - in short, we did our job. In August, 1941, we had what is believed to be the first Home Guard Training Camp, at Hockley Heath, which was attended by one-third of the Battalion on each of three successive week-ends.

Later in the same year we moved to Cambrai House, which many willing hands turned from a blast-damaged building into a comfortable H.Q., with ample grounds for parades, training, etc., and a little quiet scrumpmg in season.

The past two years have brought many problems, not the least of which was the continuous and growing demand for our trained men to be transferred to the A.A. role - almost half our strength being drawn on for this duty.

And to-day, on the eve of "Stand Down", under the command of Lieut.-Colonel A. M. Allan, who joined us two years ago, we who remain form part of the great body of volunteer soldiers which history already admits "altered the potential course of the whole war".

And this is the souvenir programme.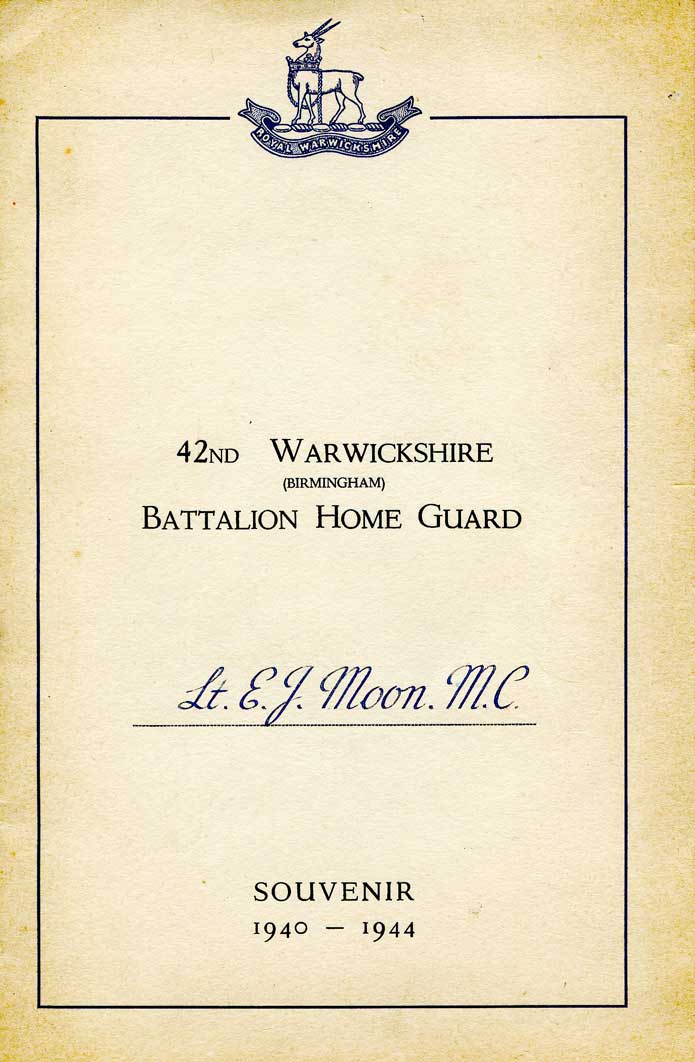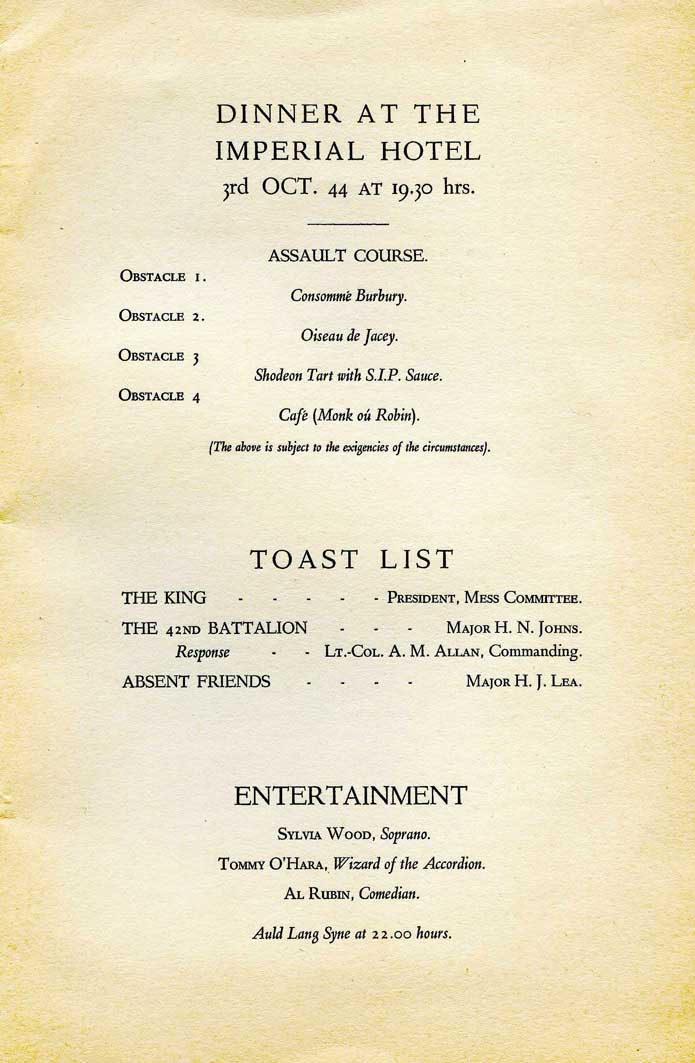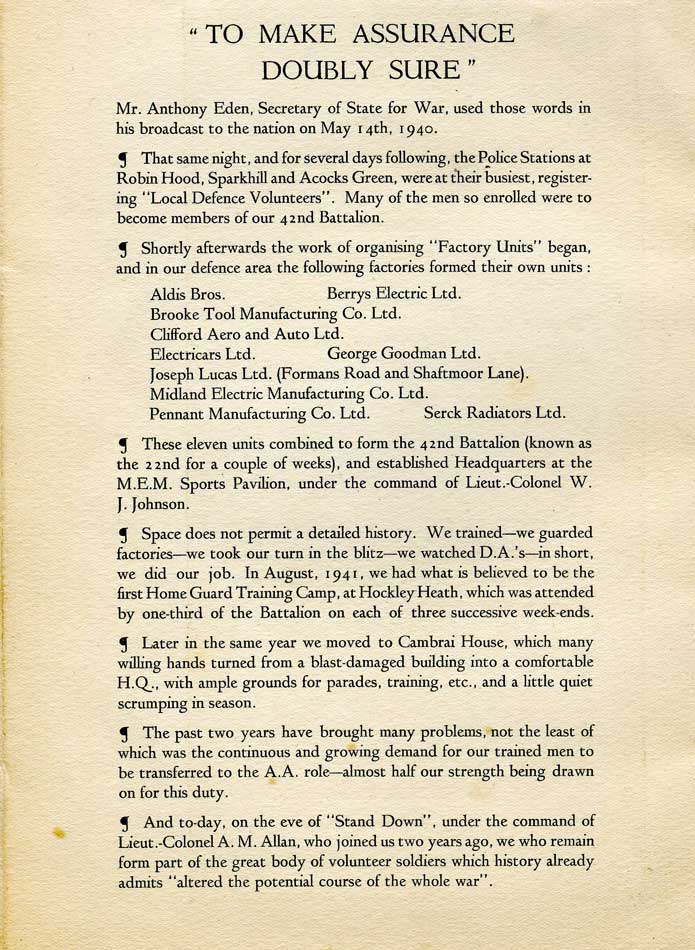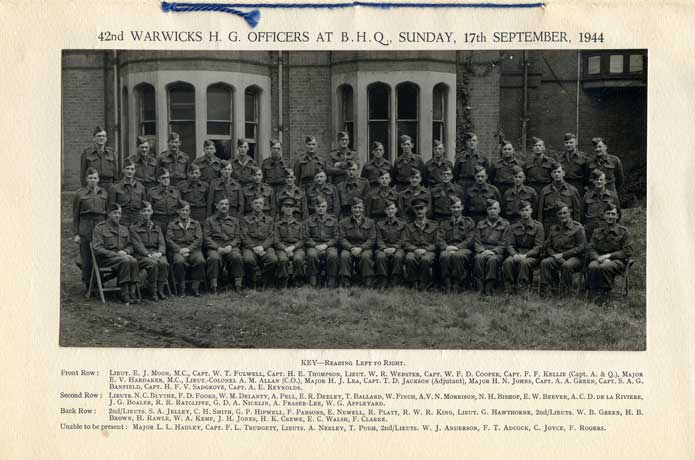 IMPORTANT! Click on the above image for a much magnified version and more legible caption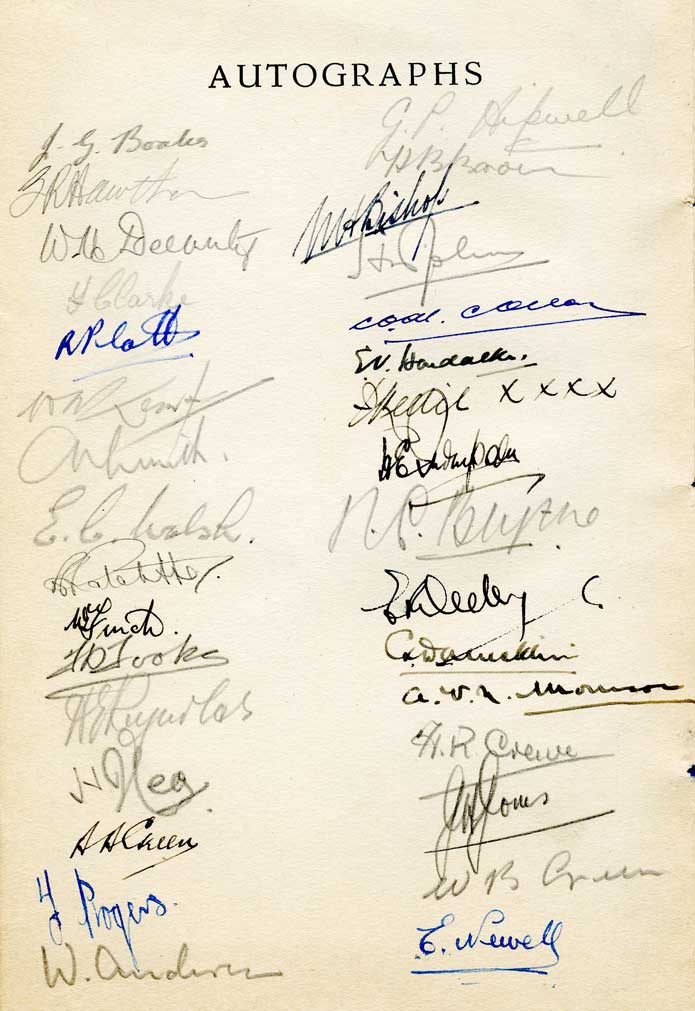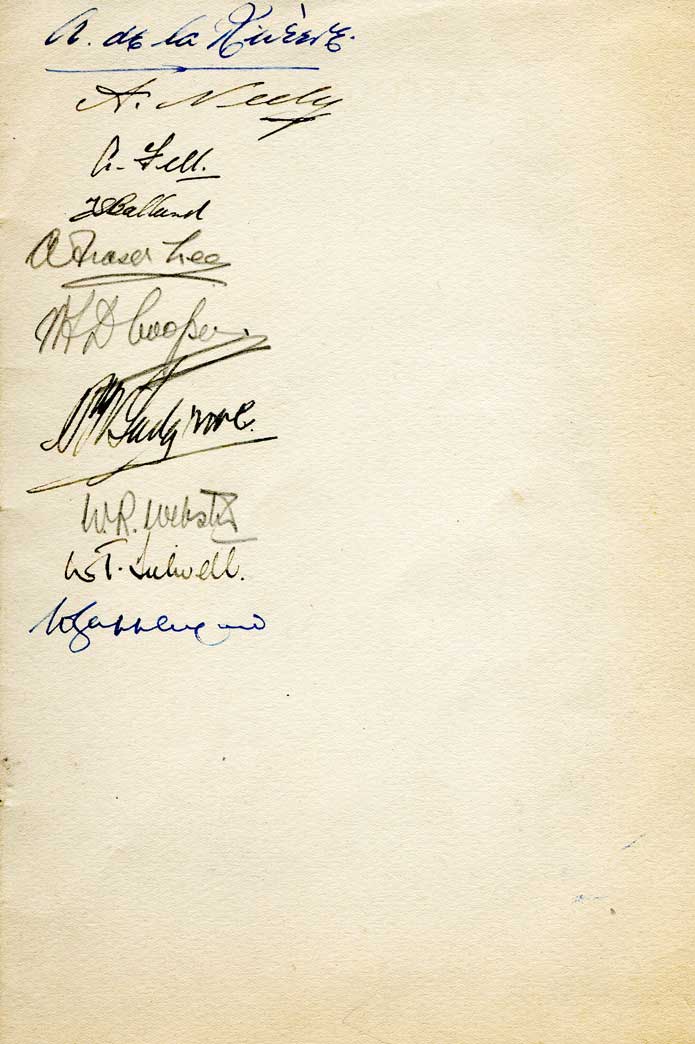 In Memory of
Lt. E.J. Moon
and
All his Comrades in the 42nd Warwickshire (Birmingham) Battalion.
Acknowledgement:
We make grateful acknowledgement to Mr. Graham Eagland for this information about his distant relative and for his generous permission for its publication.
Images©Graham Eagland 2013