The 44th Warwickshire (Birmingham) Battalion, Home Guard, was responsible for the defence of the Handsworth area of Birmingham. Its component units will have included (and may have comprised wholly) factory platoons whose members were employees of individual companies in the area. Its Commanding Officer in early 1941 was Lt.-Col. C.W.P. Blackmore, late of the Royal Artillery who was succeeded later by Lt. Col. A.B. Waring.
Amongst the more than 40 other officers listed in the February 1941 Officers' List was Major A.B. Waring. Major Waring was Managing Director of Joseph Lucas's at their huge Great King Street factory, situated on the edge of the Battalion's area. At that time he was presumably a Company Commander but when he took over command of the Battalion he assumed the rank of Lieutenant-Colonel. After the war he was knighted and became Sir Bertram Waring.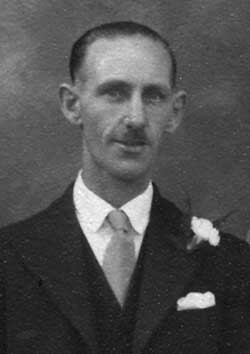 Lt. James T. Orr (1905-1964) was another officer in this Battalion together with two other men to whom pages of this website are also devoted: Lt. Griffiths and Lt. Tolley. He was known to his friends and comrades as Jock or Big Jock. He joined the Battalion some time after the Officers' List of February 1941 was issued and therefore does not appear. At the time he was still serving in the Regular Army.
Jock Orr was a very experienced soldier and his appearance must have been welcomed by the Battalion. Between 1920 and 1940 he served with the 1st Battalion The Queen's Own Cameron Highlanders where he became a Drum Major (below). With that regiment he served in Ireland, India, Burma, Sudan and Aden. During all of those years he kept a diary which has survived together with some photographs. A copy of the diary has been lodged with the Regimental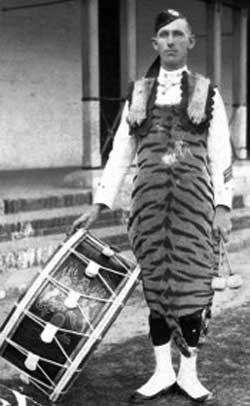 Headquarters of the Highlanders at the Regimental Museum, Fort George, Scotland.
After leaving the Army following over 20 years of service and for the period of his Home Guard service, Jock Orr worked at Lucas's and at Dennisons Tool & Gauge Co. where he served as an engineer/tool inspector. Jock's pattern of work at Dennisons was to finish at midday. In the afternoons and evenings he worked as a HG Weapons Training Officer, also carrying out fire-watching duties at night as necessary. His son recalls a description of firewatch duty on the roof of Dennisons as Jock watched the sky light up over Coventry and how awful the sight seemed to be from his rooftop vantage point.
He was based at Soho Road Battalion HQ of the HG - in a house next to The Beehive pub. His Sergeant-Major there was Pat Miles. Every other weekend he was on training manoeuvres in Sutton Park and slept there regularly.
Jock's role as Training Officer led to a significant development in his personal life. It seems that as part of the HG training he organised, he conducted drill exercises in Park Avenue (off the Soho Road opposite to Dennison's) where the lady who turned out to be his future wife was lodging in a nurses' hostel. As a fiery Irish nurse, working nights and long hours in wartime conditions, she apparently made it known to this inconsiderate, noisy, military, training-type individual (Jock Orr) that he should take all his men elsewhere to train and not disturb her sleep!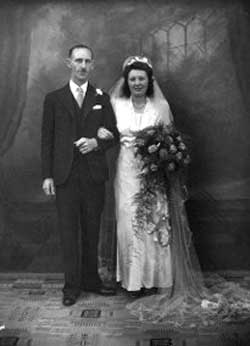 That is how they told the story of their first meeting, but clearly relationships significantly improved thereafter as attested by the photograph (right) of Jock and his new bride, Catherine Kilgarriff.
Jock was the beneficiary, like Lt. Tolley and no doubt all the other Battalion officers, of the personal generosity of Lieutenant-Colonel Waring and his own commemorative tankard is now a treasured memento within the family (below). The two men enjoyed a friendly relationship based on their years of service together. Jock's son recalls that whilst his father rarely took a drink, it always seemed that he was delivered home after Home Guard reunions in a very cheerful mood.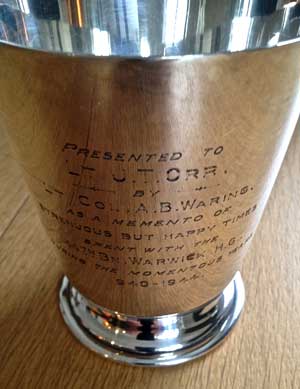 Regrettably Jock Orr was not to enjoy a long life of good health. In the 1950s he became ill with TB and this greatly affected his breathing and his previously energetic way of life. The running joke of his workmates was that he was in no position now to put them through the vigorous training exercises that he used to. "You can't catch me now, Jock!" was something his son remembers their shouting in fun as they rushed past him on their way home.
He died on 20th May 1964 at the age of 59.