The lowly private was Henry Maurice Myers (1899-1974 - 'Hal' to his sisters and 'Harry' to everyone else). He was born in the city of Birmingham and lived all his life in or very close to it.
After several attempts to enlist, including an unsuccessful application to the Royal Naval Air Service by whom he was turned down on the grounds of poor eyesight, he was finally accepted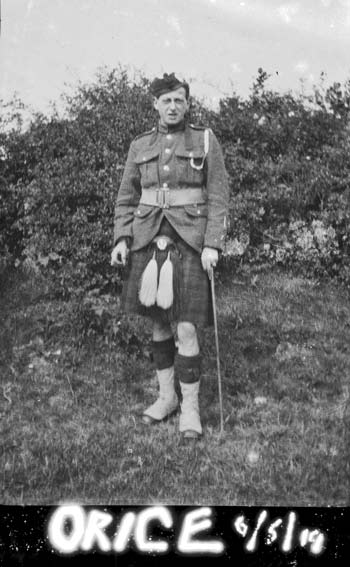 by the Army at the Birmingham Recruiting Office in Suffolk Street on September 13th 1916 at the age of 16 years and 10 months and was placed on the Army Reserve to await call-up. This finally came about 12 months later and he left his then home in Kingswood Road, Chessett's Wood to join the London Scottish Regiment at Hazeley Down, Winchester. Thence to Chiseldon Camp near Swindon, later to Beccles in Suffolk and eventually to France.
In July 1918, still only aged 18, he was wounded on the Western Front and returned to England. He had by then been transferred to the Cameron Highlanders, perhaps as part of a reinforcement draft. His path from the trenches took him to hospital in Colchester and thence home on convalescent leave where he was photographed as an honorary and no doubt temporary member of the Knowle and Dorridge Volunteers at Stoneleigh in September (see this fearsome group here).
After a full recovery, his Army career took him to Ballybonear Camp at Buttevant in County Cork and then, early in 1919, to Redford Infantry Barracks at Colinton in Edinburgh where he stayed until mid-summer.
The few months which Pte. Harry Myers spent at Redford Barracks are fruitful in that he had obviously acquired a camera at that time and recorded many of his friends and comrades as well as scenes from around the barracks and beyond. After the rigours of wartime life this seems to have been a comfortable posting for him. He had become a clerk and spent his time at Redford in the demobilisation office of the 3rd Camerons. His permanent pass survives and indicates that he was able to spend free time outside the camp - which included riding on the top of trams down Princes Street as the image below attests.
Thereafter to Dreghorn, near Kilmarnock and finally to Fovant near Salisbury for demobilisation on September 17th 1919. He had by then long since hung up his Western Front rifle. But little over twenty years later he was to pick up a similar one, and then carry it for a further 4½ years as a stalwart of his local Staffordshire Home Guard unit.