This is a page within the www.staffshomeguard.co.uk website. To see full contents, go to SITE MAP.
MEMORIES AND INFORMATION - SHROPSHIRE
5th and 6th SALOP BATTALIONS
and
LT. HAROLD NORMAN TYRER
and his brothers
That part of East Shropshire known since the 1970s as Telford, and nearby small towns and villages, were defended between 1940 and 1944 by two Home Guard battalions. The northern part, centred on

Wellington

, was the responsibility of

5th Salop Battalion

under the command of

Lt.-Col. F. H. L. Oldham, D.S.O.

and included in its area, in addition to Wellington itself,

Oakengates and Dawley

.

The southern area fell under the jurisdiction of the

6th Salop Battalion

with a territory

comprising

Broseley, Burwarton, Ironbridge/Buildwas, Madeley and Much Wenlock

under the command of

Lt-Col. Viscount de Vesci.

These battalions were two out of the eleven in Shropshire, each battalion comprising anything between 1000 and 2000 men.

Both of them were part of the Wellington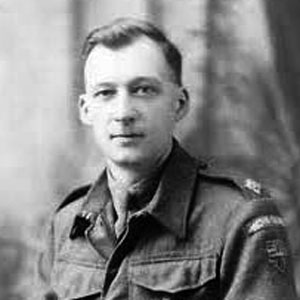 Group in the county, other members being the

10th Battalion

(responsible for

(

Shifnal

) and the

11th

(

Newport

and nearby villages).

One of the local Home Guard men was

Lt. Harold Norman (Norm) Tyrer
(left).
Norman
(b. 1909)
lived at the time in

Crown Street, Dawley

with his wife Mary

and worked at a nearby ironworks,

Court Works, Madeley

. The boundary between these two Battalions fell somewhere between Dawley and Madeley. If Norman served in the Battalion responsible for the area in which his home was located, he would have been a member of the 5th; on the other hand, if he had elected to join the Court Works factory unit, he would have been in the 6th and almost certainly a member of "D" Company of that Battalion whose HQ was the

Market Hall, Madeley

. Close examination of Lt. Tyrer's insignia suggests the presence of a "6" which of course indicates membership of the 6th Salop (Madeley) Battalion. (With thanks to Steven Roberts).

Norman was of course too young to have had the sort of Great War experience which would have led to many of his fellow officers and N.C.O.s being appointed to positions of authority as soon as the Home Guard was created in May/June 1940. Norman would certainly have started in the ranks but, clearly, personal qualities and perhaps specific knowledge and skills must have made him stand out and resulted in his being commissioned at some later stage, perhaps in 1942 or 1943.

He is seen below in a studio image with his 2/Lieutenant's pip clearly visible on his shoulder. Perhaps this photograph was taken at the time of his appointment. A proud moment for him and his family!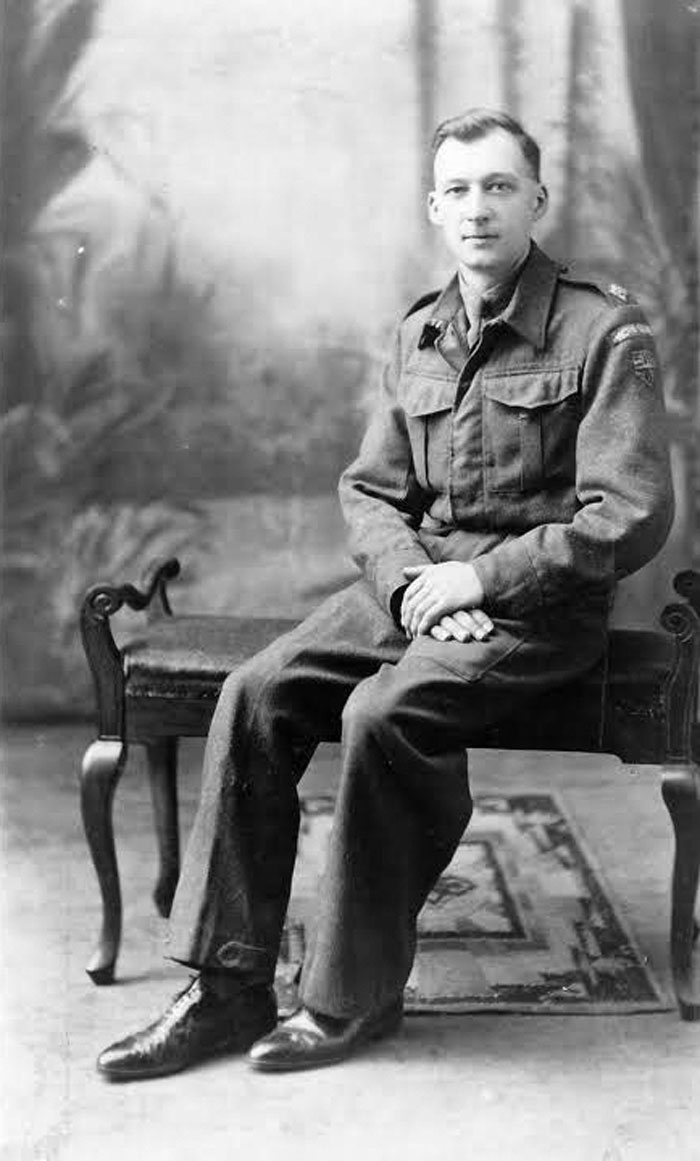 This portrait of Norman clearly shows one idiosyncracy of the Wellington Group battalions. Unlike the overwhelming majority of units throughout the country, and even elsewhere in Shropshire, men in these units did not wear the normal battalion identifying badge on their upper arm, which would otherwise have been "SHR 5" or "SHR 6", with black letters on khaki. Instead they bore a different battalion insignia - perhaps designed by themselves? - usually based on Roman numerals and often including a Company identification as well. The reason for this departure from normal, approved practice is unknown.

Perhaps later, Norman is seen with his fellow officers, perhaps all the officers of one Company. Norman is in the back row, second from the left. Apart from him, none is so far identified. (Identification of just one of the older officers would enable us to re-confirm the Battalion to which they all belonged, almost certainly the 6th). Date and location are also unknown.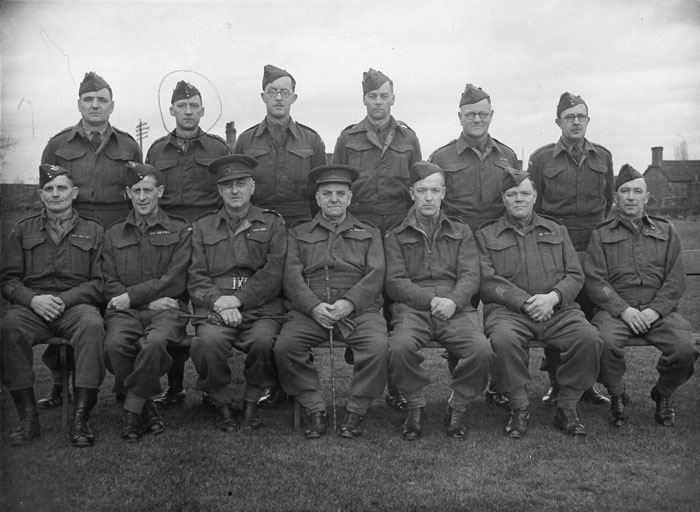 An image also survives showing Norman Tyrer's three brothers,

Albert (Bert) John Tyrer
(b.1905)
,

Ronald (Ron) Tyrer

(b. 1920)

and Leslie (aka Joe) Tyrer (b.1908). Ronald is in RAF uniform and, in 1942, is living in the

Thorne

area of the

West Riding of Yorkshir

e. Bert and Leslie/Joe, like their brother Norman, are in the Home Guard and as they are living in the

Madeley

area, Leslie in

Park Lane, Madeley

, they are almost certainly members of the 6th Salop. Bert is a miner and Leslie/Joe works in the iron foundry at

Coalbrookdale

, both jobs being reserved occupations.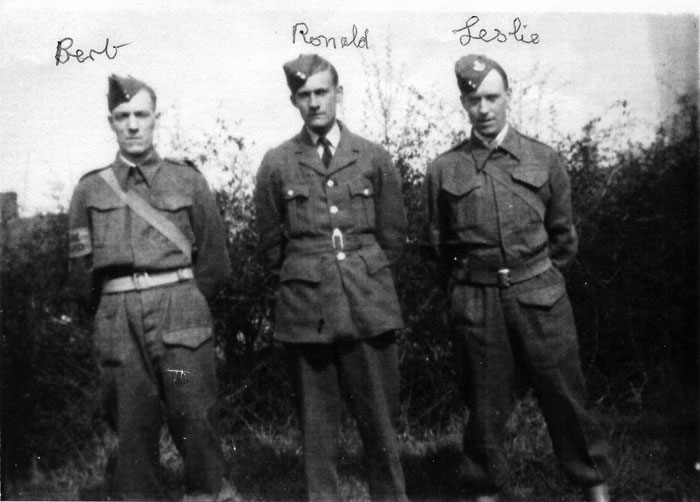 When stand-down came in December 1944, Norman's contribution was gracefully acknowledged in a letter from

Col. A. W. Turnbull M.C.

, writing from The Home Guard - Shropshire Zone at

2 Claremont Buildings, Shrewsbury.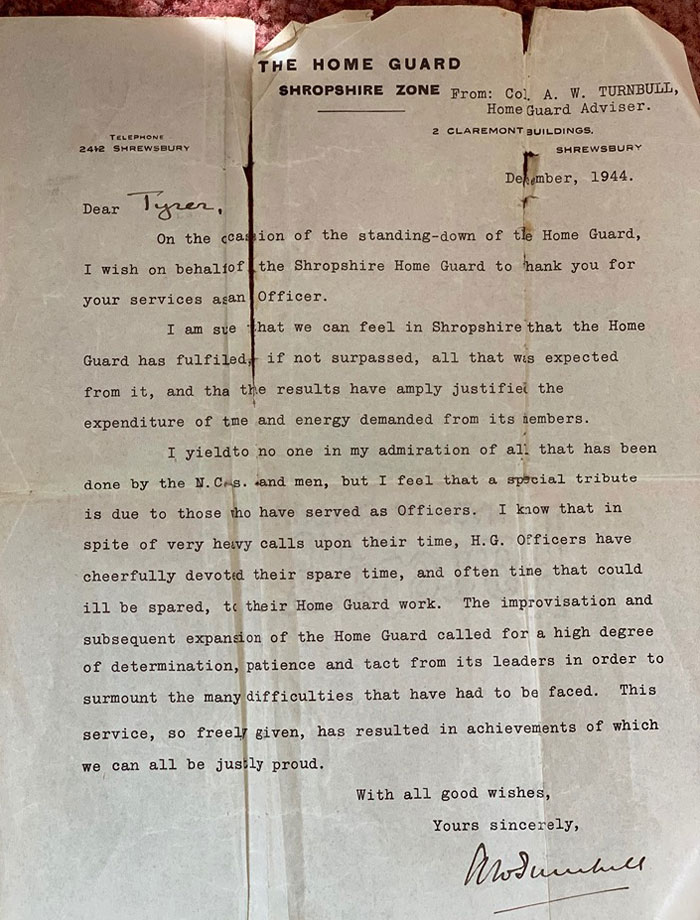 And in due course acknowledgement of Norman's service came from an even more exalted source, His Majesty King George VIth. This confirms that he served from 12th July 1940 up until the end, representing four-and-a-half long years of arduous, time-consuming and entirely voluntary effort.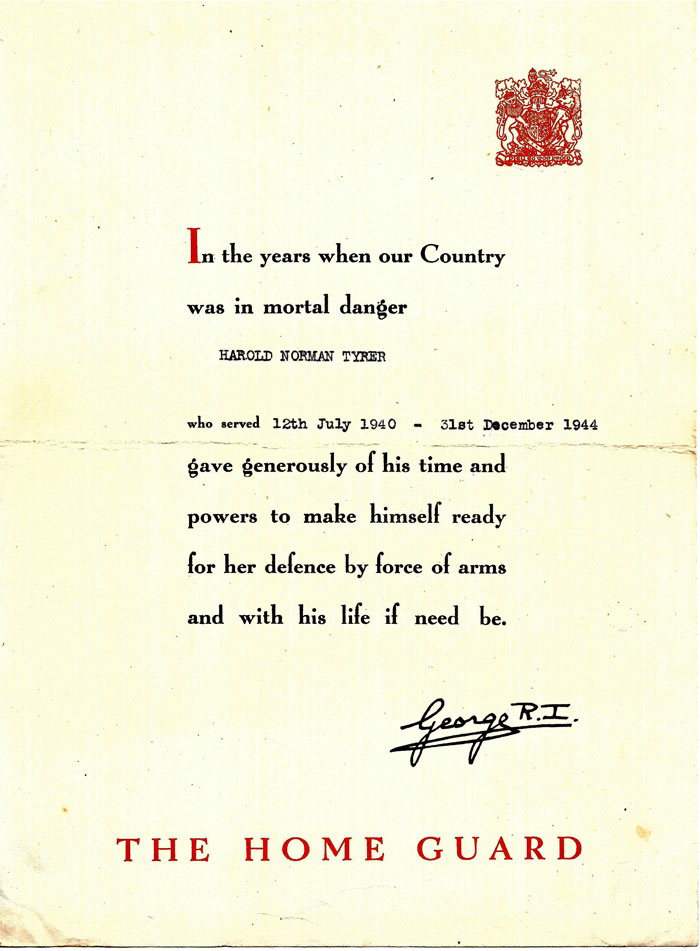 *********************


Let us remember


Harold Norman Tyrer


His brothers


and




All their comrades




who served in the




5th and 6th Salop Battalions



ACKNOWLEDGEMENT
is gratefully made to Shaun Tyrer for the above information about his father and uncles and his generous permission for its publication.


Personal images © Shaun Tyrer 2018
FURTHER INFORMATION

Other
information about the Home Guard in Shropshire contained within this website can be seen in the Shropshire summary page which can be accessed via the Memories-Shropshire link below.
Much information about the Home Guard in the county is also contained in the book

The Shropshire Home Guard

by Bernard Lowry (Logaston Press, 2010, ISBN: 978-1906663 46 9) to which grateful acknowledgement is also made.


And if you can add anything to the history of the Shropshire Home Guard, and especially the units located in the area of what is now Telford, please contact staffshomeguard via the Feedback link.
x158 March 2018 - updated June 2019