HOME GUARD MEMORIES AND INFORMATION - OTHER COUNTIES (M-S) - OXFORDSHIRE
3rd OXFORDSHIRE BATTALION, WITNEY Coy.
DE HAVILLAND Platoon
and
HAROLD GREEN
This a page within the www.staffshomeguard.co.uk website. To see full contents, go to SITE MAP.

Harold Green was employed by de Havilland's from 1941 to around May 1945.
For much of that time he was located at the Witney factory where he worked as a chargehand on the repair of metal components. There may have been secondments elsewhere during this period. He certainly appears to have spent some time at Totton near Southampton where, as he subsequently related, one day he was walking down a road when a German fighter flew over, strafing with its machine guns. Harold dived into a baker's in order to take cover and was perturbed to feel a blow to his head. In the event this was nothing more serious than the impact of a falling loaf! This period in Southampton almost certainly predated his arrival at Witney in 1941 and perhaps he was involved with Supermarine.
In the course of the war Harold worked on Hurricanes, Spitfires and Mosquitoes. His only flight during the war was however in a far less exotic machine – a de Havilland Rapide! A photograph of work at Witney on Hurricanes survives and is reproduced below. Harold is in the picture although partly concealed and difficult to pick out.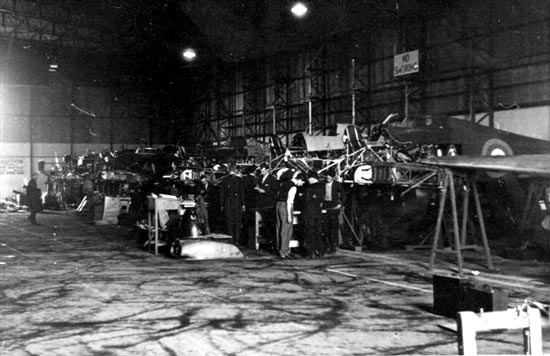 For a period Harold Green was a member of the Home Guard. He joined in March 1942 but his service ended in the December of that year. The reasons are unclear: it is possible that secondments, or the hours needing to be worked in the essential day job rendered continuing service impossible; or it may be that a chronic back problem meant that he could no longer perform the duties required. It is most likely that this service was performed as a member of the de Havilland platoon of the Witney Home Guard although he does not appear in the group photograph shown elsewhere in this website.
He does however appear in the following image taken in a corner of the Witney site. Here he is in his HG uniform one summer day in 1942, on the right in the back row, together with a number of workmates at least one of whom was also in the Home Guard.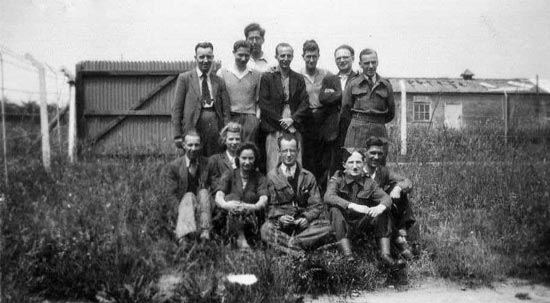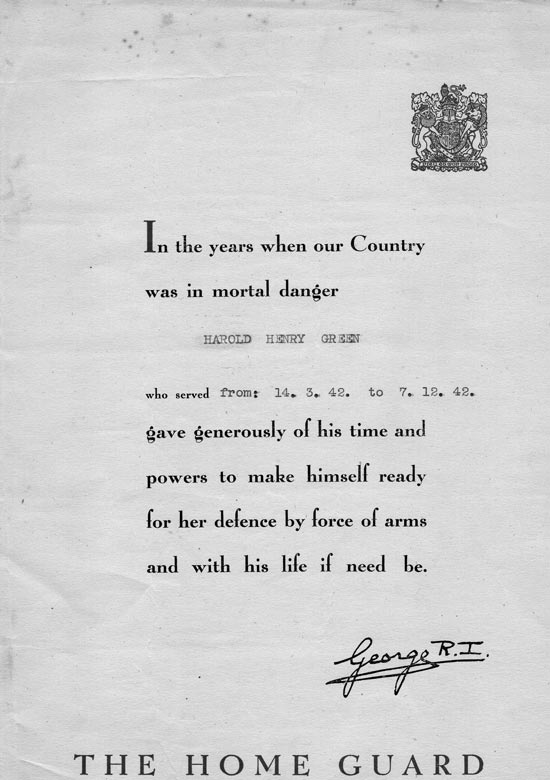 Harold always remembered his Home Guard service and in later recollections made particular mention of night exercises.

After the Home Guard stand-down in December 1944 he received the King's certificate in recognition of his service between 14th March 1942 and 7th December 1942 (right).
Later, after the end of the war in Europe and despite the Company wanting to transfer him to their Hatfield factory, he decided to resign from de Havilland's in order to return to his Sussex home and take up his civilian occupation once again: he was a cabinet maker and later an antiques restorer, a true craftsman. His wartime skills were appreciated and the letter of commendation from the Company was very complimentary (below):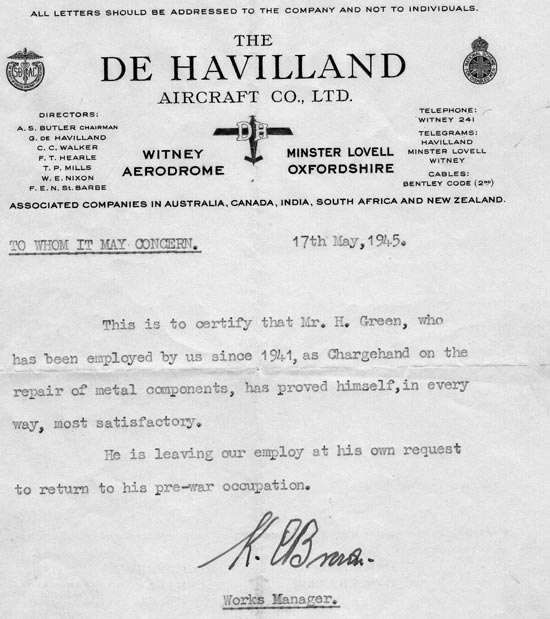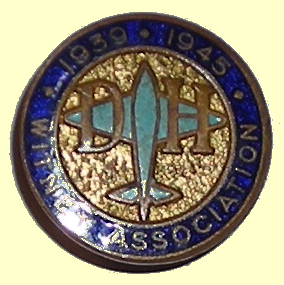 There was obviously a strong fellowship amongst the de Havilland Witney workforce. This manifested itself in the establishment of the DH Witney Association 1939-1945 (mentioned in more detail in another page of this website) and the organisation of a number of postwar reunions.

A reunion from 1952 (May 10th 1952 at the Imperial Hotel in London) was recorded for posterity. Harold is located in the third row from the back, 6th from the right, and his wife 5th from the right. Also in the picture is another sometime Witney HG member Stan Britton, centre of second row from the back and immediately behind a lady in a white dress).....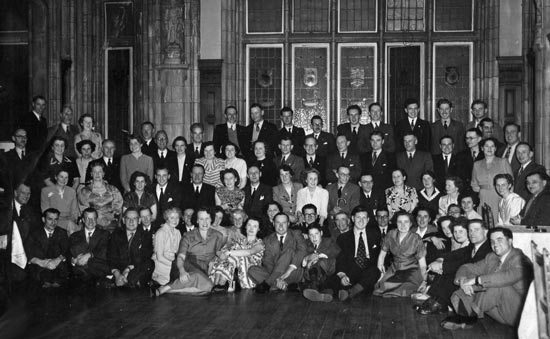 ....as was one involving a smaller group on an unknown date (again in May at the Imperial Hotel but in one of the years 1953/55/57/59) with Harold in the back row but one, 6th from the left and Mrs. Green 5th; and Stan Britton back row, 3rd from the right.....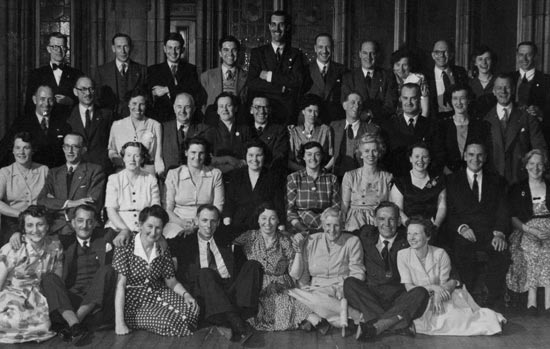 (Also identified are the man in the second row, 3rd from right, who is Mr. K. (Ken) C. Brown, Works Superintendent, and the very tall man, back row centre, Mr. John Hart).
......a happy gathering and a moving tribute to the workforce at Witney as we remember them and their contribution to the wartime effort.
***********