MEMORIES AND INFORMATION - STAFFORDSHIRE
ROWLEY REGIS HOME GUARD
(40th STAFFORDSHIRE (ROWLEY REGIS) BATTN.)

This is a page within the www.staffshomeguard.co.uk website. To see full contents, go to SITE MAP.
Responsible for the defence of Rowley Regis was the 40th Staffordshire (Rowley Regis) Battalion. Organisationally this Battalion was grouped with its neighbours, the 38th (Brierley Hill), 39th (Enville) and 41st (Tipton) Battalions. (Rowley Regis was then in Staffordshire before becoming part of Worcestershire in the postwar years).
In 2004 and 2006 there were a couple of threads in Rowley Regis Online's Forum discussing the local Home Guard. Snippets of information emerging were as follows:
A Home Guard base was in a building called "Unit Aid" in Birmingham Road, just down from McMillan Road on the same side. The building still exists, now behind a steel fence. Another suggestion is that a unit was based in Hurst Green.
Drill practice used to take place in Britannia Park.
One of the local unit's duties was to guard "Big Bertha" on Rowley Hills.
There is a story whereby in the blackout the unit succeeded in marching a visiting colonel and his staff into the cut.
(Translation into non-Black Country English: cut = canal).
A 1943 photograph of the unit has also survived, taken in Lench's Grounds. The only identified members are:
George Baker, back row, 5th from the right and
Frank Phipps, front row, 3rd from right.
The unit would have been part of the 40th Staffordshire (Rowley Regis) Battalion who were responsible for the defence of the area.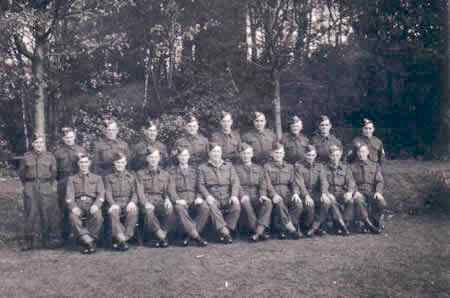 In the platoon in which Frank Phipps served there were two men of the same surname although not related. Frank lived in Mincing Lane, the other man in Uplands Avenue. Frank himself was involved in anti-aircraft defence. The local gun or battery of guns on Turner's Hill where he served for part of his Home Guard service was nicknamed locally "Big Bertha" and when fired shook the surrounding area, not least the houses in Mincing Lane.
A visitor to this website has provided further information about two men who worked at T.W. Lench and very likely also belonged to the local unit. One was her father, John Scannell, originally from South Wales. His workmate and fellow countryman was Mostyn Lucas. They both lodged in Brook Street in Old Hill. At some stage in their Home Guard career both served in the anti-aircraft battery at Turners Hill. During his time at T.W. Lench, John met and subsequently married Doris Lowe. He went on to serve in India.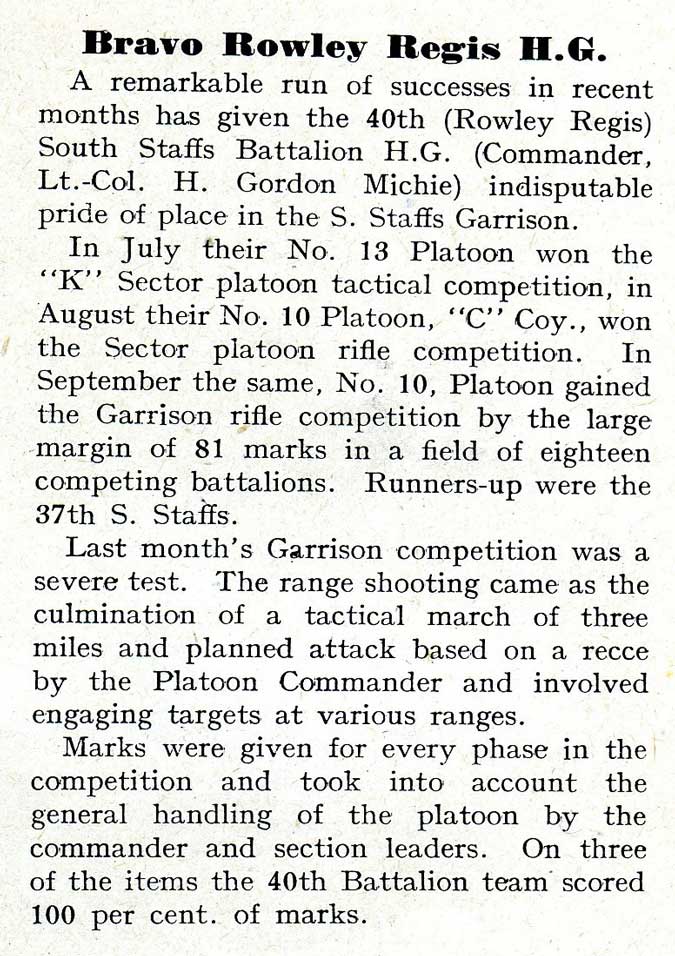 By the summer of 1944, the 40th Battalion under the command of Lt.-Col. H. Gordon Michie had clearly achieved a high level of expertise in various areas of activity.
This report in the October 1944 issue of the magazine "Defence" gives an indication of their achievement.





Martin Crump writes to staffshomeguard (October 2015):

My Dad was in the Home Guard at that time, he spoke many times about Big Bertha, the gun he worked on. His name was Claude Crump and he worked at Lench's for a short time. I was born in one of Lench's houses in Ross. He used to talk about someone called Indian Joe who he was in the Home Guard with.

ACKNOWLEDGEMENTS


Grateful acknowledgement is made to Rowley Regis Online and its contributors; to the daughters of Frank Phipps and John Scannell for family information; to MJ for allowing us to reproduce the picture; to the long defunct "Defence" magazine;

to Mick Ackrill and to Martin Crump.




Any further details about the Rowley Regis Home Guard, to add to the above rather sketchy information, would be warmly welcomed. Please use

FEEDBACK.